WELLNESS - There is something innately satisfying about bringing the outdoors in. It could be the feeling of grounding ourselves in nature or simply the aesthetic appeal of greenery; either way, there's no denying that incorporating plants into our indoor spaces makes us feel good. And what's not to love about that? But let's be honest: keeping plants alive is hard. Even if you're the type of person, who can keep a cactus alive for years (props to you), plenty of other challenges still come with being a plant parent. Watering schedules, light requirements, and pests are just a few of the things you have to manage. So what do you do when you want the benefits of plants without all the hassle? Enter artificial grass. Yep, that's right - fake grass is having a moment in interior design, and we are here for it. Not only does it look realistically lush (we're talking indistinguishable from the real thing), but it also requires zero maintenance: no watering, no fertilizing, no nothing - just sit back and enjoy your green oasis. 
Inviting Nature inside: Artificial Grass in Your Foyer Area
Adding artificial grass to your home is a great way to bring the outdoors in! And where better to start than the foyer? Artificial grass in Highlands Ranch, CO, will invite nature into your home while enhancing its aesthetic. Not only will artificial grass add an exciting element to your interior design, but it'll also increase the overall comfort of your foyer, as most varieties of fake turf have a soft and inviting texture. So, why not greet visitors with a pleasant surprise and beautify your entryway with artificial grass today?
Living Amidst Nature: Living Room Greenery
Give your living room a wild side with luxurious artificial grass for your interior design! Now there's no need to daydream of rolling hills and lush lawns when you can bring it into your own living space for a guaranteed breezy vibe. Think about an artificial grass accent wall behind your sofa, an ottoman where you can rest your feet amidst lush luxury, or perhaps a vertical garden. Put yourself in the great outdoors with a touch of nature that won't have you mowing or worrying about pesky weeds. With the best artificial grass solution, say goodbye to clutter and dull decor, and create a stunning backdrop that livens up any gathering. A summer breeze without ever lifting a finger!
Make every day as exciting as a Picnic: Dining Areas and Artificial Grass.
Who says a picnic needs to be limited to eating outdoors? You can bring that same spirit of adventure into your dining room with artificial grass. Whether it is for an eat-in kitchen or a formal dining space, adding artificial grass will give the room a one-of-a-kind charm. Think fake grass table runners, floor covering, seat cushions, placemats, and more. This outdoor alternative provides a bright and refreshing atmosphere but is also surprisingly low-maintenance and highly durable. You deserve the chance to feel like every meal is an event - make every day as exciting as a picnic with artificial grass!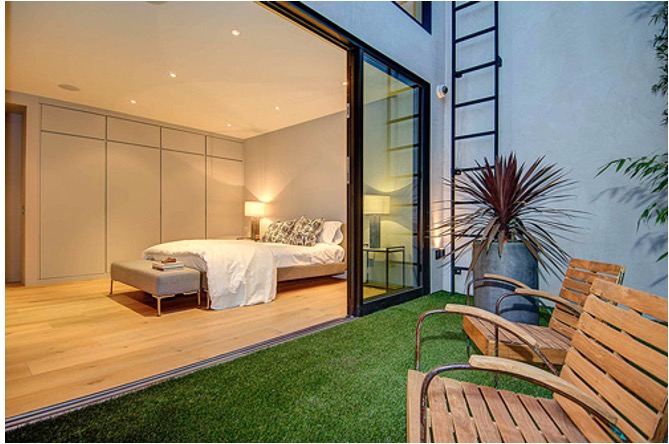 Fake Grass Exudes Real Comfort: Creating a Calming Bedroom
Adding a bit of fake grass to your bedroom is the perfect way to bring a wild twist into your indoor sanctuary. Faux turf can instantly add texture and visual appeal while exuding real comfort compared to traditional carpeting. Not only that, but it also brings a calming atmosphere to the room, making it far more inviting after a long day of work. Inject some outdoorsy vibes into any bedroom with artificial grass. You can create your headboard with it (take it right up to the ceiling for more drama!), use it as a comfortable rug to drown your feet in, or even cover your floor or ceiling with fake turf -- it never fails to give you that relaxing holiday chalet feeling wherever you go!
Add Personality to the Playrooms: Artificial Turf in Kids' Playpen
There's no need to sacrifice style for practicality when it comes to creating a kid-friendly space. Incorporating artificial turf in a playroom or children's area of the home is not only easy and cost-effective, but it can also add a vibrant dash of personality that kids are sure to love. It's perfect for brightening up any dull room while providing sensory stimulation and encouraging creative play. Plus, what kid doesn't love running around on a grassy field, even if it is indoors?
Enjoying the feel of an Outdoor bathroom inside: The Bathroom
A modern and unique way to enjoy the feel of being outdoors while you soak in a luxurious bath is through the use of artificial grass. Instead of a traditional floor, add a pop of greenness for an out-of-the-box design with exciting texture! Imagine walking on lush grass as you move around your bathroom or looking at a vertical garden as you relax in your bath - it's truly an experience that provides a different kind of relaxation. Plus, by using artificial grass, one requires minimal maintenance and keeps up with trends all at the same time. As they say, 'Bringing the outdoors in' has never looked so stylish!
A Zen Workspace: Artificial Grass for Soothing Home Offices
For those in need of a little more zen in the workspace. Well, this isn't your standard cubicle—it's an innovative design element that promises to make the home office feel like an outdoor sanctuary. It can help bring color into an otherwise dull or bland office space while providing a natural-looking texture with minimal effort by the decorator. So, if you're looking for a breath of fresh air in something as mundane as a home office, why not give artificial grass decoration a try? You might find yourself breathing easier and energized enough to tackle anything on your desk.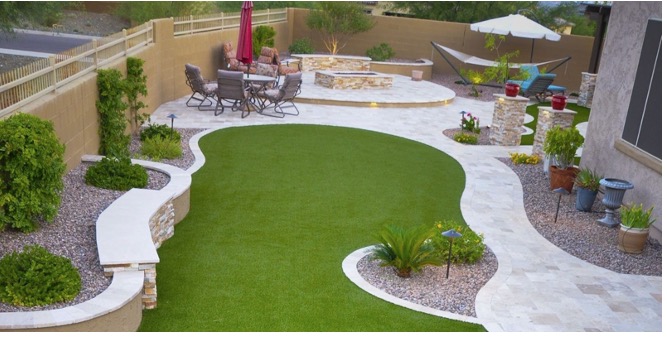 A Stress-Free Leisure: Artificial Grass for Deck, Balcony & Terrace Areas
Relaxation can be hard to come by in our modern world, with the demands of everyday life weighing heavily on our shoulders. But with artificial grass on your deck, balcony, or terrace area, you can create a stress-free leisure oasis outside your door. Not only is synthetic grass ruggedly durable and low maintenance, but it also offers a lush, vibrant green look that eliminates time spent caring for natural grass. And the best part? You don't have to worry about accidentally mowing off a piece of your garden gnome collection! So go ahead and transform your outdoor living space into a tranquil haven and restore balance to your overworked soul.
All in all, you can bring artificial grass indoors in a plethora of ways! So, what are you waiting for? There's no better time than now to get creative and bring the great outdoors indoors with artificial grass. Let's get started!
###