INSIDE SAFE - Tents, makeshift shacks and broken-down RVs crowded both sidewalks under a U.S. Highway 101 overpass in Hollywood seven months ago.
More than two-dozen people lived in the squalid encampment, feet from cars flying past. Neighbors and nearby businesses fumed, saying they and their customers felt unsafe. 
On a Wednesday afternoon last month, all traces of the tents – and the people who lived in them – were gone. The sidewalks were spotless, without even a speck of trash. 
What happened?
The site was part of a Los Angeles homeless program called Inside Safe – Mayor Karen Bass' answer to the city's staggering homelessness crisis. Under the new initiative, outreach workers move from encampment to encampment, offering everyone at each targeted camp a hotel room. From there, the goal is to move everyone quickly from the hotel into permanent housing.
There's a lot riding on its success at a local, state and even national level. Bass has all but staked her tenure as mayor on fighting Los Angeles' homelessness crisis. And President Joe Biden's administration picked L.A. as one of six places to focus its homelessness efforts.
Inside Safe already has been a godsend for people like Tim and Sandy, who live in a condo about two blocks from the overpass and are relieved to see the now-spotless sidewalks.
"It's absolutely wonderful," said Tim, who declined to provide his last name to protect his privacy. "I just hope it stays that way."
Inside Safe has clear advantages over previous efforts to make a dent in L.A.'s homeless crisis. It removes the sprawling encampments that, as the city's most visible symptom of homelessness, spark never-ending complaints. Advocates say it's much easier to find long-term housing for people in hotel rooms than for people still in tents. Hotel rooms provide a safe place where residents can heal from the trauma of the street, get their documents in order and relearn how to live indoors. And it means their case workers don't have to trek all over the city looking for them. 
But while Inside Safe has succeeded in putting a temporary roof over the heads of many of Los Angeles' most vulnerable residents, the program has obvious shortcomings. Now in its seventh month, Inside Safe has moved very few people from hotels into permanent housing – and the city is struggling to produce data on the program's impact. Access to much-needed services, such as mental and physical health care, have been lacking. And renting the hotel rooms is far too expensive for Los Angeles to keep it up indefinitely, leading some activists to worry participants may end up back on the street when the funding runs out. 
The 101 overpass at Cahuenga Boulevard, cleared in December, was the first Inside Safe operation. Since then, the city has completed close to two-dozen – moving 1,373 people into hotels as of earlier this month. But only about 77 of those people – less than 6% – have moved from the hotels into permanent housing, frustrating officials as the number of unhoused people in the city continues to skyrocket.
"We have a real problem if the folks aren't getting housed," Councilman Bob Blumenfield, vice chair of the Housing and Homelessness Committee, said during a recent meeting. 
Inside Safe was a major piece of the newly elected Bass' campaign for mayor. And it has the potential to serve as a model for other cities throughout California. She has outsized influence beyond Los Angeles as chair of the U.S. Conference of Mayors' homelessness task force. And, home to more than 46,000 unhoused people per the city's recently released point-in-time count, L.A. is the epicenter of California's homelessness crisis, accounting for about a quarter of the state's homeless population.
"It was not acceptable to me to say, you know what, we're not going to get people off the streets until we have figured out all of the issues," Bass said in a phone interview. "As we have found problems, we are aggressively moving to address them."
"Make no mistake — We are not satisfied with the amount of people in housing."
KAREN BASS, LOS ANGELES MAYOR
Despite concerns about the low number of people housed through the program, the City Council allocated $250 million to continue and expand Inside Safe over the next year. Los Angeles County is also launching a copycat program.
Bass agreed the Inside Safe data is "extremely disappointing."
"Make no mistake — We are not satisfied with the amount of people in housing," she said in an emailed statement.
Bass blames the issue partly on bureaucracy. People have to jump through a series of hurdles to prove they qualify for subsidized housing, including obtaining the right form of identification. She says she's attempting to streamline the process. The city's lack of affordable housing is another major factor. But 3,200 new units are expected to open this year thanks to Proposition HHH (the $1.2 billion housing bond L.A. voters passed in 2016), according to Va Lecia Adams Kellum, CEO of the Los Angeles Homeless Services Authority.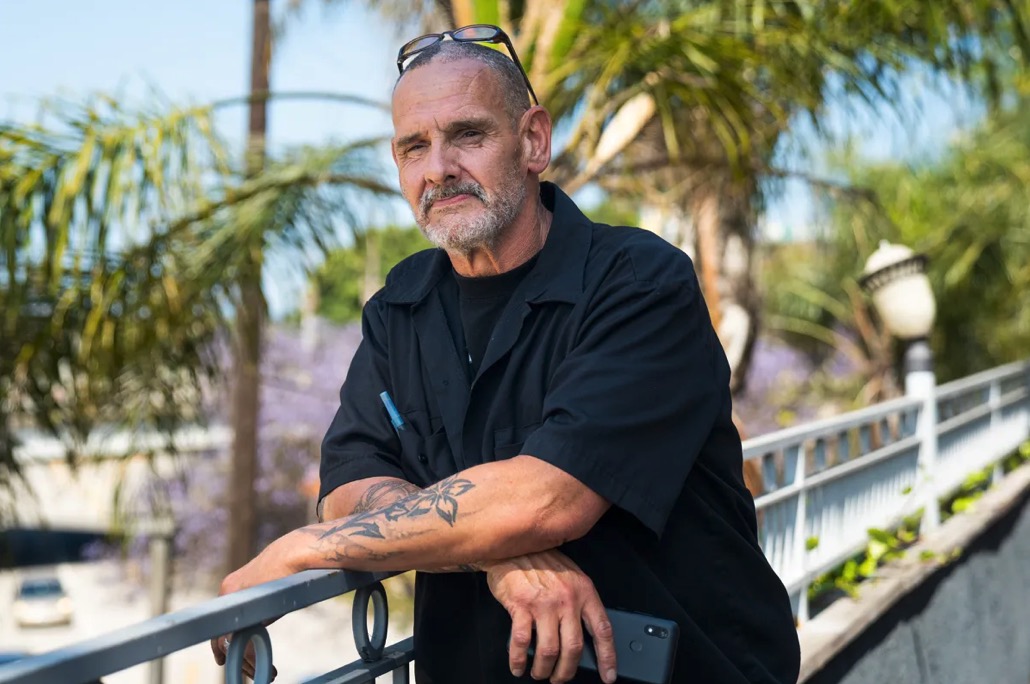 Pete Wales, outside his temporary hotel housing, in Los Angeles on June 20, 2023. Photo by Julie A Hotz for CalMatters
Pete Wales, 65, is one of the few Inside Safe participants who found permanent housing. But Wales already was working with a nonprofit on getting into housing before he moved into one of the program's hotels in February. 
At the time he was interviewed by a reporter late last month, Wales was preparing to move into a subsidized studio apartment in a new building near Echo Park.
"I consider myself lucky," he said.
Gaps in Los Angeles homeless services
For many people who spent years on the street, simply getting a roof over their head is far from enough – they may need additional support including counseling, medical care, job training or help getting a new ID. Access to those services has been lacking in the motels, according to Inside Safe participants, outreach workers and even the mayor herself.
"That is a major concern of mine," said Bass, who says the service providers simply don't have the capacity to meet everyone's needs. She wants to bring in doctors, nurses, dentists and social workers in-training from local universities to help fill the gap.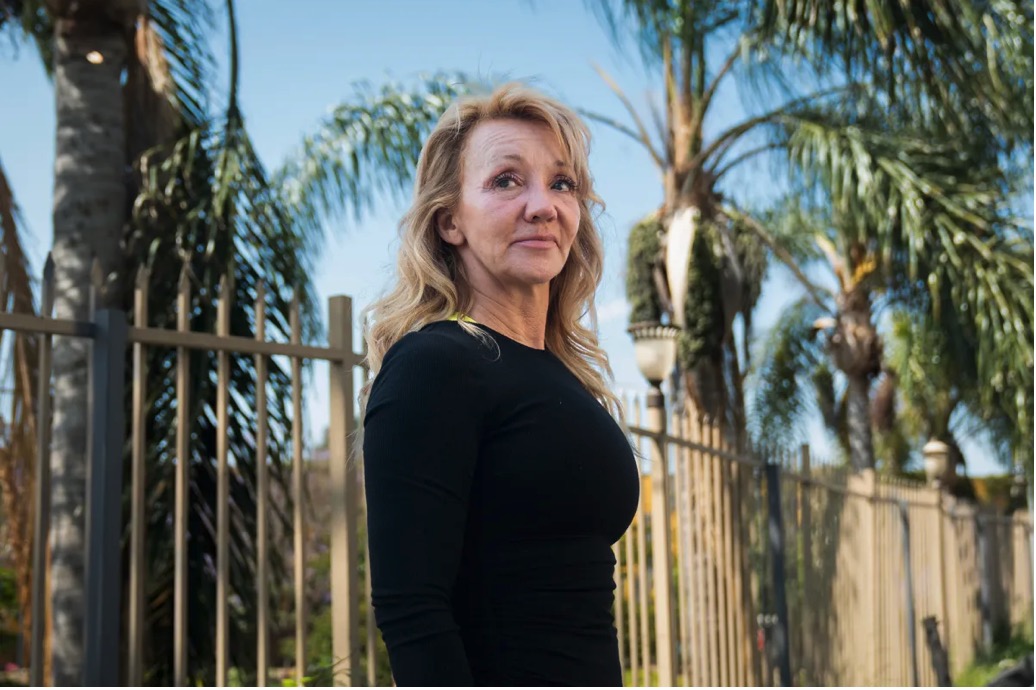 Shayne Smith, outside her temporary hotel housing, in Los Angeles on June 20, 2023. Photo by Julie A Hotz for CalMatters
When Shayne Smith, 53, got into an Inside Safe hotel after seven years on the street, she thought it was a dream.
"It feels really good," she said. "I can take a shower. I can sleep. I have electricity. I have hot water."
Smith, a former interior designer, ended up homeless after a devastating seizure put her in a coma and caused her to lose her income. She had to relearn how to do basic tasks like reading and speaking. During her time on the street, Smith said she was the victim of multiple sexual and physical assaults. One beating knocked the veneers off her teeth, leaving her with what she has today – worn down stumps of teeth with exposed nerves and receding gums that have resulted in abscesses and infections.
"I'm still not getting treatment and I have massive headaches every day so bad that I feel like I'm going to throw up."
SHAYNE SMITH, INSIDE SAFE HOTEL RESIDENT
She has received two 10-minute counseling sessions and a prescription for Zoloft since arriving at the hotel. But she says she needs ongoing, in-depth mental health treatment and medical care for her teeth, and she's not getting either.
"I'm still not getting treatment and I have massive headaches every day so bad that I feel like I'm going to throw up," she said. "I can't eat. I've lost a lot of weight. I'm in pain. Really bad pain all the time."
Kris Rehl, an organizer with LA Street Care, at an encampment in Los Angeles on June 20, 2023. Photo by Julie A Hotz for CalMatters
Kris Rehl, an organizer with outreach group L.A. Street Care who works with Smith and others at that motel, said Smith isn't the only one whose needs aren't being met. Another guest at the hotel has a hernia so severe that she's forced to use a wheelchair, Rehl said.
"The thing that really just destroys me is I will talk to people every week, like Shayne, who says 'I'm in chronic pain,'" Rehl said. "Or people who are like I have debilitating panic attacks or debilitating depression or PTSD or some sort of urgent medical issue."
Cost is another worry. The city is leasing rooms in about three-dozen motels, paying between $100 and $125 a night, per room. So far, Inside Safe has burned through nearly $40 million, city staff said during a committee meeting earlier this month. To make the program more affordable, the city is trying to buy some of the hotels. The mayor's office said it is close to purchasing one 300-room motel, which would drop the nightly cost of sheltering people in those rooms from $135 down to $50, said Mercedes Márquez, the mayor's chief of housing and homelessness solutions.
L.A. homeless encampment returns  
Inside Safe has had mixed success when it comes to its goal of completely eliminating the encampments it targets. The city attempted to close a camp earlier this year at North Spring and Arcadia streets, two blocks from City Hall. On a recent afternoon, about 15 tents still dotted the sidewalks around that intersection. 
Bass said that was one of a small number of Inside Safe sites the city wasn't able to completely clear because some people at the encampment declined a hotel room . She suspects heavy drug use in the area is a factor – one woman overdosed during that Inside Safe operation, and a medic had to administer the overdose reversing drug Narcan four times to bring her back.
Skid Row, the infamous center of Los Angeles' homeless community, is another area where any progress Inside Safe made is scarcely visible. The program moved 175 people from encampments in that neighborhood into hotel rooms, but it barely made a dent. The streets remain lined with tents and make-shift camps, where as many as 2,000 people are estimated to live. 
But for those living and working near the U.S. 101 overpass that was the site of the city's first Inside Safe operation, the difference is night and day. 
"People would tell me all the time that they saw the gym and it had good reviews but they didn't feel comfortable or safe parking their car or being in that neighborhood."  - GLENN BURROUGHS, OWNER OF THE SWEAT EQUITY FITNESS GYM
For more than five years, passersby were forced to walk in the road to get around the encampment taking up the sidewalk, said Glenn Burroughs, who owns a gym called Sweat Equity Fitness down the street. Sometimes, people pitched tents right outside the gym's door and it took months for the city to remove them, he said.
"I know I lost a lot of customers," Burroughs said. "People would tell me all the time that they saw the gym and it had good reviews but they didn't feel comfortable or safe parking their car or being in that neighborhood."
Now, Burroughs is in "complete shock" that the sidewalks have remained so clean after the Inside Safe operation.
"It's been extremely nice," he said.
Homeless man returns to streets
But it hasn't been a success story for everyone. About a block from the overpass, one small green and silver tent sits alone on the sidewalk. Inside, a 47-year-old man who goes by Selene, was reading an X-Men comic book on a recent afternoon. He had been part of the Inside Safe operation, and moved from the encampment into a hotel in December. 
His reprieve from living outdoors lasted only about six months.
After getting into a disagreement with the hotel manager over his malfunctioning keycard, Selene kicked in the door to his room so he could get inside. As a result, he said, he was told to move out.
Now, he's back on the street. After dropping him from the hotel, outreach workers gave him a tent and drove him back to the overpass, he said. After he pitched his tent, police quickly came and told him he could no longer camp there. So he moved a block down the road.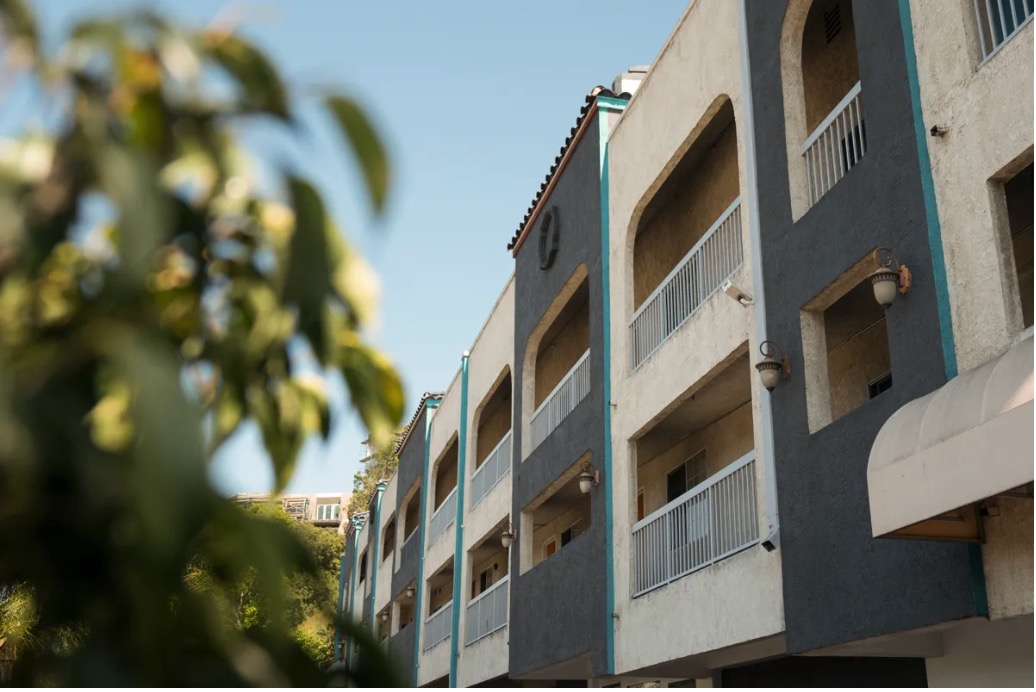 A location where unhoused folks receive temporary housing, in hopes of eventually being transferred to permanent housing, in Los Angeles on June 20, 2023. Photo by Julie A Hotz for CalMatters
After living on the street for nearly three decades, Selene has multiple mental health symptoms, including anger issues and anxiety attacks that make his whole body shake. He said he could have used counseling, but never got it while in the hotel. It's possible that could have prevented the outburst that got him kicked out, he said. 
The situation makes him feel useless and worthless, like "a waste of space and a waste of time." Still, he insists he deserves a chance. "I'm a good person," he said, a tear running down his cheek.  
Despite stories like Selene's, Inside Safe seems like a "really promising model," said Nichole Fiore, who studies homeless encampments and solutions as a principal associate with research firm Abt Associates. People are much more willing to move from encampments into hotels than into traditional shelters, she said, as hotels offer a private space with a locking door and the ability to bring more possessions. 
But people have so many needs beyond the simple solution of a temporary hotel room – including mental and physical health care and other services, as well as permanent housing.
"Inside Safe has a hard job," said Lauren Dunton, another associate at Abt. "It's a very hard thing. It's not simple."
(Marisa Kendall reports on California's homelessness crisis for CalMatters. She previously covered homelessness for the Bay Area News Group, courts for The Recorder in San Francisco and crime for The News-Press in Fort Myers, Florida. She's a graduate of American University in Washington, D.C. This story was first published in Cal Matters.)