LABOR WATCH - A new analysis by the Economic Policy Institute shows that top U.S. CEOs saw their total compensation rise by 1,209% between 1978 and 2022 while typical worker pay rose just 15%—a chasm that is fueling the United Auto Workers strike and other labor actions across the country.
EPI's Josh Bivens and Jori Kandra found that the CEOs of the 350 largest publicly traded companies in the U.S. made 344 times more than a typical worker last year. In 1965, by contrast, the CEO-to-typical-worker pay gap was 21 to 1.
"Top CEO compensation grew roughly 28.1% faster than stock market growth during this period and far eclipsed the slow 15.3% growth in a typical worker's annual compensation," Bivens and Kandra noted in their report, which was released late last week.
The analysis came as the UAW expanded its strikes against General Motors and Stellantis, accusing the auto giants of refusing to engage seriously with the union in contract negotiations.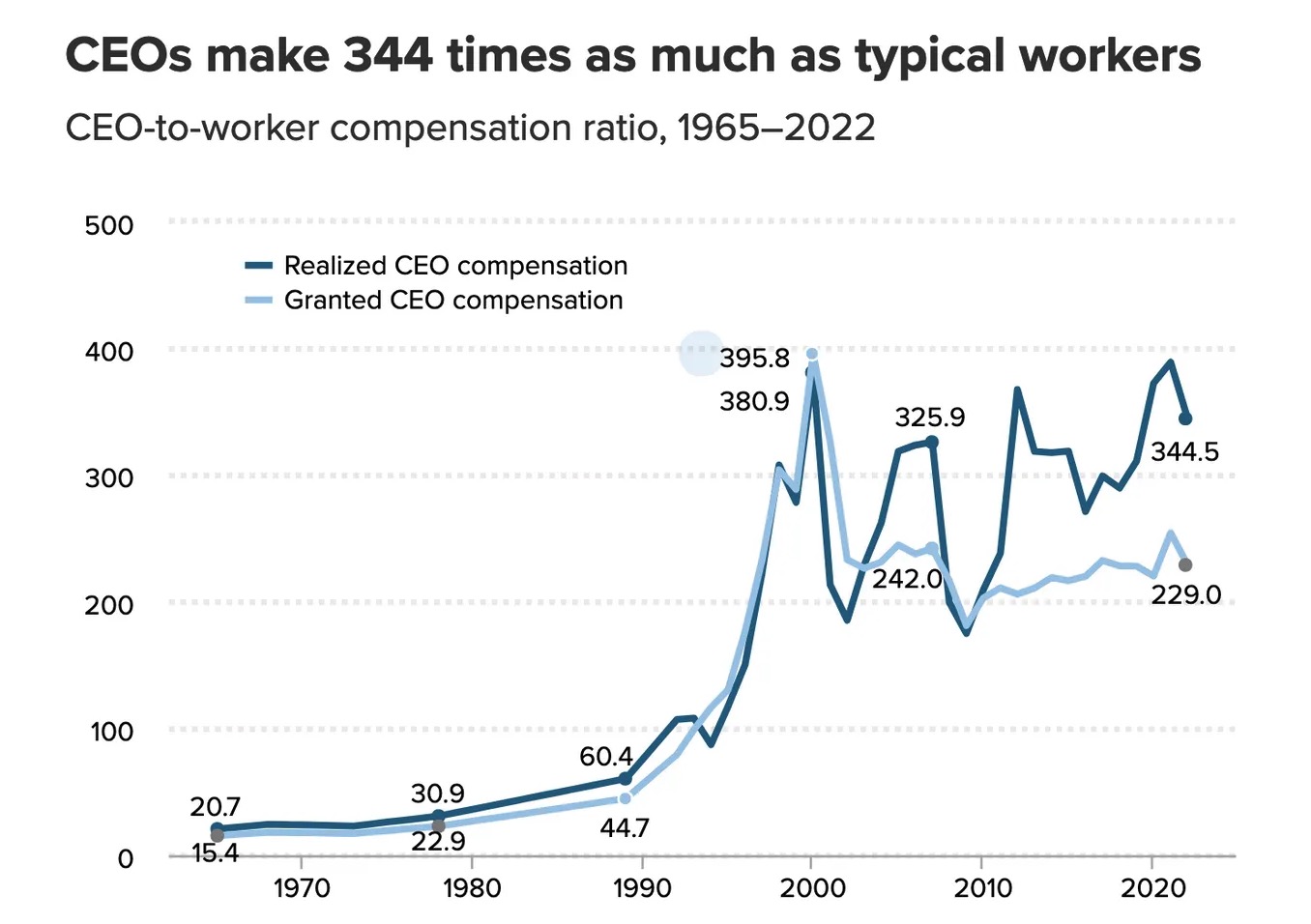 UAW president Shawn Fain has repeatedly pointed to the exorbitant and rising compensation packages of GM CEO Mary Barra—who made $29 million last year—and other executives as evidence that the companies have chosen to prioritize enriching their leaders even as worker pay stagnates.
The UAW is demanding a 36% wage increase for autoworkers in the new four-year contract. Between 2013 and 2022, the CEOs of the Big Three U.S. car manufacturers received a 40% pay boost.
As The Associated Pressnoted earlier this month, "Fain's focus on CEO pay is part of a growing trend of emboldened labor unions citing the wealth gap between workers and the top bosses to bolster demand for better pay and working conditions."
"In June, Netflix shareholders rejected executive pay packages in a nonbinding vote, just days after the Writers Guild of America wrote letters urging investors to vote against the pay proposals, saying it would be inappropriate amid Hollywood's ongoing strike by writers," AP reported. "The WGA wrote similar letters targeting the executive pay at Comcast and NBCUniversal."
Bivens and Kandra stressed in their analysis that surging CEO pay "is not just a symbolic issue—it has contributed to rising inequality."
"CEOs are getting paid more because of their leverage over corporate boards, not because of contributions they make to their firms," they wrote. "Escalating CEO pay in recent decades has likely pulled up the pay of other top earners. This concentration of earnings at the top leaves fewer gains for ordinary workers."
(Jake Johnson is a senior editor and staff writer for Common Dreams where this article was first published.)