ERIC PREVEN'S NOTEBOOK - Excellent article in the Public Press about re-tenanting. It's as bad as it sounds but a lucrative necessity for property owners looking to depopulate without getting their own hands dirty.  These very helpful firms offer cash-for-keys agreements and tell the tenants: There's a limited amount of money for buyouts. So the tenants who signed first would receive the most money and tenants who signed last would get nothing. Lovely. 
Let's run the clip of eminent domain chiselers coming in on families until they met, Jesse James, and turned him into an outlaw. 
Del Richardson is far from an outlaw, it's her upstanding integrity... well, she's a hard worker and well-positioned. She's married to Curren D. Price of the new ninth who is always recusing himself over this thing or that. The Silver medal for most recusals in a quarter or year goes to head commandant, Paul Krekorian of CD2 (minus the CD4 luggage he unloaded). 
On Monday, at a perfectly inconvenient time the Paul Krekorian Sneaky Committee on Governance Reform convened to review the Chief Legislative Analyst (Sharon Tso's) reports relative to Independent Redistricting Charter Reform and expansion of the City Council.  [Full Link]
There was just one item on the agenda and "Please Note Public Comment Will Be Taken In-Person Only."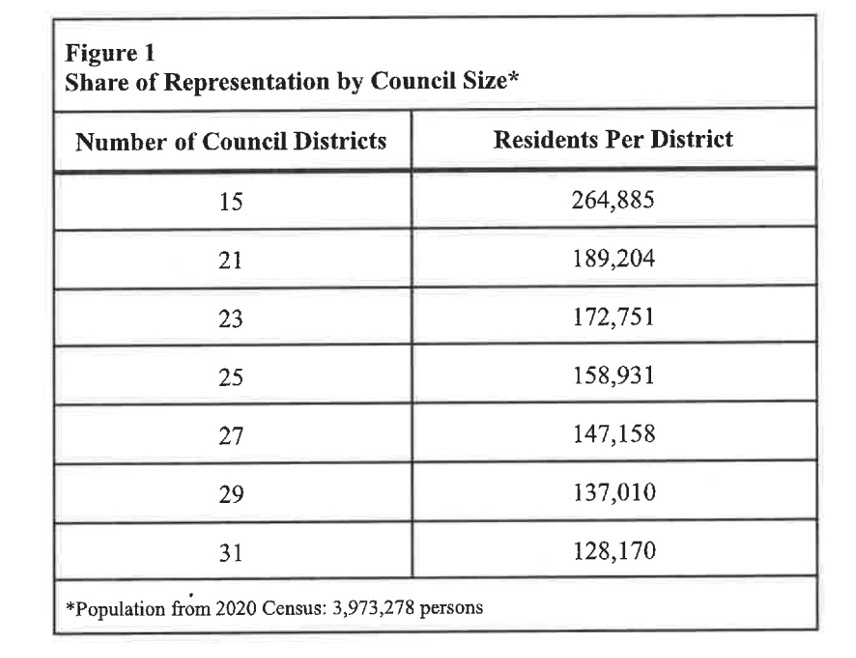 Thanks to a local resident of Studio City the Brown Act was clarified by an appellate court finding that the city must take public comments on any item that appears on a Special Meeting agenda.  
But ad hoc meetings - wait for it… The Brown Act does not apply to ad hoc or temporary advisory committees composed of less than a majority of the body.  
SPECIAL – AD HOC COMMITTEE ON CITY GOVERNANCE REFORM Councilmember Paul Krekorian, Chair -  Councilmember Nithya Raman - Councilmember Bob Blumenfield - Councilmember Marqueece Harris-Dawson - Councilmember Heather Hutt - Councilmember Eunisses Hernandez - Councilmember Traci Park
How it is that "one item" passes the sniff test when it is about two proposed ballot measures: one for independent redistricting and one for the size of the City Council, is a question.  For who?
Well, I certainly hope not the Ethics Commission. That seemed to be the answer to everything on Monday. 
When I tuned in at 10:40 ayem on Monday, during the top of the week rundown across the west coast, the ad hoc was hearing from Chief Legislative Analyst and spinner, John Wickham, who works for the CLA, Sharon Tso. 
At first, the well-positioned incumbents were bogged down on how to select the 17 redistricting commissioners. Step one would be the selection of eight by geography, then step 2, would be the selection of nine by diversity factors.  
"I think you said the objective criteria would apply to the full pool." John Wickham
Then there was a robust discussion about how many and how to deal with alternates. "If we only have four, will that be enough?" 
And if we lose a Diversity commissioner, do we have to replace "they" with a diversity alternate? Or could it be a geography alternate? 
Well, maybe we do need more than four alternates?! 
There was a feeling that the panel was getting confused and in over their heads.  Raman started repeating her understanding which is a bad practice by a very good student. 
If the proposed ten-year term remains, it occurred to several of them, won't that be an impossible commitment to get from regular people to serve?   Who wants to serve on a board for ten years? Marqueece Harris-Dawson used the term "disincentivization."
Smart Speaker:  I realize you're not taking public comment, but won't that result in the exact trusted insiders (willing to do ten to life) to serve the city... slash the shared interests of the deeply hidden but very strong bond to Paul Krek--
City Attorney:   Sir, you're off-topic.
Eunisses Hernandez asked if the commissioners would get a stipend and the answer was an immediate yes. Mr. Wickham (and this is why he gets the big bucks) said not one numerical value about how much or how it works. He just cited the code where she could read up on it. 
Kudos to Wickham, who listens carefully, talks well and says almost nothing.  
It was Wickham who worked shoulder-to-shoulder with the great felon, Mitchell Englander and the greatest Budget and Finance committee in the history of the city for big hotel interests under head giftgivers, Eric Garcetti and Paul Krekorian. This was the period when Transit Occupancy Tax breaks to LA Live and many others like Richard Weintraub of Sportsmens Lodge --  
City Attorney: Sir, you're off-topic. 
Smart Speaker:  You're not taking virtual public comment, you idiot. 
City Attorney: Please continue. 
Smart Speaker: Okay, I was listening very carefully about the redistricting commission packing plan that Krekorian is trying to sell.  The idea that the City Ethics Commission will be doing the selecting is not Kosher.   Whether it be the objective or subjective choosing or both. 
"You've go to just trust that the Ethics Commission is going to do the right thing." Paul Krekorian
To have the Ethics Commission serve in that way when they are appointed by electeds falls beneath what the public expects.  Similar to the way, it is a total mistake to have City Clerk review signatures on petitions? 
And furthermore, you Sir,  Paul Krekorian, and Gil Garcetti, the mayor's father, and a whole host of usual suspects have wired the Ethics Commission nicely. The rules are substantially rigged to benefit insiders.  Ask David Tristan and Heather Holt, they'll explain how sometimes rules can be interpreted in... different ways.  [Herb Wesson: Hi, Heather!]. And Sir, the Ethics commission still has no quorum.
Eunisses Hernandez, CD1: "How do we change that Ethics is appointed by elected officials?" 
Paul Krekorian, CD2, Chair "I guarantee we will get there, once we finish this."
Smart Speaker:  Anyway, Ethics in my opinion, cannot be given any tasks and be expected to remain unbiased.  If you haven't seen the Kelly Lord article, you are missing something special.  
Summary:  The Ethics Commission only goes after upstart candidates and settles quickly if they make any findings at all on the bigger dogs, like Huizar and O'Farrell (now dba Hugo Soto-Martinez).
Ethics simply avoids looking at some candidates...like, you Sir. 
And correct me if I am wrong, but you have never NOT approved a request from Ethics for more positions?  True or false? 
[Red Face]
Sir,  are you taking niacin?
That's how red-faced I felt when I was examining the list of Harvard Westlake Trustees this morning to see how much money they've smeared around the mayor's office and city council to have their way with the residents of Studio City over the Weddington property. 
Answer: A lot.  
(Eric Preven is a longtime community activist and is a contributor to CityWatch. The opinions of Mr. Preven are not necessarily those of CityWatchLA.com.)