PLANNING WATCH - You only need to look at City Hall's second effort to update the Hollywood Community Plan to watch the march of folly close up.  Former Superior Court Judge Allan J. Goodman overturned the previous 2012 Update for being "fundamentally and fatally flawed"  He offered three reasons, all of which hold true for the 2021 update, which the City Council will finally consider in May 2023.
Reason 1.  The current (2021) Update is also based on outdated demographic data, in this case 2010 census data that is now 13 years old.  As for three year old 2020 census data, the new Update and its Environmental Impact Report excludes it.
Reason 2.  The current Update also fails to expand municipal services and infrastructure to meet the needs of the people and buildings it intends to attract to Hollywood through widespread up-zoning.
Reason 3.  The current Update, like the previous 2012 version, did not adequately consider its environmental impacts.
Methodological flaws repeat: When the Los Angeles City Council adopted the 2012 Hollywood Update, I wrote about its four methodological flaws.  All four reappear in the new Update:
Improper Sequencing: The current Update, like the 2012 Update rejected by Superior Court Judge Allan J. Goodman, is improperly sequenced.  It should have followed, not preceded, the update of the General Plan's mandatory and optional citywide elements, most of which are in urgent need for updating.  For example, the City Council adopted the General Plan elements for Infrastructure and for Public Services in the late 1960's.  Since then Los Angeles has experienced enormous changes but these two Elements have never been rescinded or brought up-to-date. 
General Plan Conflicts: The court-annulled 2012 Update, like the current Update, conflicts with the General Plan Framework Element.  The Framework is an explicitly growth-neutral plan, not a growth-inducing plan, like both Hollywood Community Plan Updates.  In fact, Judge Goodman's 2013 decision directly quoted from the General Plan Framework: "The Framework Element does not mandate or encourage growth."
Failure to Calculate Existing Zoning Buildout: The 2012 Update, like the current update, does not calculate the build out of existing zoning, as well as zoning entitlements already granted to developers.  Luckily, this data is available from other sources.  According to Hollywood Heritage, "No upzoning is needed in Hollywood. All 34,000 residential units supposedly needed in the Hollywood Community Plan area have been constructed, permitted, or entitled since the preparation of the plan's DEIR in 2016."
Missing Monitoring Program: The 2012 Update, like the current update, did not include a monitoring program to determine if its demographic and infrastructure assumptions were correct, or if they should be amended to reflect actual conditions.
In light of these and other errors, a key question remains.  Has City Planning accurately responded to Judge Allan Goodman's stunning rebuke of the previous 2012 Update of the Hollywood Community Plan?   Based on my review of the current update, my answer is NO.  The current (2021) version repeats the same errors that sunk the 2012 Hollywood Community Update:
The Current Update Ignores with Zoning Build-out Data.  The current Update is based on the unsupported claim that Hollywood's existing zoning does not allow sufficient housing to meet the needs of future Hollywood residents.  This, in fact, is the Update's rationale for the extensive up-zoning in its attached land ordinance.  But Hollywood's existing zoning allows for many thousands of by-right apartment buildings located on transit corridors, all of which qualify for TOC density bonuses.  If City Planning had made these calculations, the Hollywood Community Plan's existing zoning would allow 430,000 people. 
Furthermore, if Accessory Dwelling Units (ADU's) and TOC Density Bonuses were added, Hollywood's build-out population would be 580,000 people.  This is far more than SCAG's 2040 population forecast of 226,000 residents, as well as City Planning's inexplicable Reasonable Expected Development projected population of 243,000 to 264,000 residents.  Supposedly, their housing needs can only be met through the Update's widespread up-zoning program.
The conclusion is obvious.  The Hollywood Community Plan area has more than enough parcels whose current zoning allows for either population forecast.  There is no need for the plan's Up-zoning Ordinance. 
Conflicts with the General Plan.  The second Hollywood Update claims that it is consistent with LA's adopted General Plan, but this is incorrect because the General Plan Framework Element is growth neutral, while the Hollywood Community Plan Update is growth-inducing.  Furthermore, the Framework contains two criteria for up-zoning, neither of which appears in the Update.  The first criterion is evidence that existing zoning cannot meet the housing needs of future residents.  The second is  evidence that existing infrastructure and public services can support the needs of additional people and buildings resulting from up-zoning. 
Inadequate Municipal Services and Infrastructure.  The Hollywood Community Plan Update's Draft Environmental Impact Report is clear that Hollywood's aging infrastructure will not be upgraded.  The DEIR's rationale for this is that all new buildings and their residents will be located in areas with surplus infrastructure and public service capacity.  As for data substantiating this claim, it is not presented, presumably because it does not exist.
Outdated and Inaccurate Demographic Data.  In 2023 the City Council will finally consider and vote on the second Hollywood Community Plan Update, 13 years after the Bureau of the Census collected the 2010 census data.  After that, in 2016 the Census Bureau extrapolated its 2010 data, which City Planning adjusted with State Department of Finance and Southern California Association of Governments (SCAG) population forecasts.   Most revealingly, City Planning's 2040 population forecast exceeds SCAG's 2040 forecast by 17,000 - 48,000 people.  
Ignored Environmental Impacts.  Every major project and plan, including the second update of the Hollywood Community Plan, has serious environmental impacts.  These include Greenhouse Gas emissions created by new buildings and the traffic they generate.  These adverse impacts can only be mitigated by a project's redesign, presented as the DEIR's Environmentally Superior Alternative.  In Hollywood this option is called the Reduced Transit Oriented Development and Corridors Alternative.  To reject it, the Update required a Statement of Overriding Considerations.  It claims that the updated Community Plan promotes energy efficiency and results in so much transit use that decision makers can reject the Environmentally Superior Alternative, without any need to document that energy efficiency and increased transit ridership appeared.  If this sounds like a give-away to major property owners, it probably is.
Improper General Plan Sequencing.  Like the 2012 plan that Judge Goodman totally rejected, the current Hollywood Update frequently references the 27-year-old General Plan Framework Element, while ignoring other General Plan elements, particularly the old Infrastructure Systems and Public Facilities and Services element.  City Hall should thoroughly update these old General Plan elements before updating a Community Plan that claims it only adds new buildings and people to Hollywood neighborhoods with surplus infrastructure capacity. 
Failure to Monitor the Update. The General Plan Framework required City Hall to establish a General Plan Monitoring Unit that would prepare and distribute an annual plan monitoring report.  Without these reports, it is impossible to determine if the Hollywood Community Plan's implementation programs exist and if they meet the plan's goals.  Furthermore, without monitoring, it is impossible to know if the Hollywood Plan's demographic forecasts are correct or if they, too, should be rectified.
In 2013, when Judge Allan Goodman ruled that the 2012 Hollywood Community Plan Update was fatally flawed, he unintentionally revealed a misuse of Community Plan updates to increase the value of commercial parcels through up-zoning.  The second revision of the Hollywood Community Plan also has this same fatal flaw.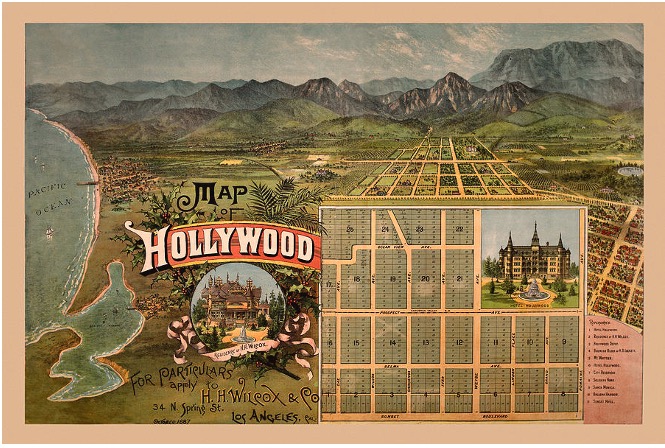 What therefore lies ahead in light of this fatal flaw?  If the City Council adopts the 2021 update and it prevails against lawsuits, this is what Hollywood should expect:
Most up-zoned parcels will be flipped, and few affordable units will be built.
Homelessness will grow because low-income apartments will be replaced by expensive units unaffordable to most Hollywood residents.
Transit ridership will further decline because Hollywood's remaining transit dependent residents will be gradually forced out by rising housing costs.
Finally, when the Update's stated objectives are not met, City Hall will overlook its failures as long as Hollywood's building boom continues.
(Dick Platkin is a retired Los Angeles city planner who reports on local planning issues for CityWatchLA.  He serves on the board of United Neighborhoods for Los Angeles (UN4LA).  Previous Planning Watch columns are available at the CityWatchLA archives.  Please send questions and corrections to [email protected].)