THE EASTSIDER - Since I visited the Housing Authority (HACLA) residence in Eagle Rock in February, I thought it was time to have a return visit to see if anything had been done by EAH, the subcontractor that manages the facility.  Unfortunately, the answer is that the situation has gotten from bad to worse. See previous article.   
Here's EAH's website clearly stating that Reflections on Yosemite is "Professionally managed by EAH Housing': 
"built in 1970, Reflections on Yosemite Apartments is located in a beautiful nature setting in Eagle Rock and is close to Pasadena, Glendale and Highland Park. The three-story senior (55+) community consists of 100 rental apartments (8- Studio, 92 1- BR) with 100 covered parking spaces for residents, five visitor parking spaces, two loading zones and two handicap-accessible spaces. Reflections on Yosemite Apartments is near grocery stores, restaurants, public transportation. Each apartment includes AC, wall heater, hardwood floors, balcony/patio. The community has a full-time Activities Coordinator for our senior residents who arranges activities such as coffee socials, movie days, field trips, and more. Reflections at Yosemite offers affordable housing to qualified applicants meeting low income and other program requirements."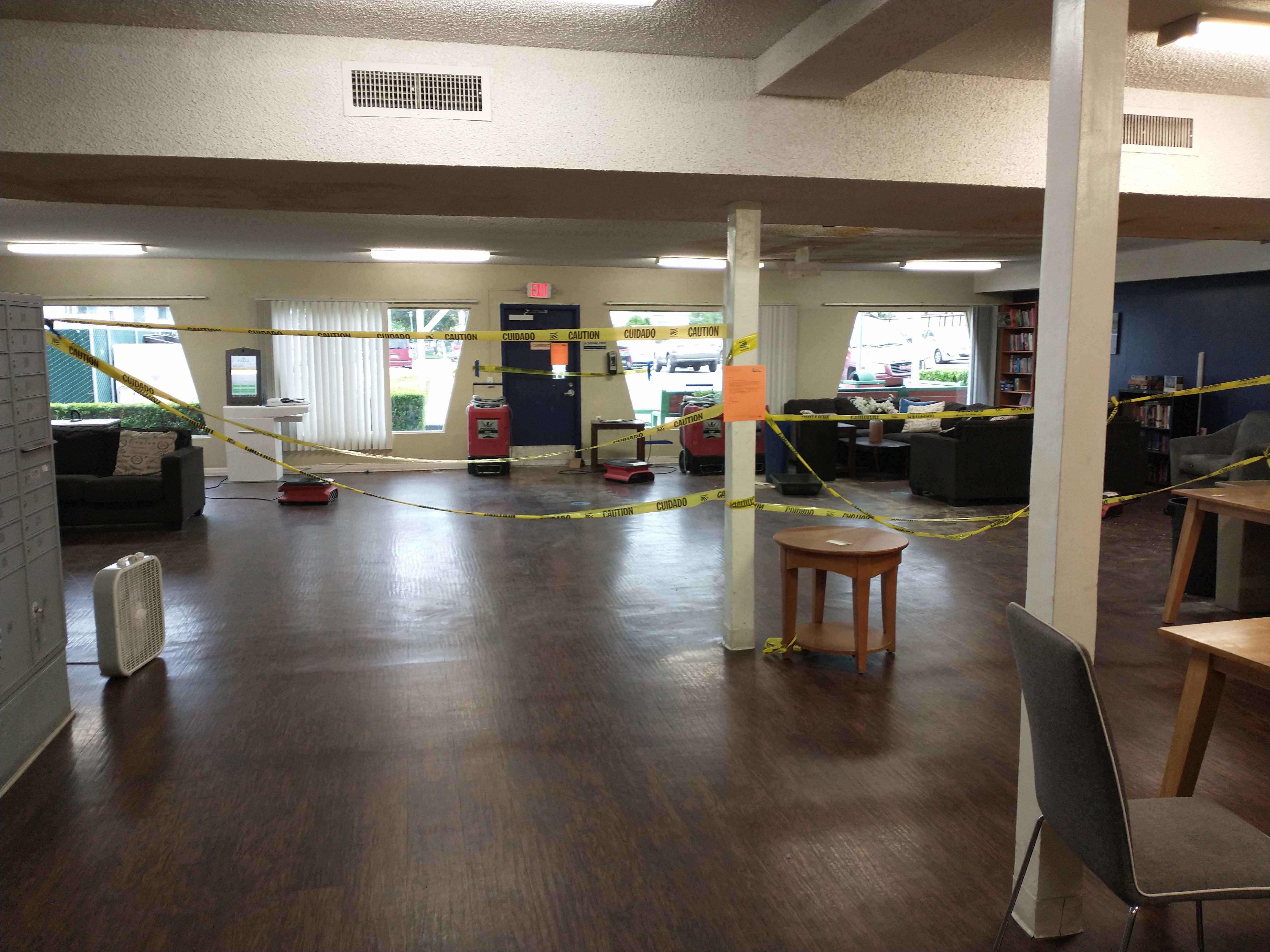 In one of those "a picture tells it all", you can see from the photo above that most of the Community Room of the facility is taped off, due to water damage which has not been addressed at all. 
Just as it was in February, the kitchen is locked shut, and the bathrooms in the Community Center are still locked shut. Also, the heating and air conditioning systems for the room have been inoperative for over a year. 
In the accessible part of the Community Room, the ceiling is a popcorn one, and it appears that there's been some water damage.  Also, I'm told that that ceiling has some asbestos in it. 
Further, the ventilation fans in the hallways don't work, there are leaks in the roof in the hallway, only one of the elevators to the apartments is working, and the door to the roof (which is supposed to have an alarm and be locked) is neither.  Finally, there are still leaky windows which was a serious concern back in February with the serious rains. 
I also talked to one tenant who was recently able to transition from a regular apartment to a Section 8 apartment, which costs significantly less.  However, when she leased her regular apartment, she had to put up a deposit.  When she leased the Section 8 apartment, she again had to put up a deposit. 
She also had two in person inspections, one for the old apartment she was exiting, and one for the new Section 8 apartment. 
However, she has never received the deposit she posted for her old apartment. Both deposits are held in trust, and she should have had her initial deposit returned to her.  Both checks were made out to Reflections at Yosemite. To date, no joy. 
Reflections has undergone several changes since its initial beginnings as a Senior Center. Times change, and one of the changes over time is that now there are residents who for whatever reasons, give out their security code access number to "friends", some of whom are alleged to be actively involved in drug transactions.  I am also told some of these outsiders have defecated on the grounds. 
In the monthly glossy 4-page EAH handout, the Staff as of May 2023 is 'Regional Director", Jess Sanchez, the "Property Supervisor" is Maria Garcia, and the "Lead Resource Coordinator" is Alicia Grant. Unmentioned in the glossy handout is reference to the interim Manager April, who I am told when asked that she "only answers the phones". 
There was also the following statement buried in the third page:
"Our previous Activity Coordinator Position has been changed to a Resident Service Coordinator!  We are extremely excited to be able to provide more personalized services and assistance to our Residents, here at Reflections at Yosemite. 
Activities will continue; however, the RSC will be focused on identifying the needs of our residents and providing the appropriate referrals.  The RSC will also work on building outside partnerships with local agencies and bring those resources onsite!  Great things are on the way to Reflections at Yosemite!" 
I don't know if the PR person who wrote this part of a handout was living in an alternate universe, but the text stands out in stark contrast to the concerns of the people who actually reside at Reflections on Yosemite. 
My observation in three visits to the facility would argue that there were no fixes for the problems outlined in my earlier article, further degradation of the physical facility, and employees/managers cycling in and out of the facility. 
 And you can see from the photograph that over 1/2 of the Community Center is no longer available to residents because it is taped off.  Pending, one assumes, EAH management getting around to fixing the flooded area so that it is again available to the residents.  
The PRA Request
Since it is virtually impossible to get information from HACLA or EAH, I'm going to start by examining the relationship in some detail. Thus, a Public Records Request I sent in the other day: 
"Pursuant to the California Public Records Act, I would like a copy of the contract between HACLA and EAH which covers Reflections at Yosemite.
My cell phone number is 323-791-7367, my home address is 4286 Verdugo View Dr, LA 90065, you have my email in this request form.
Thank you for your time and consideration." 
We will see how that works. 
The Takeaway
It's dangerous to generalize from the reality at one Senior & Section 8 facility.  At the same time, Reflections on Yosemite is in a nice, upscale part of Los Angeles over here in Northeast LA.  Congressman Jimmy Gomez lives in the neighborhood. It's in CD14, where Council member Kevin De Leon holds sway with some deep pockets. 
So, as we try to see what can be done to make the system work for the residents of Reflections at Yosemite, I have to wonder how bad it may be at other HACLA/EAH properties that we simply never hear about. 
(Tony Butka is an Eastside community activist, who has served on a neighborhood council, has a background in government and is a contributor to CityWatchLA.com.)