ERIC PREVEN'S NOTEBOOK - On Wednesday I spoke at council following a man who Marqueece Harris-Dawson cut off for not being on a discernible topic. 
Smart Speaker:  Thank you it's Eric Preven, I'd like to speak on the available items and also a general public comment. 
Deputy City Attorney:   That's items 18 and 20 through 34.
Smart Speaker: OK, well today is Wednesday and Hugo Soto Martinez is being upgraded to a role previously held by Mitchell O'Farrell.  He's the new head cheerleader designated to represent the city at the League of (sneaky) California Cities.  He'll be attending the annual conference in Sacramento.  
Here you have the unpleasant but essential transformation of Hugo from a community organizer to a rank-and-file council member, 15 ayes.  It's a painful process, but it is a process. 
Item 30, as people have articulated, goes to our master and leader Paul Krekorian, the head con man if there were such a title, who seamlessly carved all of the political problems for which he collected handsomely from the applicants, onto Nithya Raman's plate.  Bon Appetit.
But here, he is masterfully shaking loose $270,000 of LAPD Overtime to North Hollywood to fight crime and this is a nice touch to protect the parks in our neighborhood. 
Smart Speaker:  Wow.  Thank you, Sir.  But aren't you the wolverine (no disrespect to the rodents or marsupials) who despite robust resistance to building a giant Net Zero double-height building in our grassy field, kept pushing and fighting to inflict something bad on us?  By weaving a tapestry started by den mom, Wendy Greuel, years ago, and craven Brad Sherman who must be senile to have agreed to help fund such a horrible idea. Now Studio City is facing a devastating outcome... Thanks, Brad.
How about not giving away all the open space for a High School Regulation Gymnasium which nobody wants or needs, for $20 million dollars, not joking, outrageous, net zero, Eric Garcetti and this appalling misuse and attempt to greenwash what amounts to a heist of our vital grassy fields. cc - India
And right around the corner on Whitsett where the fire station exists to protect us -- "Hey how about knocking down all the trees and putting up a 2000-person private arena in the open space?"   
Mr. Harris-Dawson, I know you don't pay close attention, but our neighbors call Weddington, the lungs of Studio City.  So, we ask, how does Nithya Raman feel about that...because she doesn't seem to give a damn because of the Harvard Westlake money bank.  It's a money bank.  
Anthony Pritzker is giving over 100 million dollars to bulldoze trees in an area where people live. I find it appalling but I want to thank--
Ms. City Attorney:  Speaker, which item are you speaking to?
Smart Speaker:  Item 33, Vivian Rescalvo. I want to ask her if she will ask Zev Yaroslavsky, who was back at Book Soup the other night, about the Zev Greenway and whether or not the county, she's supposed to be a thirty-year veteran, intends to give some kind of a sweetheart deal to an elite Academy that has been trying to take over and commandeer what has always been publicly accessible.   
Hugo?  Organizers? Eunisses?  Katy? ...  "always been accessible," here we are being asked to agree to a carefully scripted little set of lies, or prevarications if you prefer.
The CEO Rick Commons says, and I'm paraphrasing,  "Oh, no, we're doing all this for the public."  
Honestly, you could not think of a more arch, sinister, position. The proverbial network would give a strong note:  "This is too on the nose. These characters are too broad and craven."
Wall Street is having its way with Main Street in the presence of our great progressive front... where is Peace Over Violence?  Are they standing with the main streeters of Studio City or the big-money donors like Pritzker? 
You don't have to answer immediately.  Find a safe place.
Deputy City Attorney:  Sir, you're in general public comment now. 
Smart Speaker:  Oh, okay. By the way, who is speaking? You are not Mr. Groat, are you?  Who was that who just addressed me? (silence)  OK, so you're not saying. You want to go the way of Current D. Price... fair enough. 
Listen, Paul Krekorian and Strefan Fauble under David Michaelson's leadership -- he's the former Assistant City Attorney, who shimmied over to Karen Bass's office to handle the attorney-based wrongdoing for the mayor -- are mid-tactical error.  It's really simple, Mr. Krekorian, who is excellent,  recuses from time to time because apparently, he never goes into detail, some rental properties cause him to recuse.   
To resolve what the 'f' he's talking about, we filed a request for the parcel numbers to be able to determine if his RSO properties are indeed RSO properties, etc.  We certainly don't need a key to his linen closet, but the disclosure of a reasonable descriptor, as with other properties is appropriate. 
The City Attorney's office views it differently and wants to stonewall the request, thereby prompting a closer examination of this space... and the concomitant deeper investigation. 
The endless chicanery from the head con man who removed the possibility of Angelenos calling into committee hearings, thereby reducing engagement, then he uses the poorly attended hearing, to say, the council already heard from the public, so upshot: he won't take any more testimony, even from Angelenos who are in the room and ready to speak because they did not spot the fine print.  It's an evil plan by design. 
Anyone who believes in the promise of democracy, and the idea that we the people have a say in our government, should rebuke Paul Krekorian, whose unsupportable decision is effectively treason.
Incidentally, why are the public commenters visible in this shocking blast from the past? 
2004:  A Space Odyssey:
You have to love the recent release of the 2004 epic City Council Meeting series (click above).   
In it, you can find, a young Daniel Guss (now an award-winning sub stacker) visibly hammering an applicant for the top job at Animal Services GM, before an all-star lineup including, Janice Hahn (now a supervisor), Tony Cardenas (now a congressman), Eric Garcetti (now Ambassador to India), Antonio Villaraigosa (still Antonio Villaraigosa), and even young Alex Padilla (now a US Senator)  delivering a 45 minute quasi-interrogation! 
By contrast, Jamie York, the Eric Garcetti fundraiser and Ethics Watchdog appointed by Kenneth Mejia, who thought it was a good idea to hire Sergio Perez, was given two seconds of consideration before being rejected.  If you ask me, this was a serious violation of the Brown Act and the public's trust.
It would be so nice to see the public speakers, like in days of yore, dearest progressive flank.  Maybe follow the City Council rule 93?  Check it out. 
To honor the old tradition of pretending to do the diligence, a Police Commissioner candidate, Fabian Garcia was trotted out before the city council for a bit of lite, hard-hitting questions from Herb Wesson, Nury Martinez appointee, Heather Hutt. 
Mr. Garcia it turns out has many besties on the council, including Imelda Padilla... "so much fun!"
Katy Yaroslavsky stood up for one of her besties too...but the creme de la creme was the Cindy Montanez theme park and touching remembrance. Cindy ran and lost against Nury and has been struggling with cancer.
Everyone was thinking about the Gloria Molina Historic commemoration and rollout-- maybe we shouldn't have named every single thing after -- 
The presentations were deeply moving and the Pacoima Wash is not nothing.  Fight on! (What about Harvard Westlake, Cindy? You are the Tree People lady... did they get to you?)
To Pay or Not to Pay:
To be an unpaid commissioner the mayor typically appoints you and the candidates are asked to meet with the councilmember where they reside. Lastly, a majority of the city council must vote to approve you. 
If you are a paid consultant, you just need to get the city council to vote.
Katy Yaroslavsky brought on Vivian Rescalvo for a modest,  $75,000. 
"The CONTRACTOR is an independent contractor responsible for providing their own equipment and office space and is expected to work between 5 to 10 hours per week for an average of 7.5 hours for a minimum of 50 weeks of the year... ($200) an hour for time and materials at cost, provide expert technical assistance and support to the 5th Council District relative to proposed land use development projects in the district with particular emphasis on large scale residential and complex commercial projects. 
Such technical services shall include but not be limited to the following: reviewing project design details and advising on opportunities for project improvements to reduce quality of life, environmental, and other impacts on nearby communities, working with 5th Council District staff to coordinate and facilitate community engagement between project proponents and the nearby community (including adjacent businesses and residents), assisting with the development and preparation of community benefit agreements and other related development agreements, preparing briefing materials and other documents to support 5th Council District staff and the Councilwoman, and other related duties as assigned. 
She can work at home and must provide her own computer. 
The CONTRACTOR shall perform said services in accordance with a scope of work approved by the Councilwoman. 
Smart Speaker:  Can we get a retroactive consultant to assist CD4 with the NO SALE sellout of our local golf and tennis?   CD2 did the damage, but CD4 never had a proper chance to clean up..
MVPs: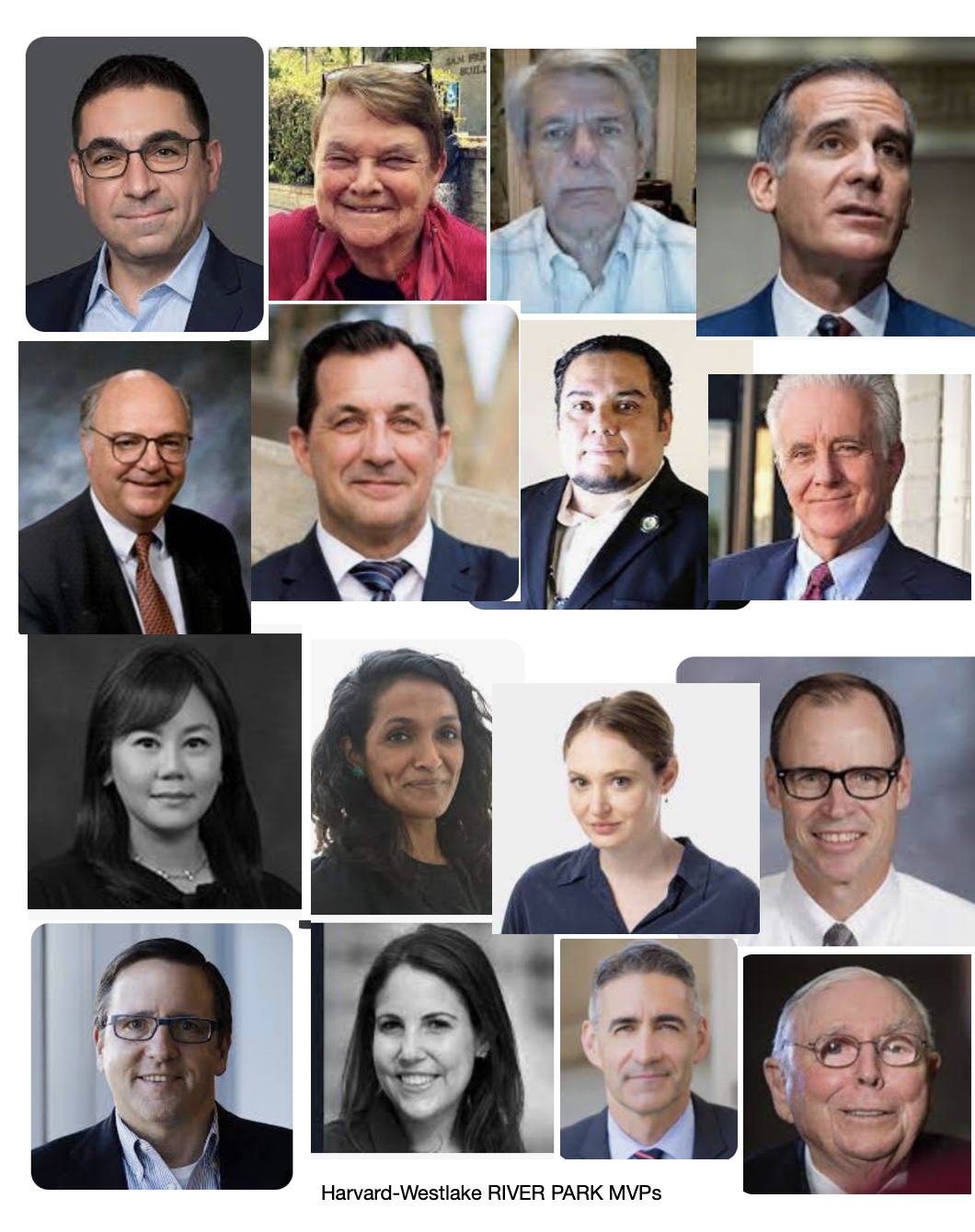 Top row, L-R Edgar Khalatian (Mayer Brown), Sheila Kuehl, Zev Yaroslavsky, Eric Garcetti HW, Thomas Hudnut, HW, Mark Pestrella, LA County Public Works, Rudy Ortega, Jr., Paul Krekorian, Caroline Choe, HW, Nithya Raman, Julia Wick HW, Rick Commons HW, Anthony and Jeanne Pritzker HW, Samantha Millman HW, Vince Bertoni, Charlie Munger HW.
Ooops, there was one environmentalist who was a little bit different and she had a question or two.  In fact, she had lots of questions around the equity piece...and  the basic fairness doctrine.  
Lindsey Horvath, LA County Supervisor, 3rd District 
Kevin De Leon:  Thank you, very much, I'm asking you to support this on 1st and Broadway .. and spring… An open lot, a dirt lot… you know... encampments and film crews and RVs… this is a motion to build out a modular housing village for interim housing across from city hall.  Quickly and efficiently... just down the road we have our tiny home neighbors… on a big piece of land. 
Eventually, a park, a centerpiece… for the City of LA, like with Pershing Square.  Thanks to Blumenfield for locking arms.
Smart Speaker:  De Leon, Sir, where are you with the Harvard Westlake elitists you know buying a zone change from bestie Nithya Raman, these guys make Caruso look pequeno y pobre.  I'm not sure Caruso could even get into Harvard Westlake... but he managed to buy Pepperdine Law School and name it after his parents.  Ken Starr to Ma and Pa Caruso.  Lovely.  
But Sir, we can say to NO to Pritzker and all the billionaire donors, right?  If it's the right thing to do... like with Katy, and Eunisses. We need to Keep Holding On.  
🚨 Endorsement Alert 🚨
Nonprofit Organizations in complete opposition to their mission….. 
The MRCA manages more than 75,000 acres of parkland that it owns and that are owned by the Santa Monica Mountains Conservancy. 
The MRCA is dedicated to the preservation and management of local open space and parkland, wildlife habitat, coastal access, watershed lands, and trails in both wilderness and urban settings, and to ensuring access to public parkland and coastal resources. 
I was deeply troubled when I heard Rudy Ortega, Jr. speak up in support of the Harvard-Westlake River Park Plan project at the no-recusal two-commissioner alumni public hearing.  Ortega, Jr. said, "My ancestry is thousands of years buried here, in this soil. The dirt, the mountains, and the plants all contain my ancestral DNA."  
Ortega, Jr. is a member of Siutcabit, the lineage of present-day Encino, CA. His ancestors come from the villages that originated in the geographical areas of Santa Clarita Valley, Simi Valley, and San Fernando Valley. 
His great-grandfather fought in Los Angeles Superior Court in the 19th century to preserve traditional lands and protect Native title to Mexican land grants from encroaching settlers. 
Following his father's decades of leadership, Ortega Jr. was appointed to the Native American Indian Commission by Mayor James Hahn in 2004, where he serves today as a commissioner. 
In addition to serving as Chairperson of the Conservancy, Ortega Jr. is a member of the Los Angeles River Master Plan Steering Committee and a Commission member of the Climate Emergency Mobilization Committee appointed by Mayor Eric Garcetti. 
Smart Speaker: Well, everyone knows Garcetti is the school's most famous alumni, so what's up with all these commissioners whom he appointed (Rudy, Samantha Millman, Caroline Choe, etc.) willing to go along with this odiously bad plan?  No disrespect to Ortega Jr., but this dude is working with the Cowboys on this -- the school's river plan project is totally... OFF.
"The Mountains Recreation and Conservation Authority (MRCA) is dedicated to the preservation and management of local open space and parkland, wildlife habitat, coastal access, watershed lands, and trails in both wilderness and urban settings, and to ensuring access to public parkland and coastal resources."
Smart Speaker:  Well, if MRCA is one of the lead agencies revitalizing the Los Angeles River, shouldn't they be avoiding the perception that they are sucking up like crazy...  to the donor class? 
The MRCA works in cooperation with the Santa Monica Mountains Conservancy and other local government partners to acquire parkland, participate in vital planning processes, work towards wildfire resilience, and connect wildlife habitats. 
Smart Speaker:  Right, so why don't we get MRCA to buy the Wedding Golf and Tennis back from the angling billionaires to protect Main Street from this unwarranted and appalling attack from Wall Street? 
Sweet Talking or Aggression
In a groundbreaking step, Caltech announced Thursday that it will drop admission requirements for calculus, physics, and chemistry courses for students who don't have access to them and offer alternative paths to prove mastery of the material. 
"Brilliant students exist in every single part of this world and in every single community, and this idea that families have to choose the future of their kids and where they're going to go for college based on their ZIP Code seemed so unfair," said Ashley Pallie, Caltech's executive director of undergraduate admissions. "We need to continue opening this door of opportunity."
Dropping requirements for calculus, chemistry, and physics for students without access to those courses is great.  "If we're really trying to beat the bushes for these rare students with this exceptional sort of tenacity and resilience and promise, then we really don't want to be missing large segments" of potential applicants.   Pallie said, "While talent is distributed broadly, opportunity is not."
In contrast, Harvard-Westlake is so academically rigorous that it attracts a specific type of applicant. "By the time kids apply, they know it's the right place for them," said Tom Hudnut who once served as an Area Planning Commissioner for the City of Los Angeles.  
Tom's experience as a fundraiser and mentor is noteworthy;  during his years at Harvard-Westlake, the school raised close to $400 Million in annual, capital and endowment gifts.  
During the nearly two decades of Hudnut's leadership, he and his wife Deedie were the talk of the town. She ran hard to get into the Center for Early Education at UCLA. In one unseemly peak-in on power article, Tom Hudnut told the reporter, "We're not going to take anyone who can't do the work. You'd be sunk."  
One graduate who attended both schools distilled the difference between them thusly: "Harvard-Westlake is a pressure cooker for the students, whereas the Center is a pressure cooker for the families trying to get their kids in." 
Deedie addressed one concern, "We don't think we can evaluate a two-year-old," on a day when she had conducted several interviews with parents earlier in the day, none of whom would likely receive an offer of acceptance for their child. "You have to ask: Is this a family you want to spend the next 10 years with?"
Smart Speaker:  Great question. 
Tom said, "I've never met the parent of an eight-year-old that wasn't going to be president of the United States," When it comes to Harvard-Westlake admissions, most parents know that no amount of sweet-talking or aggression can erase a less-than-stellar academic record.
Board Correspondence:
While the Supervisors are out of the office,  a very nice contract was initiated with CONSTANT, for around $350,000.  CONSTANT is proud to join a small, but growing, number of companies that offer Unlimited Paid Time Off(PTO) as of January 1, 2023. As the first pillar of CONSTANT's strategic plan is to take care of our people, we believe that unlimited PTO provides our team members with the freedom they need to balance the responsibilities of both their work and home lives. 
Unlimited PTO also provides additional benefits, such as improved efficiency, energy, and focus, increased nimbleness, and continued commitment to our company mission of making the world a safer place.
(Eric Preven is a longtime community activist and is a contributor to CityWatch. The opinions of Mr. Preven are not necessarily those of CityWatchLA.com.)