PLANNING WATCH - Sometimes local officials do the right thing, even if for the wrong reason.  This is the case of the Purple Line Extension Transit Neighborhood Plan (TNP), which got as far as the map above, as well as a 2018 scoping meeting for the project's Environmental Impact Report.   In examining the fate of this ordinance -- misnamed a "plan -- I discovered a Larchmont Buzz story that City Planning stopped TNP work in 2019.   The Director of Planning then decided that this up-zoning ordinance should be considered during the Wilshire Community Plan's Update, exactly what neighborhood residents had called for.
The Wilshire Community Plan's update was originally scheduled for 2021 but was postponed to 2022.  It is now late July 2023, and there is no information on its start date.   While it could begin when the City Council eventually adopts 17 stalled updates for the south San Fernando Valley and West Los Angeles, this is pure conjecture.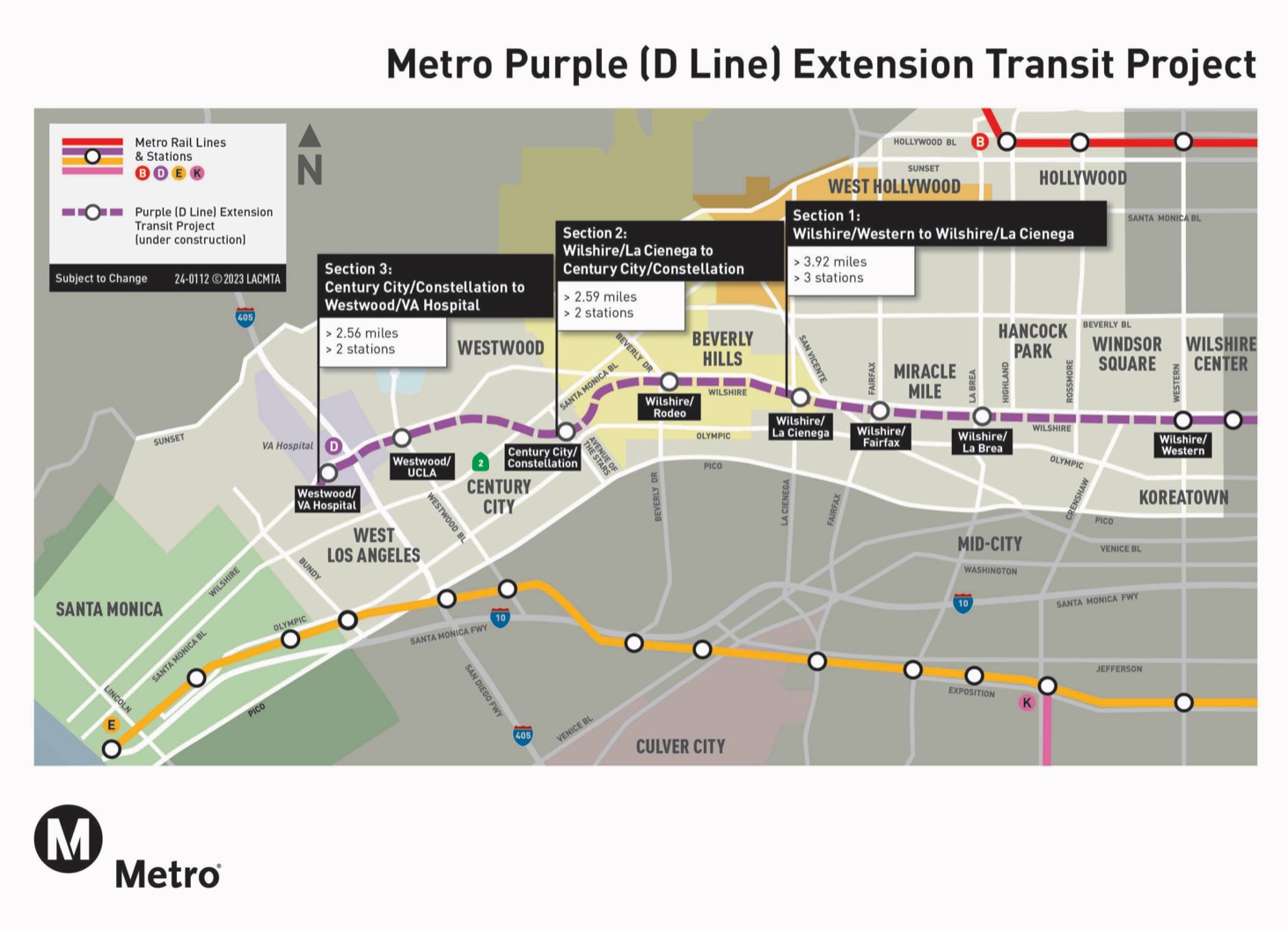 What we do know, however, is the history of this zoning overlay scheme for the Purple Line subway extension.  In 2018 and 2019, when City Hall actively pursued this plan, local residents strenuously opposed it for four reasons:                                                                
Up-zoning changes, such as these, should be carefully evaluated during the Wilshire Community Plan's update. The City Council should not adopt them out-of-sequence, before the Community Plan's Update has begun.
The Wilshire Community Plan, including this study area, already has vast amounts of available zoning capacity.
Upzoning increases property values, promotes flipping, and inflates housing prices. It prices even more people out of housing and, therefore, increases homelessness.
When upzoning leads to new apartments, they are expensive. Since these tenants own and drive cars, it also leads to traffic congestion and reduces transit ridership.  Upzoning also increases the use of water, electricity, and Internet capacity.  These and related demands on infrastructure and public services must be carefully assessed upfront and then regularly monitored, not swept under the carpet.
In response to these objections then Councilmember David Ryu submitted a detailed letter to the Director of Planning in April 2019 eloquently questioning the proposed Purple Line Transit Neighborhood Plan.   According to a Larchmont Buzz report from February 2021, LA's Department of City Planning stopped work on the TNP in 2019, until it could be folded into the future Wilshire Community Plan Update.
While the start date and focus of this Update is unknown, based on LA's 2021-2029  Housing Element, and the City Council's tentative adoption of the Hollywood and Downtown Community Plans, City Hall will again try to increase the Wilshire corridor's density through up-zoning.  When this happens, local residents will quickly resurrect their previous critique of the TNP:
The implementation of the subway's First-Last Mile Plan remains unfunded. If METRO manages to open this section of the Purple Line Subway Extension in 2024, only one year behind schedule, there won't be such essential passenger amenities as parking lots, drop-off areas, streetscape, kiosks, bathrooms, and wayfaring signs. 
The Wilshire plan area already has enough unused zoning capacity to accommodate every population growth scenario. In 2020 LA City Planning reported the Wilshire Community Plan's population was 280,000 people.  This is 12,000 fewer people than lived in the plan area in 2000, when the Wilshire Community Plan was last updated.
Nevertheless, the plan area's existing zoning allows 373,000 people.  When Accessory Dwelling Units and potential SB 1818 and TOC density bonuses are factored in, the plan area's theoretical population rises to 770,000 people.  This is 467,000 people more than the Wilshire plan area's population in 2020.  Obviously, the mid-Wilshire area does not need any zoning increases.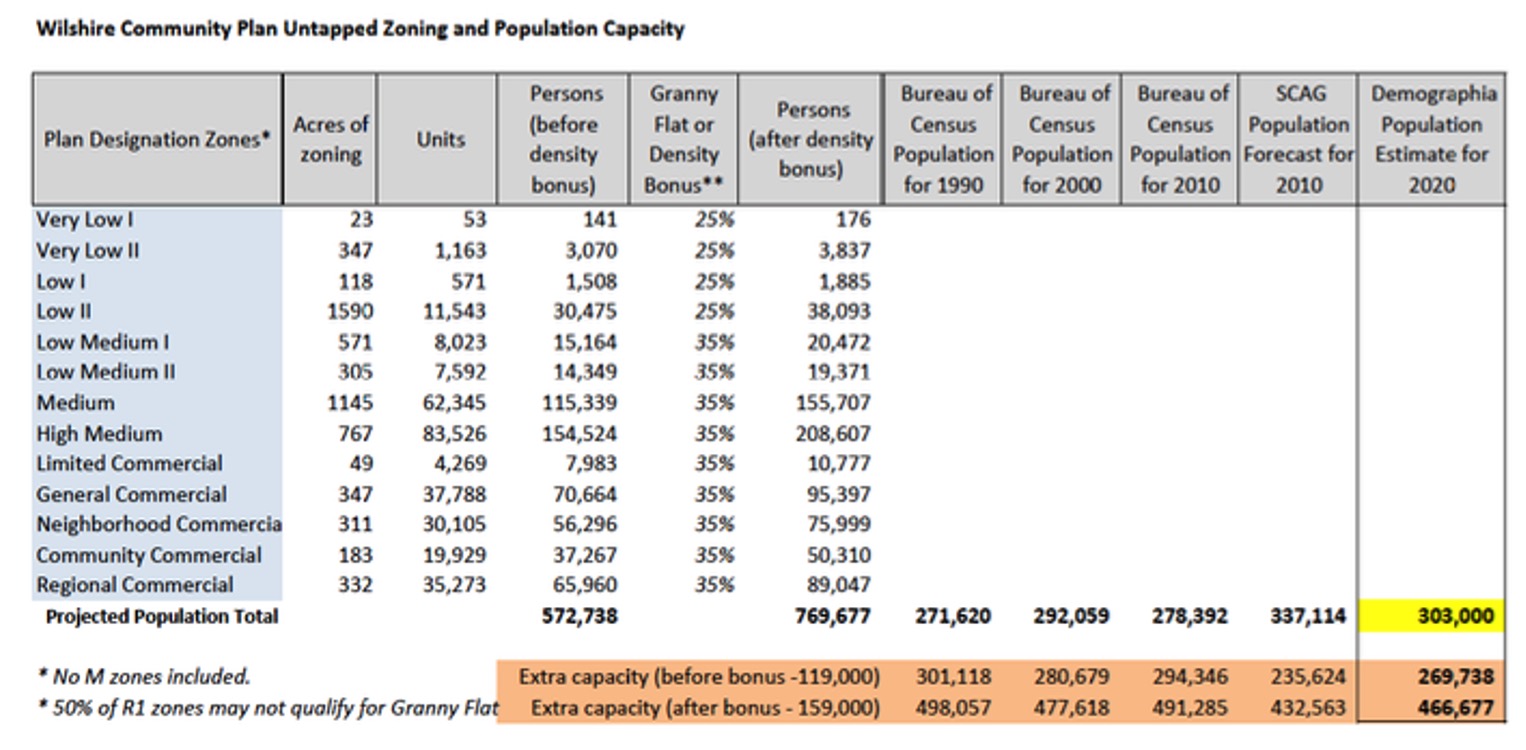 The Wilshire Community Plan area already suffers from electricity blackouts, burst water mains, decrepit sidewalks and streets, missing ADA curb cuts and bicycle lanes, mansionization and gentrification, and a shrinking urban forest.  All of these deficiencies should be repaired before City Hall shoehorns additional luxury apartments into the Wilshire corridor's neighborhoods.
The Wilshire TNP is now in hibernation.  When it wakes up, Wilshire corridor residents will be ready, again, to take it on.
(Dick Platkin is a retired Los Angeles city planner who writes about local planning issues for CityWatchLA.  He is a board member of United Neighborhoods for Los Angeles (UN4LA).  Previous columns are available at the CityWatchLA archives.  Please send questions to [email protected].)