PLANNING WATCH - Despite faulty monitoring of housing issues in Los Angeles, vital data is finally appearing.  They reveal that the top down blanket up-zoning -- adopted by the California State legislature to solve the housing crisis -- does not work.  According to two studies, one by Rand, a Santa Monica based think tank, and the other by the Los Angeles Homeless Service Authority (LAHSA), homelessness is still increasing in Los Angeles, similar to the rest of the United States.  The Rand study relied on extensive training of data collectors and repeat visits to areas with high levels of homelessness.  It found that LA's homeless population increased by 18 percent in 2022.  Using a less stringent data collection methodology, LAHSA's annual homeless count found that LA's homeless population increased by 3 percent. 
These increases in LA's homeless population appeared despite two statewide California laws whose declared purpose was to increase overall housing supply, what the YIMBYs/WIMBYs/Los Angeles Times claim is the root cause of homelessness.  As for such obvious causes as the soaring price of housing, increasing economic inequality, and the termination of public housing programs, these trickle-downers have maintained their vow of silence. 
Two new State housing laws:  Laws adopted between 2017 to 2022 allow California homeowners to build a senior Accessory Dwelling Unit (ADU) in their backyard, add a junior ADU to their house, and install a small backyard house on wheels.  The Los Angeles Times also published local data on Accessory Dwelling Units, which it called an up-zoning success story.   Between 2017 to January 2023, LA's City Hall issued 25,881 ADU building permits, 13,640 (average of 2,273 per year) of which eventually received Certificates of Occupancy.  
In 2020 the Bureau of the Census reported that Los Angeles had 1,514,000 houses and apartments.  By this measure, the 2,273 ADUs completed per year comprise
0.15% of LA's housing stock.  As for information on how many ADUs were rented to low-income tenants, there is no data.  The claim that ADU's reduce homelessness is not supported by any facts. 
The second part of this housing policy alchemy is Senate Bill 9.  In effect since January 1, 2022, it permits four apartments on all single-family zoned lots in California.  With ample support from Big Real Estate and High Tech, the State Senate and Assembly adopted this bi-partisan legislation in September 2021. 
In its first year, 2022, this up-zoning law was a total dud, as predicted in 2019 by UCLA Planning Professor Michael Storper.  Professor Storper's assessment was recently confirmed by UC Berkeley's industry-funded Terner Center.  Its report on Senate Bill 9's first year documented that this legislation totally failed in 13 large California cities, including Los Angeles, San Diego, San Jose, Long Beach, and San Francisco.  In 2022 they had 282 Senate Bill 9 applications and approved 53.  As for completed projects rented to low income tenants, The Terner Center did not collect any data.  In the words of the Los Angeles Times, successful SB 9 projects are "limited or non-existent." 
While the Terner Center's report offered several explanations for SB 9's failure, it omitted the most obvious one.  This legislation paved the way for real estate investors to restructure existing residential neighborhoods.  Unlike homeowners, they do not need to rent a temporary rental house or apartment, demolish their former residence, apply for lot splits, pull building permits, build and operate new apartments, and live in one apartment and lease out the others at expensive market rates.   For these reasons, few homeowners opted for SB 9 projects, even though thousands of them sold off their houses to Mansionizers. 
In contrast, real estate developers are the most likely agents for SB 9 projects, but for financial reasons they prefer simpler and more profitable McMansions.  In doing so, they do not need to subdivide a lot before building and operating a small apartment building.   Instead, they only need to demolish the existing house, quickly build and sell a McMansion, and then quickly pocket $500,000 in profits.  If the Terner Center was truly interested in determining why SB 9 failed, they should collect data on the replacement of demolished houses with McMansions instead of SB 9 duplexes or fourplexes.  
Why don't the up-zoners learn any lessons from the failure of SB 9 and ADU laws to reduce homelessness?  If the real purpose of ADU's and SB 9 duplexes and fourplexes was to build low-priced housing for the potential homeless, the thinktanks, lobbying groups, researchers, and corporate media, would examine the real causes of the housing crisis: 
The stagnation of wages made worse by inflation.
The massive run-up of housing prices and rents.
The termination of public housing programs.
The loss of existing low-priced housing.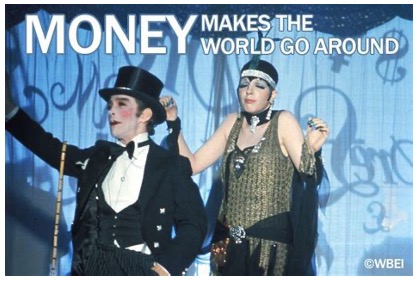 But this does not happen because their agenda is to create infill investment opportunities for the real estate sector to flip suddenly more valuable properties or build highly profitable market-rate housing. 
The theme song from Cabaret "Money Makes the World Go Round" is just as valid today as it was a century ago in Weimar Germany.
(Dick Platkin is a retired Los Angeles city planner who reports on local planning issues for CityWatchLA.  He serves on the board of United Neighborhoods for Los Angeles (UN4LA).  Previous Planning Watch columns are available at the CityWatchLA archives.  Please send questions and corrections to [email protected].)