HOMELESS IN VENICE - Recreational vehicles being used as permanent, but mobile housing nevertheless has percolated to crisis levels here in Venice, as they line up parked along key corridors such as Washington, Venice and Lincoln Boulevards. 
Any casual count has the crisis well over 100 RV's, with many if not most with expired tags and plenty with out-of-state license plates which begs the question; why are these vehicles in particular not required to move after it is obvious these are not tourists, but permanent campers invading Venice? 
Vehicles with plates from Utah, Arizona, Montana, Oregon and Nevada have been seen over the last several days permanently parked that have no access to bathrooms and human waste is being disposed in street catch basins making for unhealthy and unsanitary conditions for all concerned. 
In some cases, bike parts and bicycles in general populate these vehicles suggesting these mobile encampments are holding grounds for stolen property. 
A closer observation of the dilemma is that where tree canopies do exist, they become magnets for permanent encampments which metastasize to the sidewalk for additional storage areas only festering the overall RV challenge. 
Los Angeles could discourage long-term parking by cutting back and tree trimming these shady areas that are occupied by these vehicles seemingly all of the time. 
For strips of sidewalks along South Venice Boulevard for example are so dangerous that facilities such as the Grace Lutheran Church are being held hostage by a permanent encampment that won't seem to go away. 
The longer these RV's are allowed to stake their claim to the streets without consequence, the more difficult the battle becomes to remove them as city officials are seemingly helpless and without an answer or solution to clean and clear these illegal encampments.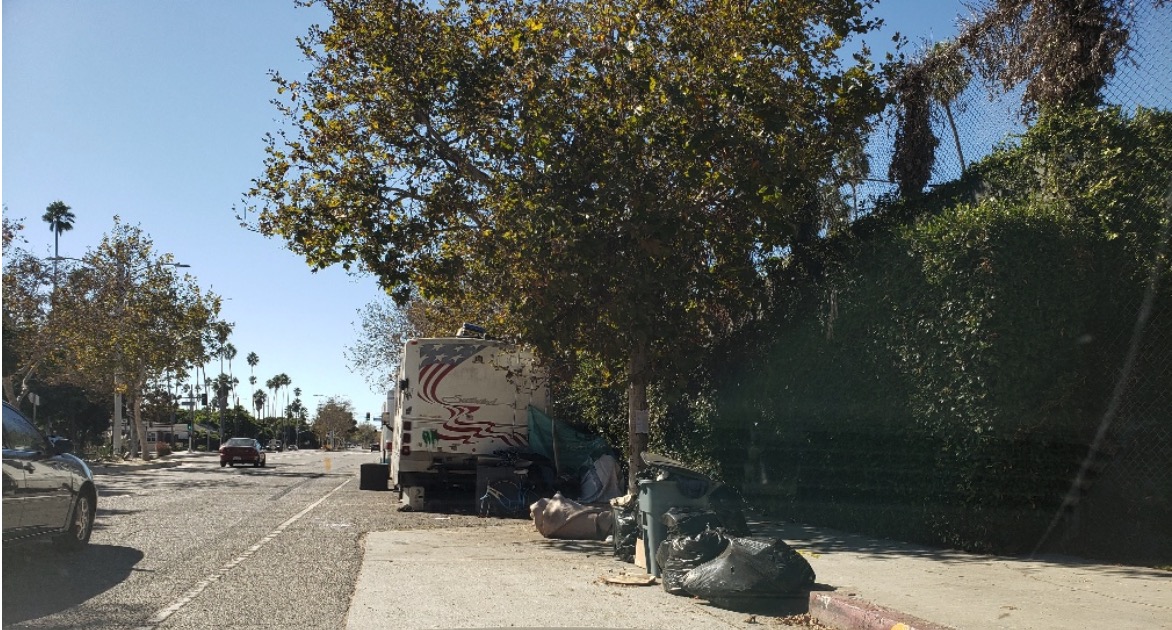 For our city and elected officials are more than aware of this mobile mess, as those Venetians I have spoken or communicated with have reached out to CD-11, LAPD and any other agency that clearly is not changing these unfortunate conditions on the streets of Los Angeles and in particular here in Venice. 
There needs to be a comprehensive, citywide approach to the recreational vehicle crisis, especially when it comes to out-of-state campers that should be far easier to remove then those who are in fact residents of California. 
For if those who actually live in Venice are required to move vehicles for street cleaning and alike, why are these RV's allowed to illegally park not for just weeks, but in some cases months and along South Venice, years? 
Nick Antonicello is a thirty-year resident of Venice and covers the issue of homelessness, encampments and illegally parked recreational vehicles and mobile homes. Have an encampment crisis on your block or street? Contact the author at [email protected].