VENICE BEAT - Big ideas generate big discussion. 
The inaugural meeting and reorganization of the Land Use & Planning Committee of the Venice Neighborhood Council (www.venicenc.org), otherwise known as LUPC was presented with a truly big idea for consideration Thursday evening at the Oakwood Community Center, and that was a proposal for a 30,000 square foot pier, complete with a restaurant, restrooms, security and information center, a stage for music and other events, including open seating with stellar views of the Santa Monica Bay and Pacific Ocean. 
Mehrnoosh Mojallali, a Harvard educated architect is a longtime Venice local who previously served on LUPC and has made several proposals in the past for the restoration of the local dog park with a community center as well as a series of fountains at the Venice Circle. 
Examples of her work and renderings can be found online at www.mehrnoosh.com.
Her previous projects can be found worldwide from Saudi Arabia to Montreal, Canada as she was the first woman to graduate from Harvard for architectural design. 
About fifteen residents greeted the new board to listen to the presentation which was hampered by technical glitches and computer woes, but LUPC Chair Michael Jensen did his best to keep the meeting moving along. It was determined by Jensen that tonight's presentation was strictly informational and conceptual, and that this VNC standing committee could take action at a future meeting. 
LUPC, which is part of the governing arm of the VNC can make motions for the full board to act, and those actions are then recommended to Los Angeles municipal government and in particular the Office of CD-11 Councilmember Traci Park, herself a Venetian. 
Stating her love for beauty in all things and people, Mojallali indicated the proposed pier is slightly smaller in size then the current Venice Fishing Pier (37,000 square feet), but just one-tenth the size of the iconic Santa Monica Pier which stands at 480,000 square feet according to the discussion during the public comment portion of the meeting. 
Mojallali stated she has gathered nearly 700 signatures of support, and has been in contact with Councilwoman Traci Park and her staff for possible next steps. 
Mojallali believes the proposed Rose Avenue structure would have what she described as "urbanistic energy," and the purpose of the pier was to become integrated into nature and be a social place for locals and tourists alike. The site elements have unique organic shapes, and the structure encompasses an exterior space with rails and glass closures as well as a continuous veranda where visitors can look out, and those outside can look in. 
The roof will include solar tiles to generate electricity and provide an element of shade on this water structure. Ocean waves will convert energy into mechanical and electrical power as the location will draw from the breeze of the Pacific. 
Mojallali noted the proposed location as historic as Jim Morrison and the Doors held a 1968 free concert at that very location. Morrison, who in many ways serves as a spirit of Venice lived at Rose and Speedway at the time of the show. 
Mojallali, a native of Iran sees this location at the center of things when it comes to Venice. 
While it is public space, Mojallali is investigating the possibility of private investment to launch the project. 
Under committee discussion, some of the members asked detailed questions on a concept and proposal that is clearly in its infancy.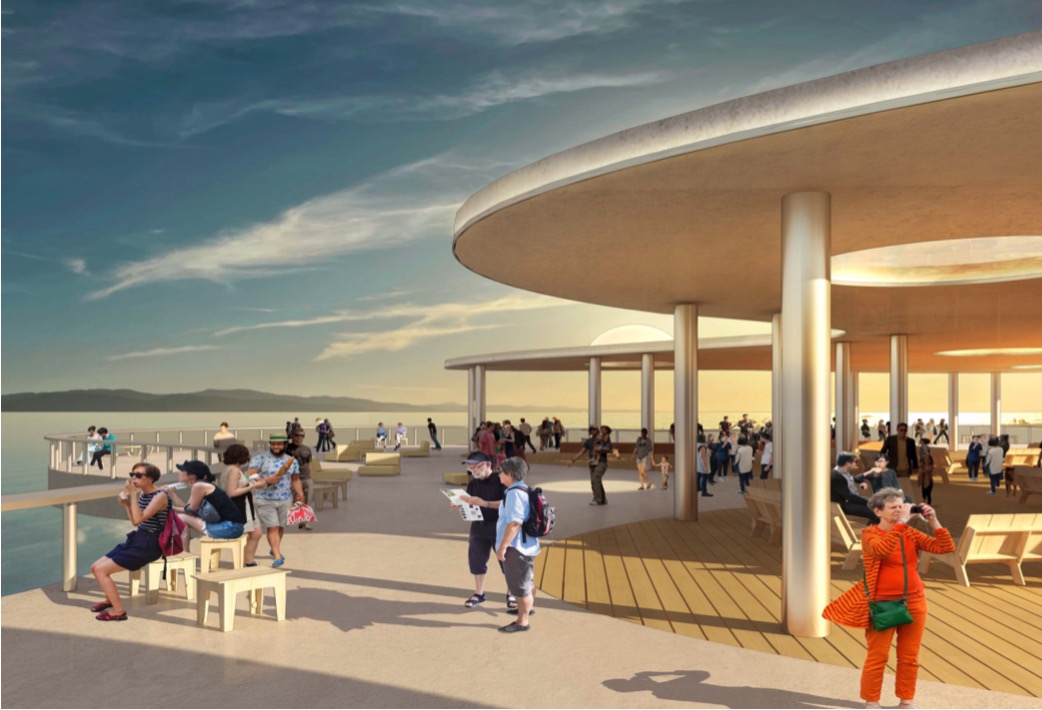 Design of Pier at Rose Ave. Venice Beach
Nevertheless in true Venice fashion the topic strayed from the initial idea of yet another, and more multi-purpose use structure over the Pacific. 
Cost and accessibility seemed to be on the minds of residents, but the potential financing of such an endeavor was vague. Some questioned if the restaurant would be luxury in scope, and would the proposed pier be truly open to all? 
VNC Treasurer Helen Fallon suggested that an impact study be considered should the project move forward while others questioned if more pollution would occur from such a project. 
LUPC Member Steve Williams, a biologist had several concerns and felt greater discussion was necessary before making any recommendations to the Board of Officers. 
Williams stated people come to Venice "for pizza and cheap t-shirts" and wondered if such a pier project would become a tourist destination. 
New board member Gabriel Smith, who identified himself as a fifth-generation Venetian who was appointed to LUPC after losing a very competitive contest to LUPC Chair Michael Jensen last March (425-390), is also a member of Mensa, the not-for-profit organization dedicated to individuals of high IQ's.  
Smith ruffled some feathers online with remarks about the proposal, claiming he too had suggested something similar to the Mojallali initiative. 
Describing the proposal as "a neat idea," Smith asked some detailed questions regarding energy generation for a proposal that at this juncture were not available. 
While cost is always a concern, such a project would in all probability be a public works proposal with dollars possibly coming from several sources and not part of LA's annual municipal budget which now stands at $13 billion dollars. 
While some remained suspect, the overall reception to a Rose Avenue Ocean Pier seemed positive, as such a proposal would be the largest and most expensive public investment in Venice in decades. 
Chairman Jensen thanked those in attendance and adjourned the meeting at 8:18 PM. 
(Nick Antonicello is a thirty-year resident of Venice who covers the actions of the Venice Neighborhood Council. A member of the Outreach and Oceanfront Walk committees of the VNC, you can reach him via email at [email protected].)