LA TRANSPO - Part of President Joe Biden's Inflation Reduction Act will be projects to plant trees to create an urban canopy in the fight against climate change, and the increasingly rising temperatures afflicting American cities.
Cities in California will receive about $103 Million to plant the trees; perform the much-needed maintenance; follow through with urban canopy improvements; and pursue other efforts to create more shade to cool cities.
The benefits of trees in urban areas are many.
Benefits of Trees from City of Great Falls Montana website
Trees conserve water and reduce soil erosion, save energy and modify local climate by lowering air temperature through shade while increasing humidity in dry climates through evaporation of moisture.
Trees reduce glare on sunny days and reduce wind speed.
Trees enhance community economic stability by attracting businesses and tourists who linger and shop longer along tree-lined streets.
Apartments and office in wooded areas rent more quickly, have higher occupancy rates and tenants stay longer.
Businesses leasing office space in wooded developments find their workers are more productive and absenteeism is reduced.
Trees reduce noise pollution, create wildlife and plant diversity and increase property values by adding up to 15 percent to residential property values.
Office and industrial space in a wooded setting is in more demand and more valuable to sell or rent.
Trees exceed the life of pavement.
These are all tremendous benefits for Great Falls, Montana, population a little over 60,000. These benefits would be exponentially greater for Los Angeles County with a population of 9.83 million people.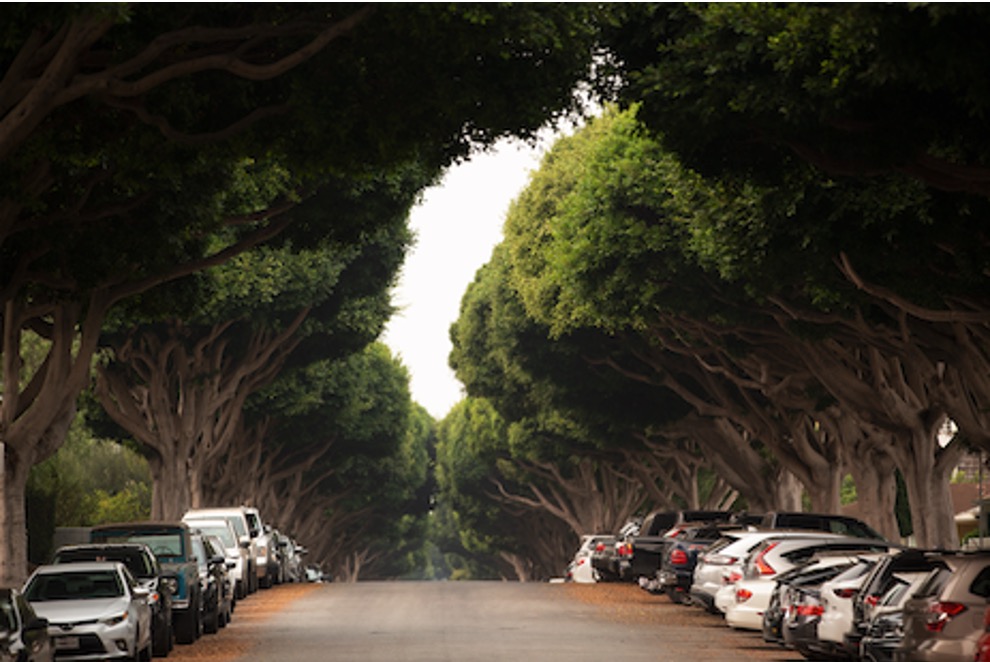 After the trees suitable to the climate of Los Angeles County are chosen, where these trees are to be planted is of the utmost importance.
As a dedicated transit rider, I do a lot of walking. It is part of the situation, walking to and from bus stops and train stations and to the destinations and back. Some days I can walk between 8,000 and 10,000 plus steps in my transit journeys. Walks of up to a mile from train stations to a destination are common.
This provides me with good exercise, particularly on those days when I am unable to exercise.
As a driver, the walking experiences are much less, and the driving experience is much more stressful. I get very little exercise driving.
Vehicle exhaust is one of the primary sources of carbon-based greenhouse gases warming the world. Despite decades of conferences, talks, speeches, marches, news reports, and the glacial shift to electric vehicles, the amounts carbon gasses emitted into the atmosphere continue to increase. This is alarming. We are failing as a people to confront the threats of climate change. We cannot drive ourselves out of the problems, but we can ride transit and walk.
Of the many differences in driving or riding transit, walking is the most notable, and the activity which greatly needs the benefits of the urban shade canopy, much more so than driving.
From past urban planning practices, street medians and freeway shoulders are landscaped with trees. While they offer a visual respite from the urban glare, the trees are wasted in these settings. Passengers in vehicles have air conditioning to cool themselves. Or there are fans to move the air. Vehicles on the streets and freeways do not need the benefits of trees for shelter from a hot, glaring sun; or dampness; or rain. But pedestrians do need the benefits of trees' urban canopy.
While walking as a transit rider there are too many long stretches of hot sidewalks with heat from above from the sun, from below from the sidewalks and from the side emitted from buildings.
When walking on my transit routes, some sidewalks, bereft of any benefit of an urban canopy, are very hot trips. I am already doing my share to reduce my carbon footprint by riding buses and trains. I should not have to become overheated because past urban planning practices devoted trees to streets and freeways for vehicles instead of for pedestrians.
The trees from the Inflation Reduction Act must not be planted in street medians or along freeways to benefit drivers whose vehicles are a primary source of the dangerously heating planet. Drivers should not benefit from the urban canopy because they are creating the climate crisis.
These trees are a necessity for transit riders and urban walkers, particularly in low income areas whose residents have been forgotten when the beautiful benefits of trees were planted not for them, but for vehicles. 
(Matthew Hetz is a Los Angeles native, a composer whose works have been performed nationally, and some can be found here.  He is the past President of the Culver City Symphony Orchestra and Marina del Rey Symphony. His dedication to transit issues is to help improve the transit riding experience for all, and to convince drivers to ride buses and trains to fight air pollution and global warming. He is an instructor at Emeritus/Santa Monica College and a regular contributor to CityWatchLA.)