STRIKE - Powerful Hollywood studios are now up against more than 170,000 workers following a vote to strike on Thursday by the union representing television and film actors, as writers in the entertainment industry are now more than 10 weeks into their own work stoppage.
The dual strike marks the first time in 62 years that both writers and performers in the industry walked off the job to protest what they say are unfair working conditions and compensation—effectively grinding business in Hollywood to a halt. 
About 160,000 actors are represented by the Screen Actors Guild-American Federation of Television and Radio Artists (SAG-AFTRA), and the union shares many of the concerns that prompted the Writers Guild of America (WGA) to go on strike in May, including the advent of artificial intelligence (AI) in entertainment. 
The actors' three-year contract expired on Wednesday at 11:59 pm, after an extension from June 30 as negotiations with the Alliance of Motion Picture and Television Producers (AMPTP) continued. 
Nearly 98% of voters in the actors union supported a strike authorization in a vote in June, and weeks later, more than 1,000 luminaries including Meryl Streep, Jennifer Lawrence, and John Leguizamo signed a letter saying they were "prepared to strike" to ensure that the vast majority of SAG-AFTRA members—who are not wealthy or famous and whose livelihoods depend on the union's demands being met—get the compensation and job security they need to continue working in the industry. 
"We're looking to make sure that acting can be a sustainable career choice for people, not just the 100 most famous celebrities in the world, but for the whole large population of our membership," Duncan Crabtree-Ireland, national executive director and chief negotiator for SAG-AFTRA, toldThe New York Times. "They should be able to make a living and you know, pay a mortgage or pay rent like everybody else."
The union objects to how compensation for actors—particularly residual checks, which they typically receive for several years after appearing in a TV series—has been "severely eroded" in the age of streaming technology.
Actors are also concerned about how AI could be used to replicate their performances and images without compensation or permission, or potentially to replace them in films and television. 
Veteran actor Fran Drescher, president of SAG-AFTRA, demanded that studios "wake up and smell the coffee!" at a press conference as the union announced the strike.
"We demand respect!" Drescher said. "You cannot exist without us!"
Drescher said the studios "plead poverty that they're losing money left and right, when they're giving hundreds of millions of dollars to their CEOs."
As the national board of the union met Thursday to vote on whether to call a strike, Disney CEO Bob Iger accused SAG-AFTRA and WGA of not being "realistic" in their demands. 
Iger, noted Warren Gunnels, a longtime adviser to progressive Sen. Bernie Sanders (I-Vt.), "has an estimated net worth of $690 million... while the median pay of screenwriters has gone down by 23% over the past decade."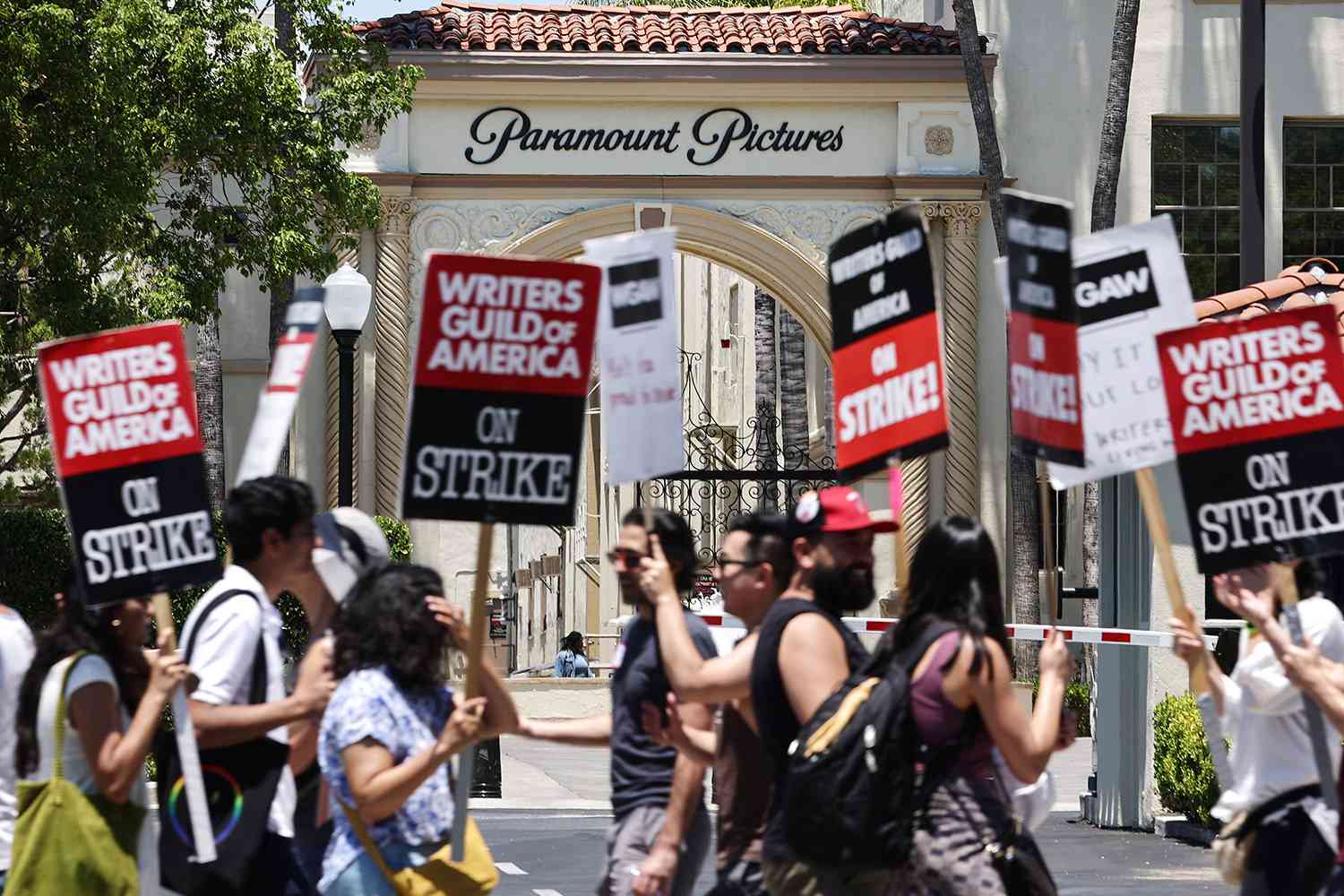 Drescher pointed out that the actors' strike comes as workers across industries are demanding fair pay and working conditions from employers that lavish executives with multimillion-dollar salaries and bonuses and direct their profits to shareholders while cutting employees' hours, paid sick time, and wages.
"The eyes of the world and, particularly, the eyes of labor are upon us," Drescher said. "What's happening to us is happening across all fields of labor. When employers make Wall Street and greed their priority and they forget about the essential contributors who make the machine run, we have a problem."
(Julia Conley is a staff writer for Common Dreams which first published this article.)