LGBTQ NEW BOOK- I recently published my first book, "About Being Loved".  This is the story of how the book came about.  I had recently moved back to Los Angeles from New York City.  I was newly sober and happy to be back in West Hollywood.  I met someone and we had an affair.  He was a great looking nice guy, also sober, and things were falling into place, until one day he informed me he wanted to move on.  The pain was devastating and of course there was nothing to take to dull that pain.  I was working at Chasen's on the front station when I thought I heard a voice say, "write this down" as I was beginning to take an order.  I wrote these words, "There's nothing sadder than the greyness of Manhattan on a snowy day. 
From there, I began to write this book.  I was obsessed, and it was a way to heal, and in that book, I let my characters, Drew and Larry, live the life I wish I had lived in Manhattan.  They went to restaurants I loved, they went to plays, events, and things that make Manhattan what it is.  They lived in the apartment I wish I had lived in.  As I finished the book, I felt a healing and forgiveness for the man who had hurt me so much.  I was able to date again.  The book is graphic in its pain and there are intimate scenes that set the stage for the love that these two men shared, then lost.  I thought I had finished it, couldn't find a publisher, so I put it away until the Pandemic came along, and I thought, I should take another look.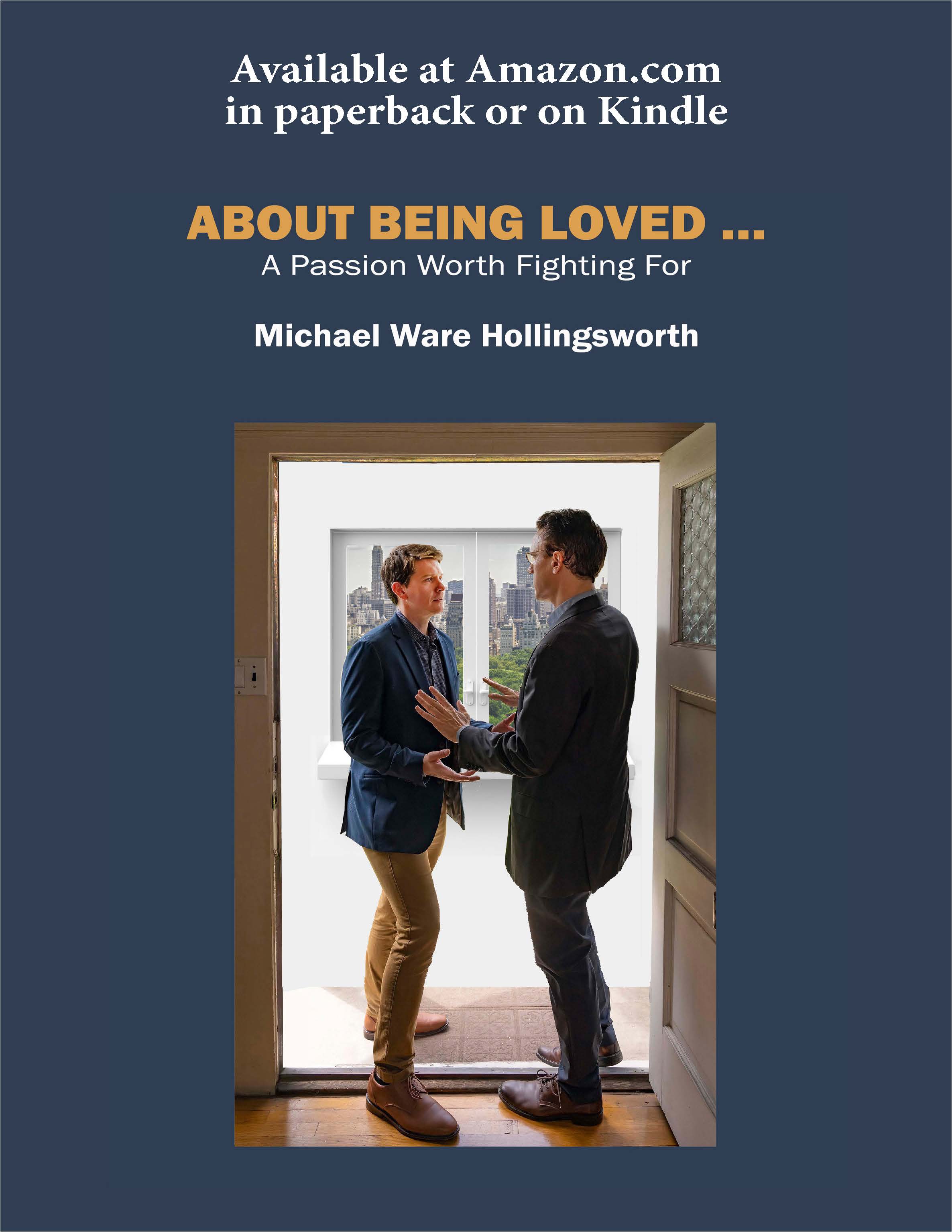 I realized the book was not finished with the ending I had given it.  I tweaked all the vignettes and gave it another ending.  Then I felt the ending wasn't right, so I wrote an Epilogue and thought "now it is finished."  The book's characters kept calling me to write more.  I began to think how I would want it to be in real life and how much they had loved at one time and began to write until I had the right ending for my characters.  This book was a labor of love for me, and if you have the opportunity to read it, and I hope you will, I hope you enjoy reading it as much as I loved writing this book, "About Being Loved", a passion worth fighting for! 
(Michael Ware Hollingsworth is a writer, actor, stand-up comedian, and well-known caterer who has produced events for entertainment industry leaders.)