EDUCATION - Jackie Goldberg, LAUSD school board president, will be retiring when her current term of office expires next year. I can think of no other individual who has done more for ALL Angelenos to promote public education, support students and teachers, and recognize the ethnic, racial, linguistic, gender, and family diversity of our communities. Let's thank her for being a voice for all of us. 
Beginning her teaching career in 1967, Jackie was elected in 1983 to the LAUSD school board. She advocated for one of the first bilingual education programs in California. She continues to this day to support our emerging bilingual students and their teachers. She also was a leader in building schools to alleviate classroom overcrowding. 
Because of the meager pay of School Board Members, less than one-third its current level, Jackie also found a second job: working for former L.A. County Supervisor Gloria Molina. She gained precious knowledge of Eastside communities and developed a bond with the late leader of the "Molinistas" that lasted decades. 
In 1993, Jackie won a seat of the L.A. City Council. As its first openly gay member, she concentrated on developing a living-wage ordinance for municipal employees.
Jackie then won a seat in the state legislature, where she championed policies to recognize families headed by same-sex partners and protect their families from denial of benefits and recognition. She was chair of the state Assembly Education Committee for 3 terms before becoming a faculty adviser for UCLA's Graduate School of Education. Later, her successor as L.A. Council Member from District 13, Eric Garcetti, became Mayor and asked Jackie to lead a task force to bring jobs home: the City Targeted Local-Hire Working Group.
In 2019, Jackie returned to LAUSD's board after the indictment of the previous District 5 representative, Ref Rodríguez, on fraud and money laundering charges, prompting his resignation in disgrace. She inherited lots of unmet needs and schools whose students and staff felt neglected. 
In 2022, the election of her protege, Dr. Rocío Rivas, made possible the election of Jackie as the board's President. One of her main drives, historically and currently, is breaking the grip of charter-school campaign spending on School Board seats and decisions. "Their concerns are for 20 percent of the students and 20 percent of the schools.  It's important to keep them in the minority on the board." 
Jackie — a parent and grandparent of public-school students — preaches the importance of public schools that serve ALL kids, not just the selected few. Jackie's support of educators shone forth when she joined the picket line in 2019 with members of United Teachers Los Angeles (UTLA) to demand better working conditions for teachers and better learning conditions for students. Marching in the January rain, she showed she is not merely a fair-weather friend of teachers and the cause of fully funded public education for all students. These are her life's mission.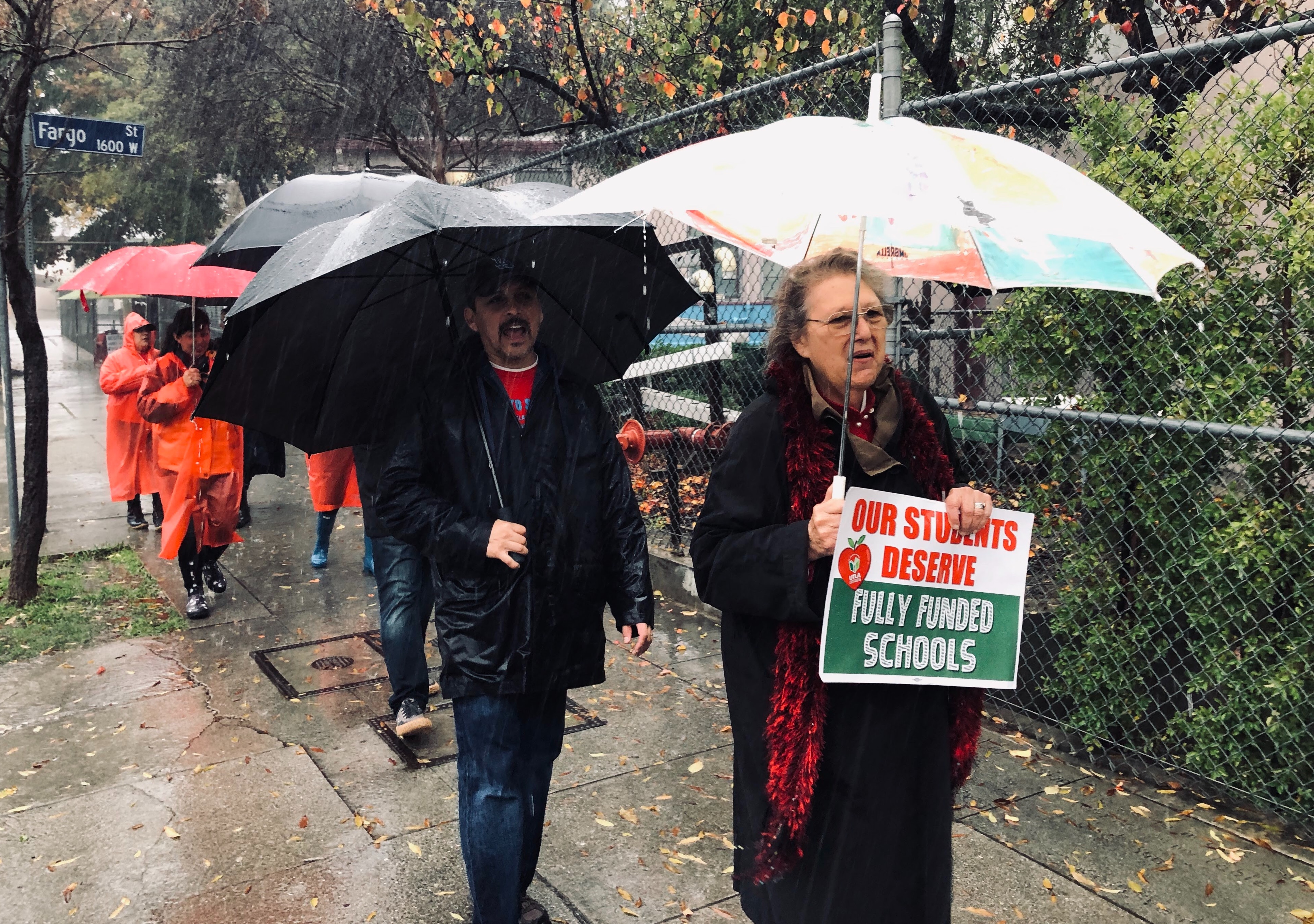 Perhaps her strongest feat of recent advocacy was in June when Jackie spoke passionately about an anti-LGBTQ  protest she witnessed outside Saticoy Elementary School in North Hollywood, where Jackie was invited to read a book about families to students.
Jackie took a heroic stand for diversity and inclusion. The board voted unanimously to adopt a resolution to support the LGBTQ community and to incorporate lessons that featured family diversity into the curriculum. She read from a book entitled "The Great Big Book of Families" and made an impassioned speech, noting that the book has one sentence that says that some families have two mothers or two fathers. Yet a small unruly crowd outside the school spewed hatred at her and hurled false attacks and insults at school staff, LGBTQ people, and the students participating in the event. Jackie's response? "How dare you make them afraid because you are! … I've been confronting this issue my entire life," she explained. Jackie is determined that no child going forward will suffer the same harassment and intimidation. 
Jackie Golberg is a warrior who deserves to be honored. Let's thank her for a lifetime of advocacy for our students, for their diverse families, and for a resilient democracy anchored by strong, well-informed participation.
(Cheryl Ortega, UTLA Director of Bilingual Education, a classroom teacher who has taught in public schools in communities on the Eastside of Los Angeles for more than 50 years. In 2022, she earned recognition by the East Area Progressive Democrats (EAPD) as Educator of the Year in part for her advocacy for bilingual education and language access in and beyond school settings. Her letters to the Los Angeles Times, published on a regular basis, highlight the insights and joys of listening to and leading young learners.)