ERIC PREVEN'S NOTEBOOK - Council President Paul Krekorian was honoring a longtime city employee, Manny, during a council meeting last week.  He said, in this city, sometimes "people are frustrated up to their neck."  
Groans all around. 
Smart Speaker:  Yes. 
He went on to say, that so many of our staffers, like Manny, really enjoy helping people through the frustration.  And Krekorian went on to say, that Manny didn't do everything he did for all those years for the elected officials he worked for.  He was doing those things, he said, for the members of the public.  
At city hall, in some cases, the member of the public is a big fat developer. 
But Manny was a good city egg and the feeling of love in the room... because of his lifetime of service... setting the example, there was not a dry eye in the house.  Well, there were a few--
City Attorney, Jonathan Groat: Mr. Preven...
Smart Speaker:  What about Daeco Management llc...  getting an extension from Nithya Raman on today's agenda, but they're already off contract.  So that's weird. Are we running a retroactive approval game?
"This 1st Amendment adds $85,000 for a new contract total of $157,000 and adds an additional eight (8) months  for a new contract end date of October 31, 2023."  
It's November.  I get that DAECO is a nimble and agile team ready to solve problems with innovation and collaboration.
Translation:  Nimble and agile probably means, one human with a decent website, so DAECO = Justin Dae. 
The day rate (punny) for Mr. Dae's assistance (Thx!) would be about $267 a day for 588 days.  
Smart Speaker:  Not too shabby.  Did DAECO find any permanent supportive housing?
Raman is absent.  
"At DAECO, they approach projects with a "measure twice, cut once" philosophy. 
That expression certainly raises the proverbial eyebrow sufficiently to have it practically pop off the face. 
"We pride ourselves on guiding our clients through the complicated spaces of development and construction in the landscape of homelessness."  
I'm curious what the professionals who measure twice but cut once, think about the Midwood Madness out in Krekorian country, dba CD4, where they've been running an old-time bait-and-switch program. 
Midwood Madness: 
It sure looks like the Sportsmen's Lodge developers (Midwood) have been engaged in some shady, shady behavior. That's two shadys for emphasis. The evidence is compelling. 
Check this Link. to a handy dandy chart with audio and video. 
During a period that the Midwood developers clearly had plans to demolish the hotel and send it to a landfill, they were actually upselling prospective shop owners on the amazing synergy that they would enjoy from the glamorously redone hotel next door — a local treasure. They even took almost $500,000 to fix it up after the Project Roomkey experience.   
Why would an ethical person or developer like John Usdan do such a thing?  Did they think the public would never notice?   
The reason they said it would be one thing (a hotel), and then whoops changed it to another (a massive residence complex) was to expedite the environmental review process.  Conditional Use Beverage permit restrictions are easier to obtain.   
So, who gives a shit, they should be applauded for cutting the red tape.  What has been lost?
Smart Speaker:  All of the objections from the community to the largest building project in the history of Studio City were obtained under false pretenses.  It's a fraud-like thing.  
City Attorney, Jonathan Groat:  Please continue.
Smart Speaker:  Mr. Usdan, CEO of Midwood Investment & Development who runs Midwood went to Wesleyan and told a story about his grandfather contemplating a move to Manhattan from Brooklyn despite his wife cautioning that in Brooklyn, "you are a big fish in a small pond, in Manhattan, you'll be a small fish in a big pond."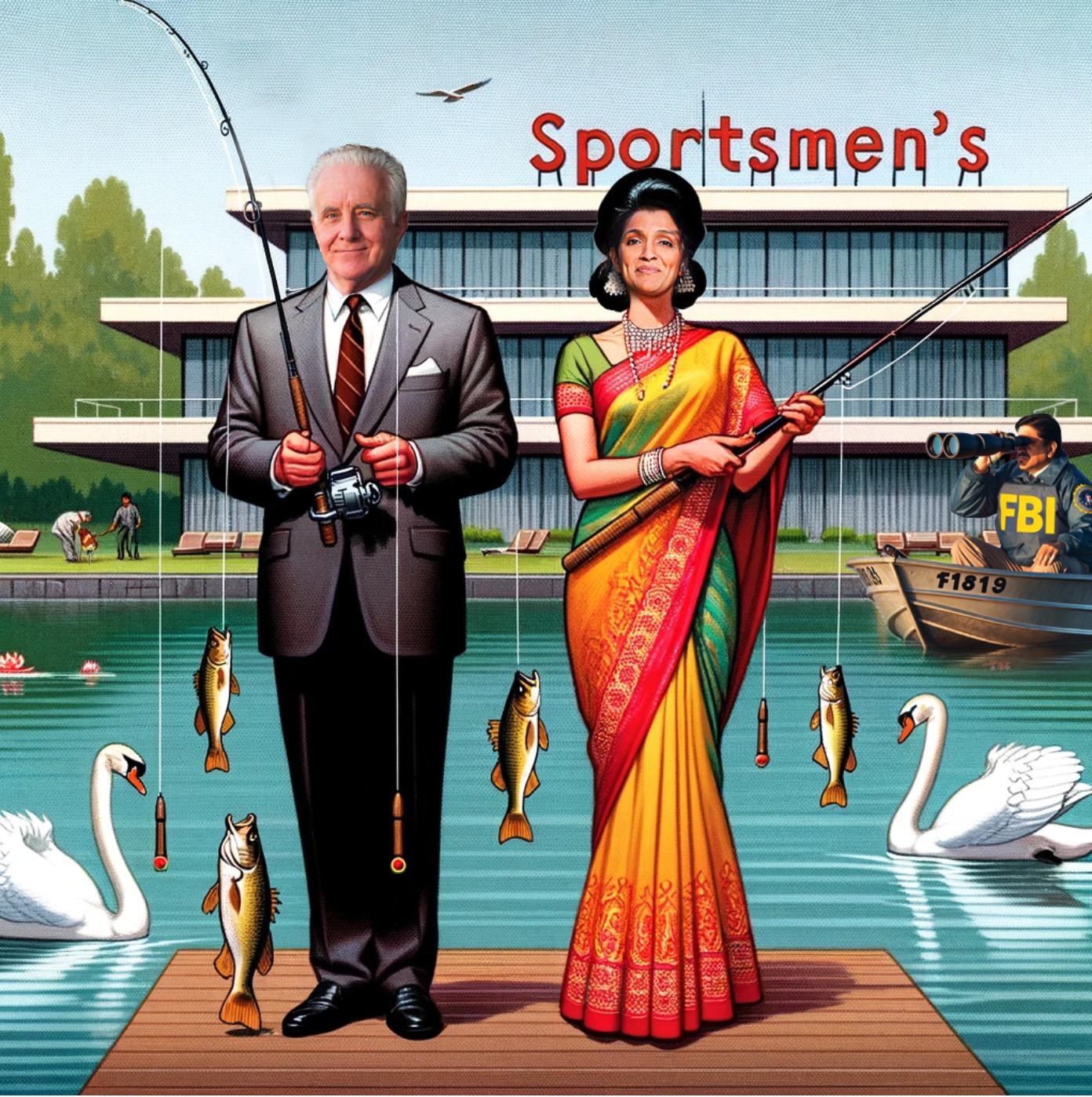 Bait & Switch, by Anonymous
The grandfather moved to Manhattan anyway and the grandson decided, "I don't want to manage buildings. I want to learn how to invest," John began to look "for ways to acquire development rights and make a return, so that if I ever acquired the organization or expertise..."  
Wait for it... it took many years of hard work.  
Now he's prepared to engage in a high degree of difficulty Bait and Switch?
Grandpa would turn directly over in his grave.  
Disclaimer:  These waters are deep. Even fully approved projects that come to the adorable little town by the Zev Greenway end up dead in the water.  
According to a buddy of Eric Garcetti's from the bad old days, Richard Weintraub, Studio City has "the most annoying people" he's ever encountered.   Weintraub and others conspired, hand in glove with the current Ambassador to India, former city mayor, Eric Garcetti, to obtain the city entitlements, Mr. Usdan plans to monetize.  $$$$$
The bait-and-switch is a timeless classic. It goes all the way back to China's earliest book of stories about fraud, Zhang Yingyu's The Book of Swindles (c. 1617).  
Check the above link, class. There will be a quiz. And stand by for the saga of the widening and then the unwidening of Ventura Blvd.  Extra Credit will be provided for retirees who come forward. ttyl
Not Staying Out Of It:
Smart Speaker:  The $49,000 to fund the bar at the Pacoima city hall looks good.  Careful driving after all that drinking... and let's make sure you're not excluding the local neighborhood council by charging them to meet in a city building.  I know Rodriguez has previously jumped up and announced the neighborhood council is a pack of assholes.  I don't know.  I'm staying out of it.  
I do think the city should do a better job of making places accessible for public meetings. 
It's good that we've got teleconferencing...for NCs coming back... don't we?  Hopefully, we'll be squared away by next Wednesday, when Studio City NC will sort through and see if they can get some non-Megan's list people to participate in the local governance of Studio City.
Blumenfield got some kudos from the public today so that was nice.  We have to respect the shout-outs; he was very helpful to Segarra-Bollinger.  The one who sings. Very tender, actually. 
Jonathan Groat, City Attorney Jr.: Mr. Preven, I can't tell which Item you are speaking on.
Smart Speaker:  I am speaking to the items...  thank you. No word if a duet will be forthcoming.
Okay, as for the Park Rangers, and the bulking up, thereof.  I have news from the department about the dog off-leash initiatives —  Excuse me, I'll get back on the available items; the ones you adore, Groat.  
I don't think it's okay to talk about the retention bonuses for the inspectors who work alongside Care and Care+ because that's in the wrong section, so I'm not going to voice my opinion on that.  Nope. 
I will say thank you to Avak from the CLA's office for constantly scrambling the sections of our meeting agendas, like a lunatic, trying to make it as hard as possible for the public to participate.   And also thanks to his master and leader, Herr Krekorian for stepping forward along with Bob Blumenfield (one of these days) to make it possible for the public to attend and speak at council committee meetings... virtually. 
Groat, jot that down. Council. Committee. Meetings.  Got it? Three words.
It's not a bad idea to take virtual testimony because it will dramatically enhance the participation component and the public scrutiny which is key.  Ask Holly Wolcott, the City Clerk.
Elevated Temperature:
Finally, we are hoping Bob Blumenfield will endorse Segarra Bollinger who is running against the Goat, Nithya Raman, for CD4.
The problem is Raman is the Hank Aaron of council district elections.  She got the most votes of anyone ever.
I agree with the speaker who thought that a sense of humor was the right attitude for dealing with public meetings, but will Blumenfield actually support Segarra Bollinger...in the upcoming CD4 race? 
It's a little complicated because it is widely understood, but never discussed out loud that Blumenfield has a modest crush on Council member Raman.
Nobody wants to go "childish" as it relates to City Council speculations but this could become a more serious problem as budget season arises along with other Blumenfield —
City Attorney, Jonathan Groat:  Mr. Preven — 
Smart Speaker:  Thank you.   The conflict is that Blumenfield was extremely helpful and charming with Segarra-Bollinger today.  When he offered to feed her the beat... when she got derailed when he interrupted her to defenestrate Spindler.   "And a one, and a two and three..."
The ratings were very high and the Rom-Com is making a comeback, though Meg Ryan may be seeking a discretionary zone change — 
The point is that up in the long nerdy committee meetings, the lighting is soft.  The AC is low.  The public is mostly unable to attend. There is an undeniable connection, call it a tension between districts. 
One thing is sure, whatever is happening will require further exploration... by staff.  
I yield my time. 
(REDACTED by Groat:)
Smart Speaker:  Hopefully, Krekorian will be indicted soon—
City Attorney, Jonathan Groat:  Mr. Preven, your time has expired.
Pay-to-Stay-Active:
In South America, I remember noting that they have drive-through bedrooms for cities experiencing housing crises.  
Like in Rio Di Janeiro, where many of the young active Brazilians live at home in a cramped apartment.  
The drive-through love house was a solution.
I noted as I drove by the Universal Metro station, a smart Subaru with some kind of roof device atop that allowed for a tent. 
I realize the inhabitant was probably a transportation engineer working for LACMTA on a bloated contract agreed to, without opposition, or comment on the consent agenda, and probably not a drug addict.  
But if we can find ways to help ... to not criminalize.
Hard to Believe:
In the elevator of the Parker Meridien which is now called the Thompson, a man was dressed in an over-the-top Liberace...outfit. Presumably, for the pride parade that was scheduled that day.  
The temptation was strong not to stare or even turn around... and the woman I know got on the elevator.  She was worried she would gawk at the man in all his splendor.  It was simply impossible, she pivoted and took in the elaborate fake Liberace get-up. They exchanged smiles, "Hard to believe, isn't it?"  
A Star: Liberace!
Formerly the Parker Meridien in New York, the property at 56th bet Sixth and Seventh Ave underwent a major renovation and reopened as The Thompson Central Park in 2021. The polished midcentury spaces where sculptural lighting reveals inspired chic details, refined touches and luxe finishes, sweeping views …fall asleep on 400-thread-count Italian linens. 
Sportsmen's would make a very swank SoCal hotel... the coolest in the Valley and the silver lining of adopting such a plan -- it would immunize the developer from a large segment of the local community hating his guts for ever and ever.  Jk, nothing is forever. 
Tuesday is Booz-day: or Wall Stree v. Main Street
Why not give a license or two, you can't have enough vibrancy in Studio City, can you?
Smart Speaker:  Yes, you can have too much.  What about the item establishing a list of pre-qualified vendors and agreements for the provision and delivery of senior meals?  This is a ripe area for bad behavior, so how do we handle that?
The LADOT is reporting that the initial estimate to authorize, purchase, and install the slow-down lunatic signs and posts at 200 schools on overtime will be a modest, $750,000.   
Finally, time to approve the Second Amendment to the Youth Sport Partnership Agreement No. C-136936 with the Los Angeles Organizing Committee for the Olympic and Paralympic Games 2028. 
The $160 million for the rest of the kids, will be spent between now and  2028.  
The available funding is being increased by $332,438 from $18,465,802 to $18,798,240 for this period.
The Department states that enrollment in YSP programs is anticipated to increase by 2,031 participants and result in a total of approximately 164,116 participants in 2023-24. 
Funding for the YSP is provided by LA28 and held in the Youth Sport Partnership Fund (Fund 63K)
What's the balance, Blumenfield?
Whenever I hear Paralympics, I am filled with pride and joy and then dread, when I realize that Harvard Westlake has used that community, like they used Rudy Ortega and the Indigenous peoples to press their unholy cause. 
Harvard Westlake's sucky River Plan is on the docket at PLUM on November 7th (tomorrow) at 1 pm. 
The school and its billionaires from Wall Street are plowing more than $160,000,000 into our community asset to privatize for a few hundred elite high school students,  despite the robust objections of thousands of Main Streeters, who actually live and work in Studio City, USA. 
(Eric Preven is a longtime community activist and is a contributor to CityWatch. The opinions of Mr. Preven are not necessarily those of CityWatchLA.com.)