ANIMAL WATCH - A tribute by Responsible Citizens for Public Safety of Michigan was held on October 21 on Zoom.  Invited were victims of dog attacks and those who have lost loved ones or friends or who just deeply care about the thousands injured/killed by Pit Bulls and other dangerous dogs.  Every year they join to honor, remember and show a unified effort to call attention to this national—and now worldwide—tragedy.
Ann Marie Rogers
The invitation to the Tribute to Victims of Dangerous Dogs is especially poignant because Ann Marie Rogers, who founded Responsible Citizens for Public Safety is a long-time advocate for dog-bite safety, who lost her own mother in an attack by two Rottweilers that were long-time family pets.
The 91-year-old was described by Animals 24/7 as "essentially dismembered alive" in the home of her other daughter in Bloomfield, MI, after numerous expressions of concern by Ann Marie.
Rogers, who is a retired animal-control officer, educator and passionate and inspiring victim advocate also led a strong opposition effort against a 2020 Michigan House bill (HB 4035) to "prevent local governments from banning or regulating dogs deemed dangerous or potentially dangerous on the basis of their breeds or the breeds that animal control officers or other local officials perceive them to be." (See her opposition letter here.)
PIT BULL ATTACKS NOT NEW – WHY HAS NOTHING BEEN DONE?
Pit Bulls Kill Infant in North Las Vegas in 2008
As early as September 12, 2008, the Las Vegas Journal Review reported that a 4-month-old baby girl was mauled to death by her family's two Pit Bulls at their North Las Vegas home.
Police stated that the child's grandmother was baby-sitting at the time of the attack and was also hospitalized for injuries she sustained trying to protect the baby.
According to the police report, the two Pit Bulls were in the backyard but "managed to enter, possibly by bursting through the screen door. They then began attacking the baby as she lay in a stroller."
The grandmother told authorities that she "tried to escape with the girl into another room, but the "dogs forced their way in" and attacked the infant again.
The responding police officers found the child dead and the dogs "acting very aggressively," according to the report. The animals were shot and killed by the police, the report states.
An 18-year veteran animal control officer told the Las Vegas Review Journal, "This is about as severe an attack as I have seen in North Las Vegas." The chief of police said he was informed by officers that the baby had suffered very severe bite and head wounds.
The Las Vegas Review Journal noted that "North Las Vegas has investigated 192 dog attacks since the beginning of last year, including 73 attacks involving Pit Bulls," according to animal control.
(See also report by DogsBite.Org)
A "SAFE WORLD" IN 2023—NOT FOR DOG-ATTACK VICTIMS
On October 17, 2023, the scene of a 4-year boy being mauled to death by a Pit Bull in a Detroit backyard was "so horrific that people across the street could hear it," Law and Crime reported.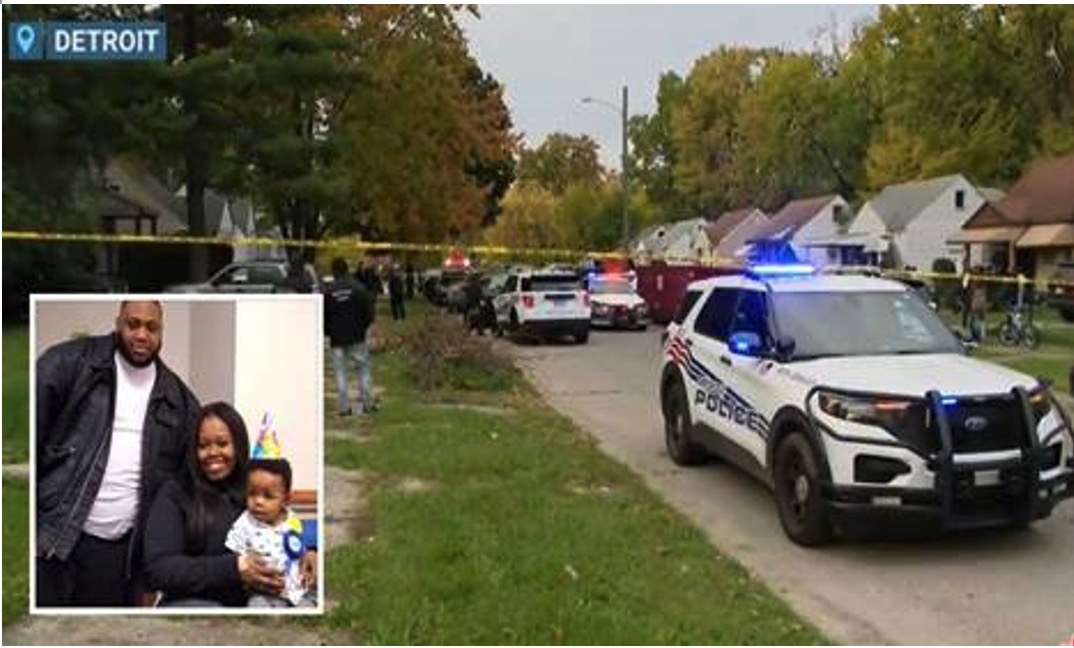 Lovell Anderson with his parents at age 2 and the scene after he was mauled to death by a neighbor's dog (WDIV screenshots)
A 4-year-old boy was killed this week in Detroit, Michigan, when a neighbor's loose dog is believed to have jumped over the fence in the backyard where he was playing and tragically mauled him to death.
The boy, identified as Lovell Anderson by family members, was visiting his grandmother at her house located in the 9300 block of Pierson Street at about 3 p.m. on Wednesday when a Pit Bull, allegedly owned by one of her neighbors, gained access to the yard and attacked him, Detroit ABC affiliate WXYZ reported.
Lovell, who is an only child, was pronounced dead on the scene by emergency medical services personnel.
Lovell's aunts both spoke to WXYZ about their nephew, saying he was "full of life," "such a gentleman," and "just sweet."
The attack also reportedly did not end quickly.
Police said that after the initial attack, the animal attempted to drag the child out of the yard through a gap in the fence as Lovell's grandmother screamed for help. Neighbors as far as a block away from the home told the station that they heard her screaming.
One neighbor said they could hear Lovell's grandmother yelling "No, please stop. Stop, stop. No, please stop." Another said she heard the cries and "thought someone was getting beat up."
NBC News reported that after the attack, multiple police officers were seen searching the yards of the two homes behind Lovell's grandmother's residence. Police said two dogs were taken into custody by animal control personnel, but one of the animals is reportedly owned by Lovell's grandmother and was not involved in the violent incident.
The owner of the other dog has not been identified.
Attorney Peter O'Toole was retained by Lovell's family. He appeared with them in front of the home on Wednesday evening, saying the family members wanted justice for what happened to the child.
"The event was so horrific that people across the street could hear, and they were the ones that contacted authorities right away," O'Toole said.
Several people in the neighborhood reported that loose dogs roaming in the area had increasingly become a problem of late. One woman told the station she had called animal control several times but had not seen the agency take any steps to fix the problem.
Commander Williams said that the family's hardship was preventable with proper pet care.
"Anytime that we have an event like this, it reminds everybody that if you do have a dog to secure your dog," he told WDIV. "Make sure your dog can't get out, and that's the most important thing. But for a mauling like this, the child was in his own backyard, pretty much doing what all kids do. So, our support goes out to the family."
In an updated report on October 20, 2023, Fox2 News added that "The dog reportedly was identified as belonging to a close neighbor." Following the incident, animal control apprehended two pit bulls in the vicinity. Police said they believe one of the dogs in custody is responsible for attacking Anderson, while the other is the grandmother's dog. The victim was being watched by his grandmother, and his parents were not home at the time of the attack, according to the family.
Animal control captured two pit bulls in the vicinity—at least one of which they believe is responsible for the attack which ended the child's life and the other belongs to his grandmother.
WOMAN ATTACKED BY HER OWN ROTTWEILERS – SCREAMED FOR 10 MINUTES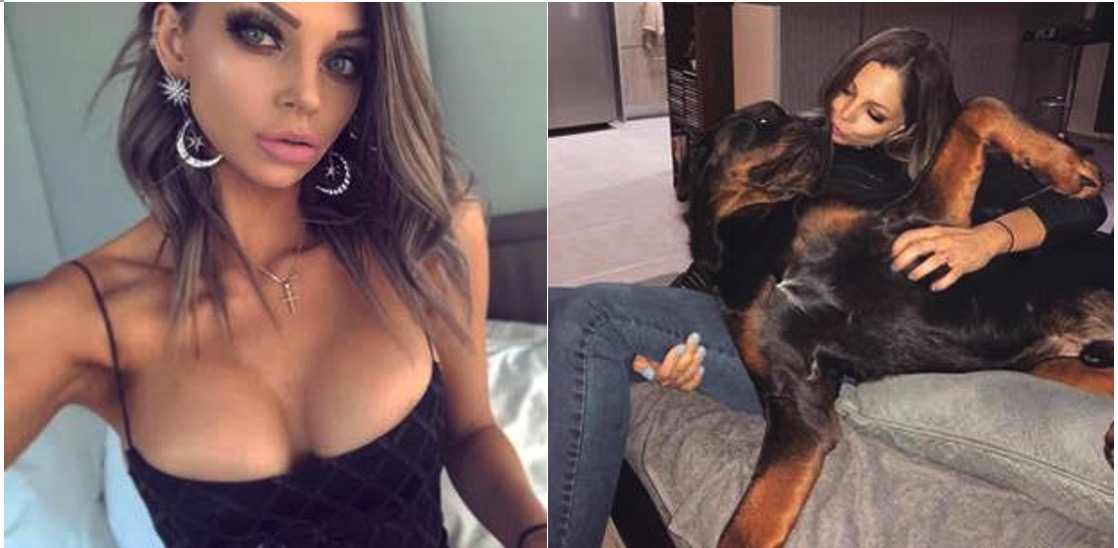 Credit: Facebook
Nikita Piil, 31, was mauled by her two pet Rottweilers at her home in Success, Perth (AU) on the afternoon of September 16, 2023. The dogs, named Bronx and Harlem, apparently turned on her in unison, while horrified neighbors heard her "screams for ten minutes" but were paralyzed by fear and "too scared to help," the Sun reports.
One neighbor, Bryn Spencer, said he and another neighbor heard Nikita's screams for about ten minutes before they decided to intervene. "I was contemplating jumping the fence and getting in there to rescue her but obviously there were two rottweilers in there … I would have been ripped apart," he told the ABC.
After her screaming stopped, neighbors' attempts to help were sadly unsuccessful and the pets continued to maul her until police were called. Reportedly officers were also unsuccessful in attempting to control the dogs with tasers and were forced to shoot one of the dogs.
An officer who visited the scene said it appeared the two dogs had gotten into a fight and Nikita was attacked while trying to separate them.
The brutal attack left Nikita with severe bite wounds to her arms and legs and major blood loss. She was transported to the hospital in serious condition and local media reported she required surgery to save one of her arms.
UPDATE: On September 29, an update advised that Nikita was suffering from serious complication due to a bacterial infection contracted from bacteria in the saliva of her Rottweilers'' mouths and a GoFundMe page had been set up to help with hospital expenses.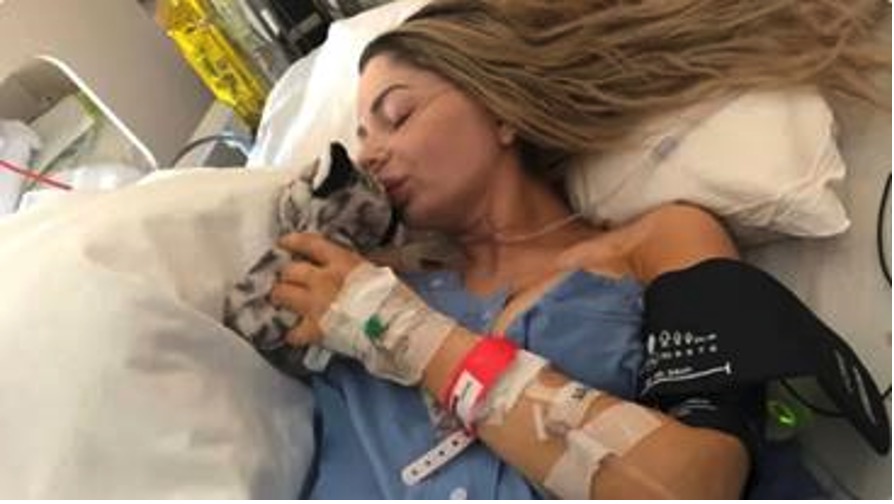 Two Large Pit Bulls Attack 3 Victims, including Man, 83, and Deputy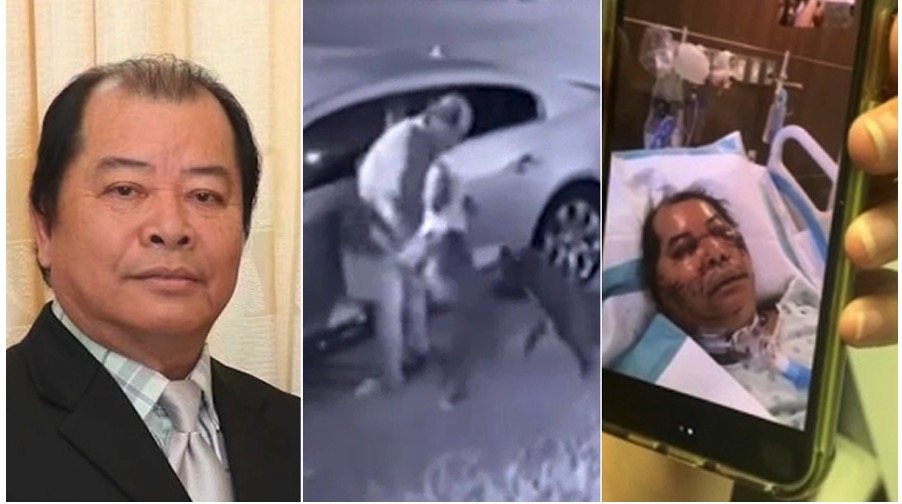 A deputy and two other men were injured Wednesday morning October 11, during an attack by three large Pit Bulls in Katy, TX, area, according to the Harris County Sheriff Ed Gonzalez, who told reporters on Wednesday, October 11, the loose Pit Bulls approached the front yard of a home in the 3500 block of Doherty Place and seemed friendly.
The 83-year-old resident gave them water and they appeared "playful" but soon turned the play into an attack. A good Samaritan who was driving by stopped and attempted to intervene, but the dogs also turned on him. (See video here.)
Both victims were taken to an area hospital where the 83-year-old was listed in critical. Condition and the good Samaritan, 43, is in fair condition.
A responding sheriff's deputy shot both dogs, and was also taken to the hospital for a minor dog-bite injury.
The stepdaughter of the 83-year-old said she grabbed an umbrella to try to frighten the dogs away when she heard the screaming, but the dogs already had a tight grip on her stepfather.
The Sheriff thanked the swift actions of his deputies for preventing the two victims from being more seriously mauled. The identity of the owners of the dogs was not determined at the time of the report.
The Pit Bull Locked Eyes With Me. Then Clamped My Throat
This is a personal experience by Rhonda Sitterly, the victim of a horrific Pit Bull attack and it is a compelling must-read article published by Newsweek, where it appears in its entirety:
The pit bull locked eyes with me. Then clamped my throat.  I looked at the paramedic, and he was in shock.
The link is also posted on the Facebook page, Dangerous Dogs. There are also important other helpful pages to follow; such as, Responsible Citizens for Public Safety.
SPECIAL THANKS TO ANN MARIE ROGERS for her dedication and tireless efforts for dog-bite safety particularly and public safety in any aspect.
The annual Tribute to Victims of Dangerous Dogs is a reminder to never take dog-bite safety for granted and to understand that a dog attack is not a momentary incident but the potential destruction of the victim's future and family welfare—often emotionally and physically destroying the ability to function in life and work, and creating a sense of constant insecurity and fear.
None of the foregoing victims did anything to attract or challenge a dangerous dog or invite an attack, nor is it likely they could have prevented it. Knowing that, we understand that pre-emptive vigilance and supportive efforts to control and restrict the breeding and ownership of violent and/or fighting breeds is not fearmongering but life-saving for both animals and humans.
(Phyllis M. Daugherty is a former Los Angeles City employee, an animal activist and a contributor to CityWatch.)