ANIMAL WATCH - The Irvine Police Department in Orange County, CA, posted on Facebook on September 6, that officers had administered Narcan [naloxone] to revive an eight-week-old Pit Bull puppy whose owner stated it may have gotten into a stash of fentanyl in the car they had stopped.
The two occupants were arrested and subsequently charged with possession of narcotics, including fentanyl, which was found in the vehicle.
The female told officers, "Oh, I think my dog is overdosing," according to a statement made by Irvine PD spokesman Kyle Oldoerp to The L.A. Times. "She knew the symptoms because it was the second time the dog had overdosed."
Irvine PD Officer Kyle Oldoerp also stated that they "really don't know how the dog would have been exposed to the drug;" however, according to the report, the owner stated that "Maybe it was a baggie on the ground of the car." The officer told the L.A. Times. "If they're using drugs in their car, we can only speculate."
Video taken of the officers—shows them administering the spray up the puppy's nose and it immediately beginning to respond. It was then transported to a local emergency vet clinic.
Irvine PD announced, "We are happy to report the dog is recovering fully, and our Animal Services Unit will take possession of her."
Both suspects were cited and released, but the Orange County district attorney was asked to charge them both with possession of narcotics and felony animal cruelty.
"We wanted to be sure we knew the outcome of the dog before we actually charged them," Officer Oldoerp said, adding that the puppy will stay in city custody "until there is a hearing to determine whether to give the animal back."
COURT UPHOLDS SEIZURE BUT RETURNS PUP TO OWNER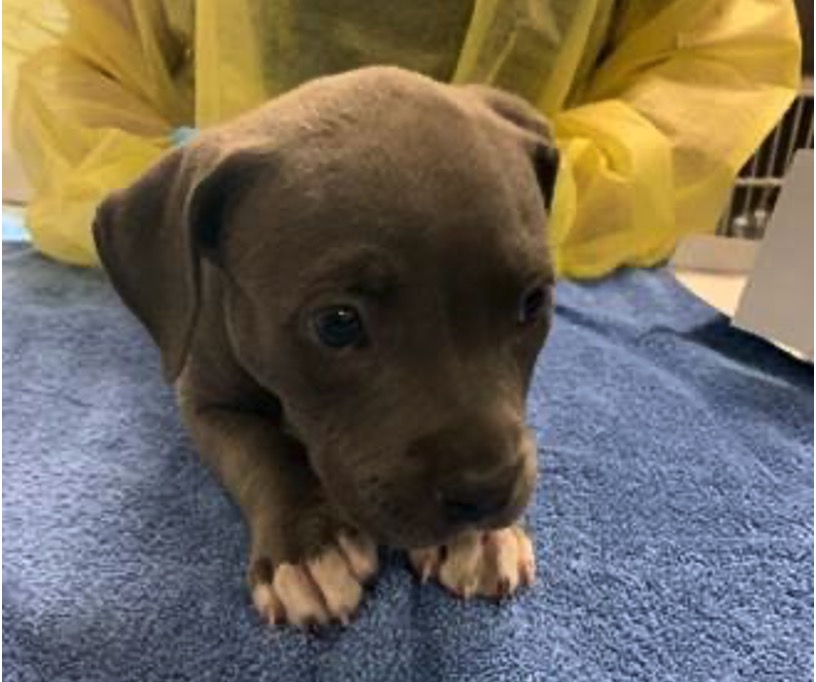 On Tuesday, Sgt. Karie Davies confirmed that Gibson had been cleared to take his dog back, but maintained that the animal had overdosed even though they have not found proof of drugs in its system. She said that a sample of the dog's blood had been sent to a laboratory for further testing."
However, Caleb Gibson, 29, told The Times he and Katherine Menke, 27, were surprised that the court found the seizure was justified, and he was notified he must repay the city for the $2,586.33 cost of caring for the puppy, or the dog will be "deemed abandoned" and "become the property of the city."
DOG OWNER SEES HIMSELF AS A "VICTIM"?
According to the reports, the original stop was made by Irvine PD because the occupants of a parked car were disposing of trash in a business center by throwing it out the window. The search of the car was reportedly consensual. However, that may have changed at the point fentanyl was found in the vehicle.
"Basically they are holding my puppy for ransom," Caleb Gibson, told The Times. "I'm a college student on financial aid, so I don't have that kind of money to throw around."
He explained he is studying welding and receiving counseling and, although he has slipped two or three times, he is "doing pretty good."
But we have to wonder, since Gibson stated his reason for buying this purebred Pit Bull for $200 was that it "made him feel good," how long will it be before the puppy becomes a dog and starts doing all the things a puppy can do in an apartment, as it becomes an additional responsibility—potentially adding to his anxiety.
And, what about the cost of insurance to own a high-risk dog?
He said he gave his last Pit Bull to his mother after she developed cancer and "didn't want to take it back."
"Instead, he worked on cleaning up his own life," the article states, adding that his addiction started in his teens and became a full-blown opioid addiction in his 20's. It also states, "About nine months ago ... he decided to sign up for a methadone program so he could take daily doses of a medication that would help control the urge," he said, admitting to "two or three slip-ups."
The article also states that, "(h)is girlfriend started taking methadone as well, he said, though she occasionally fell back into drug use."
We are all in favor of people rehabilitating themselves in life, but owning a dog is not just "falling in love" with it, as he stated as his reason for buying Myla.
DOG OWNERSHIP – A LEGAL RESPONSIBILITY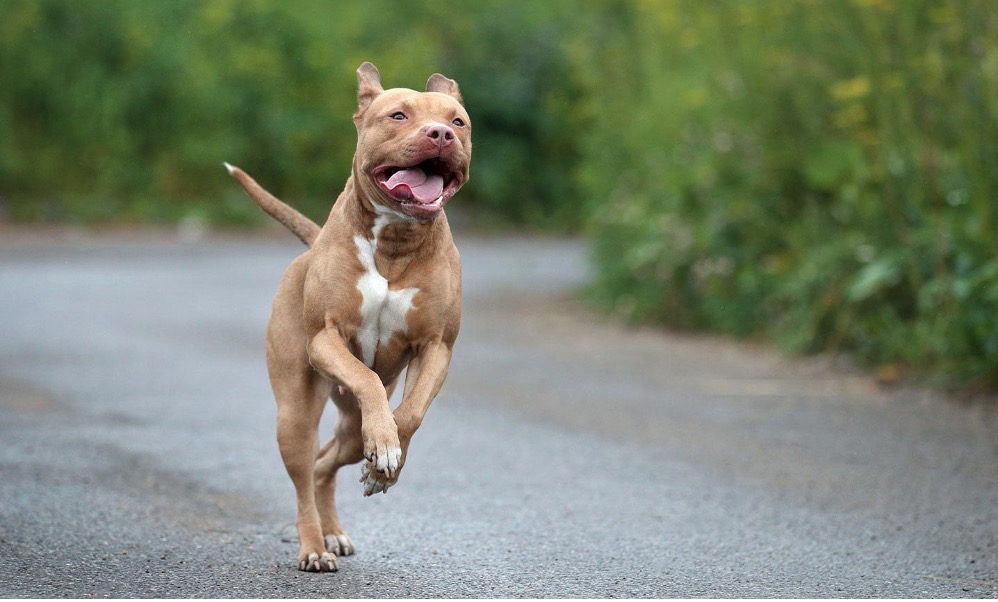 In the numerous reports published about this couple's story I have seen no mention of the responsibilities of dog ownership—to the animal and to society-- especially for a Pit Bull, which is a powerful, energetic breed that also requires extensive exercise, socialization and training. And, all pets require not having illicit drugs accessible.
It is unlikely that a requirement for spaying this dog can be included in the final disposition of this case and the future of this animal is nebulous. Since the dog is a female and allegedly "pure bred," will breeding her and getting $200 (or more) per puppy be too tempting to resist?
When the newness wears off and the puppy becomes a dog, which will include demands and legal requirements for insurance (which is costly) along with the expenses of regular veterinary care, will those requirements add to their anxiety?
This type of situation is an example of why there needs to be a merging of the law-enforcement aspects of animal control with local police departments all over California and the U.S.
DOG COLLAPSES AFTER WALK, RESPONDS TO NARCAN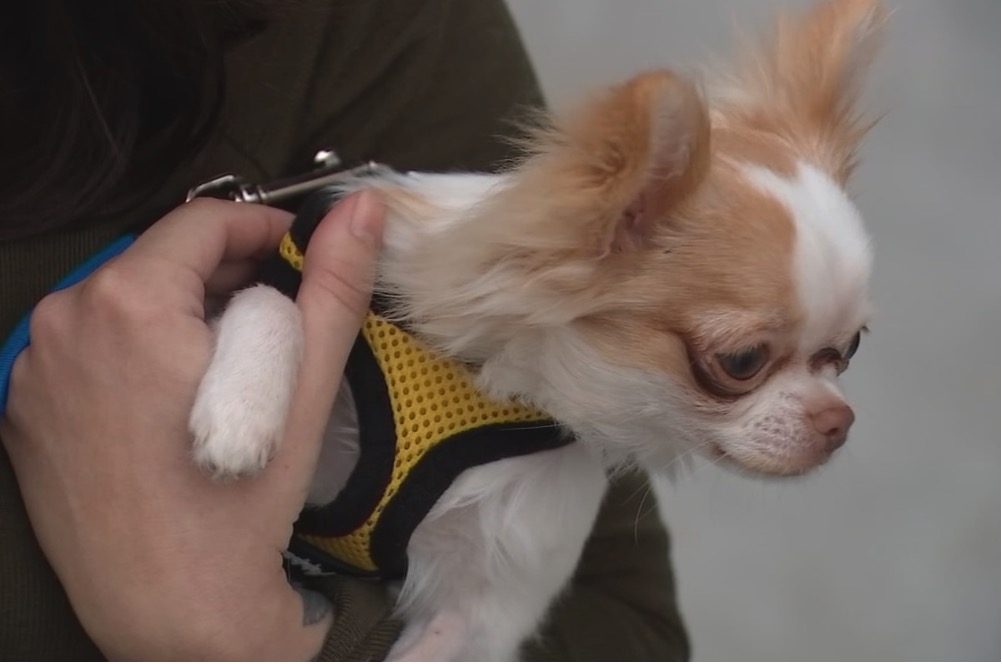 On September 15, 2023, KPTV reported that Portland, OR residents said their pets "nearly died after apparently coming into contact with fentanyl while out on a walk."
Emily Englebright told reporters that she was walking with her two chihuahuas in southwest Portland last week when one stopped to sniff at something on the sidewalk. "He grabbed something on the way inside but I thought it was just a piece of bark dust," she said.
But within minutes her 5-month old dog collapsed.
She grabbed him and ran to a local emergency veterinary clinic. "By the time we got there, he was completely unresponsive ... I thought he was dead," she told KPTV.
The emergency veterinarians administered Narcan, and the dog started to revive.
"She [the veterinarian] thought most likely it was fentanyl that caused it, and she actually already had three fentanyl cases that night," Englebright said.
Another resident in the building told a similar stary about walking her friend's dog. "We were walking down by the square ... he got a piece of tinfoil on his paw, and he started licking it to the point that it was raw," Stevens said.
Then alarming symptoms developed. "He looked like he was on his deathbed," she said, as she also described the dog's failure to respond, "He was very lethargic and wouldn't respond to his name. He wouldn't even really look up at us, his nose was running and he was barely breathing."
The dog's owner was able to obtain and administer Narcan…just in time. "We actually thought he died a couple of times," Stevens said.
The staff at the veterinary clinic said they have "seen an increase in these incidents in recent days. It's becoming more and more common, and we have seen an increase recently," said Dr. Tess Payne, with the Dove Lewis Veterinary Emergency and Specialty Hospital.
The upswing seems to be because of "fentanyl patches becoming more widely used and pets gaining access to them," she said.
The KPTV report states that veterinarians agree that in any case where a pet is exposed to fentanyl, quick action is crucial—symptoms may be visible within 15 minutes. And, "after treatment, an animal might need supportive care and continued monitoring for some time."
The report states that the veterinarian emphasized the importance of monitoring anything a dog ingests while out for a walk and said it's important to closely monitor an animal's behavior while walking-- whether it is out in nature or in the city—and to make sure they don't ingest any bodily fluids that might contain drugs.
In one instance, there was fear that dogs walking on the street or near yards were eating feces from other animals that had ingested fentanyl.
K-9 DOG WHO OVERDOSED WITH FENTANYL DURING POLICE RAID
Fentanyl is not a new threat. On Nov. 23, 2016, Broward County Sheriff's Detective with the Gang and Drug Task Force Andrew Blankstein collaborated with NBC in telling this unforgettable story about his beloved K-9 partner, Primus.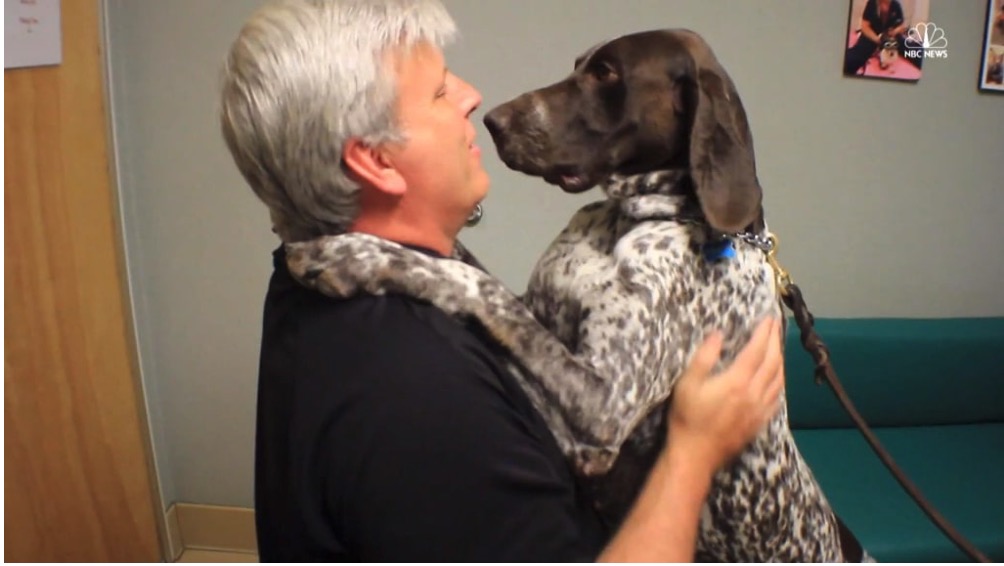 Primus, a German Short-Haired Pointer, was exposed during a drug raid but survived.
"Primus, a Florida police dog, is normally a spirited animal," it begins, "but after assisting in a federal drug raid early one morning last month, he seemed out of sorts."
"He wouldn't drink water. He would release his toy very easily. And he was looking lethargic, almost sedated," said Detective Andy Weiman, the head of dog training for the Broward County Sheriff's Office.
"We knew something was wrong."
"In the 10 minutes it took to rush Primus to a local animal hospital, the German Short-Haired Pointer was in serious distress—his tongue was hanging out of his mouth, his breathing had slowed dramatically and he seemed to be staring off into the distance."
"He had to be carried in," Detective Weitzman said.
Weitzman explained, "Primus and two other dogs had "sniffed their way through the suspect's house," where they were exposed to unseen fentanyl, a synthetic opioid that is 50 times stronger than heroin sold on the street.
A few grains can be deadly, whether ingested, inhaled or absorbed.
"Since its availability spiked in 2013, "the Drug Enforcement Administration says it also poses a 'grave threat' to first responders and law enforcement officers—human and canine," the article states.
"It's so potent that a few grains can be deadly. It can be ingested, inhaled or absorbed through the skin and mucous membranes. And because dealers cut other drugs with it, fentanyl is often a hidden menace, especially for dogs using their noses to pick up a scent."
"If fentanyl is loose in an environment, it can spread out where a dog can absorb it through his pads. He could sniff it up through his jowls," Weitzman said.
At the animal hospital, staffers examined Primus and the other dogs and immediately realized they were dealing with classic opioid overdoses and that speed was critical.
"Narcan, the brand name of the opioid antagonist naloxone, is metabolized as quickly as fentanyl and can reverse an overdose if administered in time. All three dogs got shots of it and perked up within a few minutes."
"Because of the prompt and effective care, Primus was at Detective Weitzman's side at work the next day," the report states.
"By 4 p.m. that afternoon he was fine," Weitzman said of Primus, who is a currency detection dog. "And we went back to work the next day."
In August, two Atlantic County, New Jersey, detectives were hospitalized after inhaling the pain killer when a puff of it escaped from a plastic bag of heroin and cocaine during a field test.
(The above is excerpted from an NBC News report, "K-9 dogs overdose on fentanyl, during police raid." It is timeless and timely—equally, if not more important today—and hopefully will be read by law-enforcement officers/animal control departments facing this alarming intrusion of drugs into daily lives and work. It can be read in its entirety here.)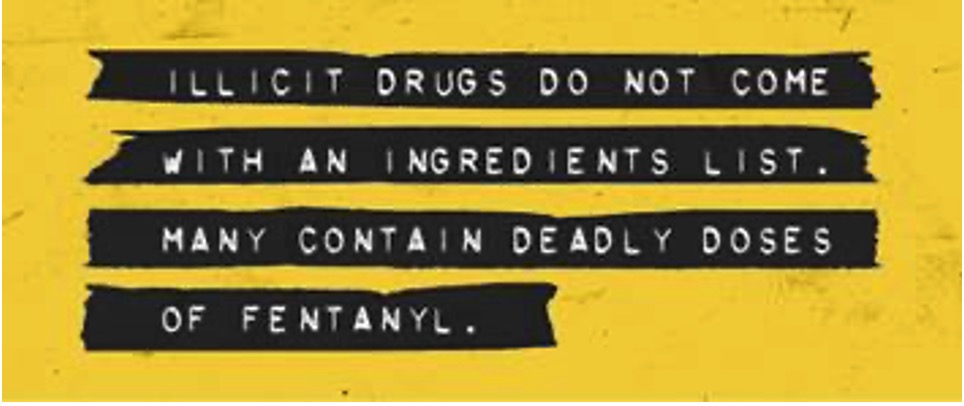 A U.S. Congressional report dated April 14, 2023, states (in part) that "Fentanyl is the single deadliest drug threat our nation has ever encountered," U.S. Drug Enforcement Agency (DEA) Administrator testified during a Senate hearing in February."
"Synthetic opioids like fentanyl can be 100 times more potent than morphine and 50 times more powerful than heroin. They're also relatively cheap to produce — ideal for traffickers but dangerous for users, who often don't realize the drug they're taking has been laced with fentanyl."
Sadly, animals becoming a victim of drugs is a far-too-common story as the sense of responsibility in society disintegrates and drugs are becoming more potent, more addictive and more deadly. And, with more animal shelters insisting everyone should take a "free" pet, more innocent creatures become helpless and defenseless victims.
But there are also the human and animal victims who are the targets of attack by animals belonging to someone who gets a "power" dog to feel good or intimidating, but is oblivious to the responsibility for its actions and has nothing to lose.
As we can increasingly see, the irresponsibility and danger of drugs is not only to the immediate victim, but to society in general, animals included.
(Phyllis M. Daugherty is a former Los Angeles City employee, an animal activist and a contributor to CityWatch.)