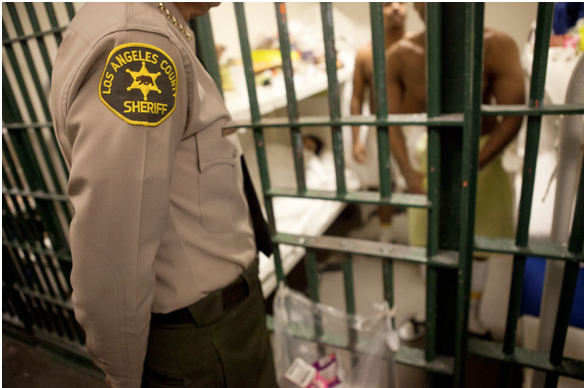 STRAIGHT SHOOTER--This is not a good week for people concerned about jail violence. First, the law enforcement liability numbers are in, and the results are worse than bad. There's been a 43.4 percent increase in money paid by the County to deal with law enforcement liability including excessive force claims against the Sheriff's department -- an increase of  $14.6 million over FY 2013-14 to a robust  total of $48.3 million for FY 2014-15. Second, the LA County Board of Supervisors is poised to adopt a motion this Tuesday, which will remove the last hope of the proposed Civilian Oversight Commission having any teeth or independence. 
Apparently, the Sheriff and Board-appointed Inspector General Max Huntsman are close to sort of being close to a sort of final Memorandum of Agreement which will determine the extent of any access the Commission may gain to internal records of the Sherriff's Department. So much for unfettered access.     
To be fair, it's not an easy task, setting up an oversight commission like the one proposed. But what's unacceptable is that there were measures that could have been taken expeditiously, at the time that civilian oversight was first proposed by Supervisor Ridley-Thomas and Gloria Molina in September of 2013. The best example is the concept of "golden key access." 
I will never forget the first time I heard Miriam Krinsky, now one of Sheriff McDonnell's top advisers, explaining that concept after she'd been on a fact-finding mission to New York for the CCJV. On January 4, 2016 an op-ed in the New York Times, by Michele Deitch and  Michael B. Mushlin, struck the very same note: "The awareness by prison staff that a monitor could show up at any time would check employee misbehavior. The culture of a prison changes when outsiders shine a light on its operations and conditions."    
It is inexcusable for the Board of Supervisors to delay independent oversight measures that will save the county money and keep residents safer. Sheila Kuehl, Hilda Solis and Sheriff Jim McDonnell all ran on the promise to make meaningful civilian oversight a priority and a reality. What are they waiting for?  
(Eric Preven is a Studio City based writer-producer and public advocate for better transparency in local government.  He was a candidate in the 2015 election for Los Angeles City Council, 2nd District.) Edited for CityWatch by Linda Abrams.
-cw
CityWatch
Vol 14 Issue 4
Pub: Jan 12, 2016