RESISTANCE WATCH--This Sunday (Oct 1),  Courage Campaign and CREDO Mobile will meet at the Chargers stadium and form a human chain around StubHub Center to support the athletes protesting against police brutality and other forms of injustice. 
Last year, Colin Kaepernick took a knee during the national anthem in protest of police brutality against black lives and it sent shockwaves through the nation.

After more racist po  lice encounters -- this time with Michael Bennett of the Seattle Seahawks who believes he was singled out for simply being a black man -- and the continuation of shameful comments by President Trump, the protest has been reenergized this season. Football teams across the country are joining Kaepernick and other national athletes that have taken a knee.

If enough people show up, we can generate the statewide -- if not national -- media attention we need to amplify this issue.  
NEED TO KNOW: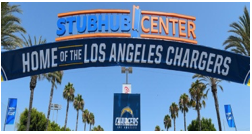 Location: StubHub Center (exact meeting location TBD) 
Time: 12:00pm
Parking: more information to come

JOIN US as we kneel on the right side of history.  Please share and repost!!! 
-cw