WHAT THEY'RE SAYING--It didn't surprise the locals when Claremont United Methodist Church unveiled its annual outdoor Nativity scene this week. In keeping with its spiritual leanings and activist traditions, this was no tender Christ-child-in-the-manger tableau.
Instead, Joseph, Mary and the baby Jesus had been separated and locked up in individual chain-link pens, topped by barbed wire fencing.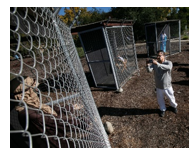 What shocked people in this suburban L.A. County college town was what happened next: An image of the scene posted online by the Rev. Karen Clark Ristine ricocheted across the country. Propelled by social media, it was showcased by virtually every major media outlet and drew a mix of outrage and applause.
The Nativity scene was intended to reflect the plight of immigrants and asylum seekers whose families were separated on our southern border — a process many in the church consider a moral abomination.
 "We don't see it as political; we see it as theological," Ristine told Times reporter James Queally. But tens of thousands of people around the U.S. didn't see it that way.
The image has sparked a heated national debate about spiritual boundaries and moral commitments. Its caustic tenor online reflects the state of dialogue in this country today: warped by political divisions, riddled with gratuitous insults and sabotaged by self-righteousness. (Read the rest) 
-cw