ERIC PREVEN'S NOTEBOOK - On this week's supplemental agenda, the Chairwoman of the board of supervisors, Holly J. Mitchell agreed to ask for an extension for a group that at one time identified itself as Plentitude Holdings, LLC.  There's an extra 't' in there, the firm is actually called Plenitude.
At the time it was comprised of the following members: 60% of Plentitude is held by La Quinta Partners. (sic) One hundred percent of La Quinta Partners is held by Randy Blanchard (75%) and Loara Ventures LLC (25%). 40% of Plentitude is held by Seasmoke Partners-Studebaker, LLC.  The Seasmoke Partners are Randy Blanchard, Jeff Klein, Steven Blanchard and Sean Masterson. 
I was sufficiently interested to jot the now infamous email to Mary C. Wickham, the brand new county counsel, at the time:  
Four red arrows and an LLC
This is a PRA request for Vico LLC/Plentitude LLC Consent to Transfer of Ownership RE: Links at Victoria Golf Course. 
Wickham's response was Classic. 
Thank you, Mr. Preven, for your inquiry.  I will have a member of my staff contact you regarding this matter.   
Mary Wickham
County Counsel 
I'll print the 'cat and mouse' email chain below because it's interesting, but the really big question is what are Shallman and Kubota of Covington Burling doing over at the Civilian Oversight Commission and how did they not notice the humanitarian crisis in the IRC lobby?  
Thanks Staff & Public:
Communications that keep work-from-home hybrid staff focused and engaged could also apply to the way Supervisors should treat members of the public:    
Meet them where they are- often, virtually 
Speak to them like a smart friend, not a subordinate  
Be transparent and empathetic, always 
Chair Mitchell's stone cold 'wait times' during which she denies anyone who has spoken for two minutes from filling the public's time to air grievances... is literally chilling.  Especially coming from a civil rights leader like her.  I had the same feeling with Mark Ridley-Thomas, who comes across as a poor man's Martin Luther King, the first time you meet him. Say what you will about his ethics but MRT had a basso profundo that could go toe-to-toe with Zev, the goat of county vocal chords.... the voice of Carmaggedon.  
You can hear Zev these days on KCAL delivering top tier local political analysis alongside one of the most quoted women in the history of not saying too much, while summarizing.  That pundit is the former Ethics commissioner, Jessica A, Levinson.  ttyl. 
Anyway, the board has been busy applying the equity lens... and hiding the private equity lens.   
Negligence in the LA County jails has been a perennial for too long now.  We took notice years ago, when Robert Faturechi was wearing the trench coat and Peter Eliasberg was leading the ACLU charge, tween flirting sessions with Dr. Christina Ghaly, pre-pandemic!  It was a tumultuous period.  The Citizens Commission on Jail Violence CCJV created by Zev and Miriam Krinsky as a containment vessel was just setting sail. 
I had a hand in making the bloody transcripts available so that Baca could be hung with his own words.  
Everything came into focus, as we cleaned up the atrocities.   
Now, we come to find out, that the entire mess has deteriorated to medieval levels once again, which is surprising.  The recent Inspector General Max Huntsman report through June 30 describes something quite different than the idyllic, Hilda Solis Village we've come to associate with county jails.   
Now, it appears that the Board has not only been containing the foul odor coming from probation but also, Chinatown, the Inmate Reception Center is located.  
The IRC as it's known, is responsible for receiving, searching, evaluating, and classifying all incoming male prisoners to the Los Angeles County jails.  
In conducting IRC site visits, Max Huntsman and staff have noted significant overcrowding in IRC as men wait to be searched, evaluated, and classified for housing.  
Monitoring wait times over the past quarter has shown that it is not uncommon for incoming prisoners to wait for days, sometimes sixty-hours. 
Wait times for the supes who have held the financial reins for the county jail and probation fiascos for decades alongside their Triple A bond rating, are not becoming shorter.   
The Mayor Eric Garcetti was talking about the homeless count, being up 4.1%, but could have been talking about the county board's jail plan.  "We finally feel like we're flattening the curve," he said.  
"That's different than reducing. That's the next step."   Sigh.  
Over the past quarter, assaults on deputies and uses of force by deputies have occurred in IRC, including according to Hunstman, the breaking of bones. There was an in-custody death that occurred at IRC when a guy waited for over two days to be evaluated.    
The Office of Inspector General made recommendations in November 2019 to alleviate IRC wait times and overcrowding, yet the problems have been allowed to worsen.  
Mentally ill prisoners are regularly chained to benches for long periods with only sporadic bathroom breaks -- over sixty hours each.   
Capacity as of June 30, 2022, was 13,232.  As of August 11, 2022, the reported total population had been allowed to rise to 14,274. +1000 
The Constitution requires that deliberate indifference not be shown to the health and safety of prisoners and employment law provides greater protection to deputies charged with working in the jails.  
The pandemic, understaffing, and the deteriorating physical plant of MCJ are contributing to medieval conditions. 
The Office of Inspector General continues to compile the number of times the Sheriff's Department has employed a Taser in custodial settings.  
Below are the numbers from January 2021 through June 2022.  And also, the numbers from January 2018 - June 2020 for a side-by-side comparison.    
Nothing appears to have changed.  
The Office of Inspector General is not opining on whether the use of the Taser in each of these incidents was permissible under the Sheriff's Department's policies and/or if the Taser was employed lawfully.   
Why not, Huntsman? You lazy bastard!  
One idea is to name the lobby, the Maria Chong-Castillo IRC. 
Chong-Castillo has served as the Deputy for Public Works in the Third District of the County of Los Angeles since 1994. She also oversees the County services in the Third District through Beaches and Harbors, Parks and Recreation, and the LA County Public Library.  
She administers the Supervisor's capital programs, including project conception, architectural design, budgeting, project management and the selection of civic art.  
Under her supervision, the Third District has successfully completed numerous construction projects, such as the San Fernando Child and Family Clinic, Monroe Wellness Center, Los Angeles River Headwaters, Tujunga Wash Greenway Project and El Cariso Park Gymnasium, the Zev Yaroslavsky Family Support Center, Campus Kilpatrick, Strathern Wetlands Multi-Use, and the John Anson Ford Master-Plan.  
Maria studied at USC and previously worked for Supervisor Zev Yaroslavsky for more than 39 years, including during his tenure as a member of the L.A. City Council.  
In recognition and appreciation of her years of dedicated public service to the residents of Los Angeles County, and American Golf Corporation, Herbalife, and too many private equity partners to mention, we propose dedicating the lobby at IRC, The "Maria Chong-Castillo IRC" 
The San Fernando Child and Family Clinic, that had been earmarked to be named the "Maria Chong-Castillo Lobby", will be given a new name. The dedicatory plaques to be placed in the lobby will commemorate the highly effective and dedicated service of Louis Skip Miller of Miller Barondess LLP.  
Miller who selflessly provides service to the residents of Los Angeles County, by delivering legal strategies that don't necessarily improve the county but get the Supervisors out of hot water.  
Miller's tenacity is unmatched, and while taking over $1,000,000 in Payment Protection Plan money, Skip guided the Supervisors through several costly, failed litigations.  
Skip was there protecting the Supervisors, even when they broke the law, and betrayed the trust of the public.  
He was there for the residents, when it looked like the former CEO might file a claim against the county. Thanks to his leadership we payed her off, $1.5 million to avoid even the mention of litigation.   And he lost $16 million to Vanessa Bryant.    
How much did he get paid for that defeat? 
Park here, here but not here! 
Supervisor Kuehl is back at it and can you really blame her? 
She's waiving those damn parking fees for approximately 6,000 vehicles again for the volunteers and support staff at County-operated beach parking lots. 
Why are the LA County Supes Subsidizing an Event Sponsored by Pyramider Herbalife? 
Not Herbalife this time, but it does begin with an H...  
On September 17, Sheila's prepared to eat six-figures of parking fees hosting the California Coastal Cleanup Day.  It says it is hosted by Heal the Bay, but it's on the county beaches.  So, technically, the county is hosting, right?   "Sir, you're disrupting the meeting." 
As  Sheila Kuehl apparently understands, it's not tenable to pay $20.00 per vehicle to park in a county beach lot.  Especially, if you're only going to help the community out by picking up beach trash, and bottle caps and tar.  
Following the posting of Tuesday's agenda, another waiver for a different type of clean up... may be sought.  Actually, the proponents of that waiver are calling it a beat down.   No, not the Sheriff Department, but rather Parks and Recs and Beaches and Harbors should team up to seek a waiver of parking for over 6,000 enthusiasts ready to pay to view the 'fight' between Jake "The Problem Child" Paul and the UFC legend and professional boxer Anderson "The Spider" Silva on Saturday, October 29th.   
The event will be conducted live on SHOWTIME (9 p.m. ET/6 p.m. PT) from Gila River Arena in Phoenix, Arizona, but let's comp the beach parking for folks in Los Angeles County who want to enjoy from the beaches.  
Equity is equity. 
Actually, equity is often private equity when the County Board of Supervisors are involved, but now that we're getting a new County Director of Digital Equity to serve full-time, in an executive management-level position to be housed at the Internal Services Department (ISD). 
Why?  
Because we need to get that broadband out the door.  Don't worry, the Intergovernmental Broadband Coordinating Committee is on it!  
Holly J. Mitchell RV Pilot
Finally, after nearly a century, a Countywide RV Encampment Pilot Program.  And within just 120 days which is three months, the staff will provide an implementation plan for a 36-month pilot RV Program that includes and is not limited to:  
A target to engage at least 500 people living in RVs annually while dismantling a minimum of 900 inoperable RVs during the 36-month pilot program.  
Establish an RV restoration grant program for RVs that can be brought up to DMV compliance. 
"We tight like dat."
On-Call means ready to take your money.'  Translation:  At your service!  
In a way, that's how Skip Miller works the legal program for the very badly corrupted County Board of Supervisors. He's standing by and when you speak with Skip, you don't have to share anything because of the attorney-client privilege.   
He's so smart.  
Eleven on-call project management/construction management firms for various County projects for an amount not to exceed $10,000,000 for each agreement, for a three year term. 
Seven small-sized firms, Citadel CPM, Inc., RW BID Construction Management, LLC, CM Solutions, Alliance Planning and Management, Inc., PMCS Group, Inc., Simpson & Simpson Management Consulting, Inc. and AIM Consulting Services, three medium-sized firms Kitchell/CEM, Inc., PMA Consultants, LLC and Cordoba Corporation and one large-sized firm Arcadis U.S., Inc. 
This week's Firm of interest is, Simpson & Simpson Management Consulting, Inc. 
Over the years they have morphed and survived, and frankly, are way too close to the county. 
Years ago, they helped cook the county golf books... 
Mean Guy Report
Gas was $4.73 a gallon the other day at Costco and that looked good compared to where we've been.  My colleague noted that it was $3.09 in Texas this morning.   
Sheesh.   
The grass is always greener... or less green in Texas. 
Nimbys cannot understand why we would want  "to give a guy who is camping in the side yard of a building, an apartment.  He should get a bed, not an apartment."  
This very bitter man feels that getting an apartment, and certainly not in the expensive part of town is... off.   
"They should give a homeless guy a bed, in the outer part of the county." 
I say, you mean, an "internment camp?" 
He says, "No. If you don't want to be living on a cot in low-cost real estate, go home or go somewhere else, but you cannot live in the median on 3rd street." 
He doesn't sound totally crazy, but he doesn't sound very nice.  
And he really sounds mean when he suggests "I hope that girl who won in Cedillo's district, Eunisses Hernandez gets robbed" before highlighting the fact that Karen Bass had firearms taken from her home over the weekend.  "Why does Bass have guns if she's not afraid to walk the streets of Los Angeles?"   
"And I hope Darling in CD11 gets robbed and the county candidate from WEST HOLLYWOOD, Lindsay Horvath." 
He calls the progressives "shitheads" before heading back out to work in his neighborhood, patrolling. He says his neighborhood has deteriorated because it is next to one of the " 41.18 No homeless zones."    
He said the other day he had to fend off a homeless man from trying to rob his neighbor and noted that the homeless guy was working with others - namely, two others who were acting as sentries.  
He called them 'lookout homeless.' He said they're... "organized crime." 
Cat and Mouse: 
Time Sensitive -- Problematic Signature on County Contract
Please provide the full name and company affiliation of whomever signed on the line immediately above the words Plentitude Holdings, LLC. Also, please spell out what the signature says precisely in legible printed letters. To avoid any possibility of confusion please see the screenshot below which has arrows pointing to the signature in question.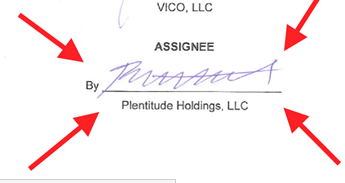 Mr. John Wicker,  
I'll try again.  
Please provide a clearly spelled out version of the signature pictured below (and pointed to by four red arrows). 
To avoid any possibility of confusion, I have provided a series of short horizontal lines spaced evenly in two rows beneath the signature. 
In the first space, please print legibly, the first letter of the signature.
in the second space (immediately to the right of the first space), please print legibly the second letter of the signature.
In the third space (immediately to the right of the second space), please print legibly the third letter of the signature.
Please continue this process until all of the letters in the signature have been printed legibly on the spaces provided. 
______   ______    ______   ______   _______    ______   ______   ______   ______   
______  ______  ______  
______  _______  ______  _______  _______  _______  _______  _______  _______  
_______ 
On a closely related matter, there is no company registered with the CA Secretary of State called "Plentitude Holdings, LLC" There is a company called "Plenitude Holdings, LLC" (one "t" instead of two). In the space provided, please provide the correct spelling of the company to whom you recently granted, in a signed contract, a thirty-year leasehold on valuable public land. Here's a place for you to write that correct spelling:  _____________________________.  
Eventually, the smell came out of Carson... it was like the smell of a new can of tennis balls.  
Exclusive Negotiation Agreements with Plenitude Holdings, LLC and the Doug Kimmelman Foundation (Foundation) United States Tennis Association Foundation, will include, at full build-out, 62 tennis courts, The sport fields component will be operated by LA Galaxy Foundation or a related entity, and include, at full-build out, up to eight soccer fields, two multi-use fields, and associated maintenance, storage, and restroom facilities. The up to 25,000 square feet youth-focused learning center, which also includes 2 basketball courts, will be operated by the Tiger Woods Foundation (collectively, the "Development");  
Mo shortages
Gov. Gavin Newsom signed a law Friday creating a system to name and rank heat waves, much as hurricanes and winter storms are categorized now. The California Environmental Protection Agency is expected to produce this system by Jan. 1, 2025. 
Maybe we should also name the shortages of fruits and vegetables and other delicacies.  We could call the Olive shortage the... Vibradora!  
"The cost of producing olive oil is now two or three times as expensive as it was ten years ago," I read in the New York Times.  
Eight liters per hour, for eight hours, one night a week, is how much each tree needs to be watered. 
A harvest that once took tens of thousands of people, including a massive influx of seasonal migrant workers into Spain, now requires a fraction of manpower because so much of the work is now done by machines.  
Most notably, there is the vibradora, a hand-held, gasoline-powered device — it looks like a chain saw with a very long, thin snout — that shakes olives out of trees by clamping on to branches and rattling them.   
A person armed with a vibradora can shake about 3,300 pounds of olives to the ground in a day.  
Using the traditional slap-it-with-a-stick technique, the number is closer to 400 pounds a day. 
Farmers and political leaders are now searching for answers to a pressing question:  
What happens to a one-crop economy when that crop is scorched by record-breaking temperatures? 
Maybe go solar. Farmers and researchers are experimenting with installing solar panels over active agricultural land in an emerging field called agrivoltaics.   
Paul Krekorian rolled out a new sneaky billboard plan, wherein he wants to build more shelters over bus stops (to advertise) to keep folks cool. 
He's more interested in 60% of hundreds of millions of advertising revenue over a decade, than solar panels helping to keep passengers on metro, who have been 'flattening' cool? 
No shortage of pain
In 1936, García Lorca was staying at Callejones de García, his country home in Spain, at the outbreak of the Civil War. Toward the end of July, he was arrested by Franquist soldiers. After a few days in jail, soldiers took García Lorca to "visit" his brother-in-law, Manuel Fernandez Montesinos, the Socialist ex-mayor of Granada whom the soldiers had murdered and dragged through the streets. When they arrived at the cemetery, the soldiers forced García Lorca from the car. They struck him with the butts of their rifles and riddled his body with bullets. His books were burned in Granada's Plaza del Carmen and were soon banned from Franco's Spain. To this day, no one knows where the body of Federico García Lorca rests.
"Canción del jinete" /  "Horsemans song"  
by Federico García Lorca (1898 - 1936)  
Córdoba. Lejana y sola.  
Jaca negra, luna grande,
 y aceitunas en mi alforja.
 Aunque sepa los caminos 
yo nunca llegaré a Córdoba. 
 Por el llano, por el viento,
 jaca negra, luna roja.
 La muerte me está mirando 
desde las torres de Córdoba. 
 ¡Ay qué camino tan largo! 
¡Ay mi jaca valerosa! 
¡Ay, que la muerte me espera, 
antes de llegar a Córdoba! 
 Córdoba. Lejana y sola.
Cordoba. So distant and lonely.
Black little horse, and big moon,
and in my saddlebag olives.
Though the ways are familiar,
at Cordoba I will never arrive.
Across the plain, through the wind,
black little horse, and red moon.
Death keeps staring at me,
down from Cordoba's towers.
Oh, how the way's dragging on!
Oh, so patient my brave little horse!
Oh, that death waits for me,
before Cordoba will ever be reached!
Cordoba. So distant and lonely.
(Eric Preven is a longtime community activist and is a contributor to CityWatch. The opinions expressed by Eric Preven are solely his and not the opinions of CityWatch)