ERIC PREVEN'S NOTEBOOK - At city hall this week there was an item to provide a donation of surplus equipment including surplus ballistic helmets, 378 surplus ballistic vests, and 1,830 surplus chemical suits at below market value ($1.00). 
One speaker asked, "What about gas masks?"  
"Can we stick with the items?" the City Attorney, interrupted the speaker.  
"Shut the hell up."   
Another speaker, said, "We want more time to express ourselves because you are just dismissing people as crazy and we are not out of control.  In fact, we have solutions, and you are not working with us."  The speaker eventually yielded her time before being ejected. 
Strefan Fauble fired off, "You've disrupted the meeting. You're keeping us from doing our business." 
There was even a rare plea to reporters, raising questions about just how staged this Kabuki ritual has become. "There is no possible way... reporters, that we can continue... this way."  
The woman was "still shouting profanities as she leaves.  She's arguing with the police all the way out..." said Fauble.  
There was also a Yale student, who said, unhoused, "People don't trust you.  They talk to me, they tell us what they need, you are ignoring what we've learned.  I am going to the coroner now to ID a friend; you are ruining your own reputations."  
"KDL" she said, "my father knows you. Your names will go down in history as absolute failures." 
Another speaker who came down to deliver a carefully worded comment, noted "[Mr. City Attorney] you are continuously trying to prevent people from giving comments and coming up with excuses to cut people off." 
Then, aiming at the council president, said, "I'm not even sure that you allowed the time that you said you would...  before you had police in riot gear, with less than lethal force, come in..." 
The following day, Wednesday, everyone seemed content to have a very short meeting. 
Or rather, a very short, final push to end the pony rides in Griffith Park.  
An earlier attempt to improve the conditions (and possibly organize the elderly animal workers) has been sidelined by a request for different kinds of enrichment.  
Like what?  One speaker suggested a bouncy tent.   
"The extreme weather, over 90 degrees, with saddles, bits and children on top is not cool. At least put a temperature limit in place.  There was such a limit to protect workers in Dubai, way back when, but it was understood, that if you leave it up to the honor system, you will find two conflicting thermometer readings in Dubai.  The accurate one, and the one that has been trimmed back to 'cool enough' to work.  
Geriatric ponies need support, this is a worldwide shame.  Ban pony rides, like when a child was dragged by her head.  Also, Free Billy." 
Before Kevin DeLeon honored a Latino photographer who had worked with the Japanese community, Cedillo used the legislative term "what he said."   
It was Nisei week so approximately eight Nisei princesses were dressed in pink in the front row, normally blocked off to the public.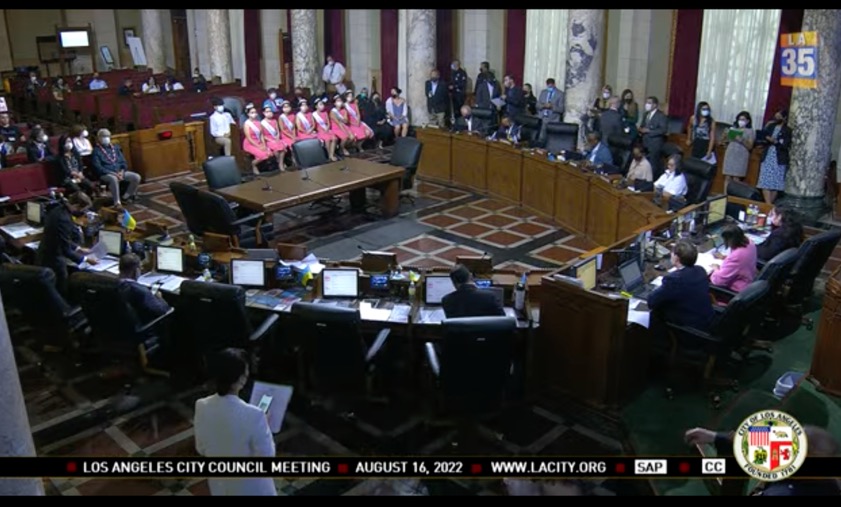 The desk was clear 10:26 am. 
There was one final speaker who came down to rant.  Nury Martinez, said, "I will give you one minute."   
The woman begged for a healthy, positive enrichment activity that could be done outdoors, like dance, singing, acting, gymnastics.  
One thought, "How about golf?"  
"Sir, you're disrupting the meeting." 
Sí, se puede:
Someone released or re-released a 2016 YouTube video of Gwyneth Paltrow who is a big Caruso supporter speaking in virtually fluent Spanish.  At first, I thought... she's just got a good accent, but fui el presidente del circulo espanol en la escuela secundaria, and Gwyneth can totally habla.  
It got me thinking since Studio City, the nicest little town in the Valley, has been struggling with the acquisition of their local golf and tennis amenity and has a real shortage of open space and Caruso appears to have a shortage of women voters... 
It occurred to me that Rick Caruso spent over $40 million in his primary run for Mayor, if he's willing to redouble those efforts he could buy the Weddington Golf & Tennis operation from Charlie Munger and Harvard Westlake, where the ink is always wet until the Land Use battle is over.  
Why not? That's near the price Munger paid in 2017. 
Stopping a public amenity from being devoured by a private school to erect a giant training academy is what the people of Los Angeles want from our... large white collars and billionaires! 
If Caruso bought Weddington the desperate housewives and putt putt enthusiasts, would finally be satisfied and vote him in to office.  
Giving:
Generosity is zeitgeisty in local government and there are many ways to give back both here and abroad to various accounts set up to evade detection by law enforcement.  Still, the Mayor's Fund of Los Angeles, previously managed by Rick "vile" Jacobs, who dragged the mayor into the proverbial muck, continues to ''earn baby earn.'   
The second half of 2021 seems muted compared to the rising tide of summer / disturbing drought / anger at LADWP, who just grabbed the city's best budget maven, Matthew Hale, and is still bigtiming our reasonable request to see the mayoral candidates water usage numbers.   
The Elected City official behested payment report was on the Ethics Commission meeting agenda.  Apparently,15 individuals and organizations from January 1 to June 30, 2022 coughed up handsomely.  Most of that money was behested in the name of Eric Garcetti, as he heads out the door to... parts unknown.   
Very sweet to see the bromance between Casey Wasserman and Garcetti is still intact as The Wasserman Foundation coughed up a modest $50,000 over six months, though it was double the JJ Abrams Family Foundation (w/ Katie McGrath) who cut things off at $25,000.  
What is all that money for, you say?   
Charitable!  See prior screed about the Mayor's Fund appetitie for gift cards (that keep on giving.) 
There was one other odd $50,000 behested payment from Robert Holmes Tuttle and wife, who held the post of United States Ambassador to the United Kingdom from July 2005 to February 2009. Tuttle is perhaps most widely known for his (and the U.S. Embassy's) refusal to pay the London traffic congestion charges.  
In March 2006, the Mayor of London, Ken Livingstone, said that Tuttle was trying to "skive out of [paying] like some chiseling little crook". 
Well, he's behind Garcetti!  So, Kudos!  
Tuttle had raised more than $200,000 for Bush's 2004 presidential campaign and inauguration ceremony.  Both Tuttle and his predecessor William Stamps Farish III were both wealthy private citizens with personal and financial ties to the Bush family. 
By contrast, "as ambassador [Farish] proved as agreeable as he was invisible."  His grandfather is William Stamps Farish II, the founder of Humble Oil and Refining Company, which struck oil in the Houston suburb Humble, part of what was later to become the Exxon behemoth.  Farish owned the W.S. Farish & Co. investment firm, and managed the blind trust that Bush had to set up when he became vice-president in the Eighties.   
And don't tell the pony ride advocates, but Farish was also a breeder of thoroughbred racehorses. In fact, Farish has served as chairman of Churchill Downs, home to the Kentucky Derby.  
That's a lot of Republican activity, so I had to check and discovered that the predecessor to Farish, was a chap from my old alma mater. Go Blue. 
Louis B. Susman, a graduate of the University of Michigan, served as the U.S. Ambassador to the United Kingdom from 2009 to 2013. He had been a longtime and prolific fundraiser for Democratic Party, so, he must have known Rick Jacobs. 
"Sir, you're disrupting the meeting." 
No word about any miracle or twist of fate or twist of the arm that might result in Garcetti's confirmation. 
Mitchell Englander, who frequently called himself the mayor's partner in crime was the blue plate special and
got off easy with modest $79,830 fine from the Ethics commission.  He's already paid $15,000 to the federal government as part of his sentence.  
Still, the nearly eighty grand seemed appallingly low to careful city watchers because Englander had exceeded the gift limit by at least $21,140 and took $15,000 in the pissoir urinal, in Las Vegas and Palm Springs.  But honestly, that was just the "tip of the iceberg!" 
One speaker said, "Englander should be forced to pay $500,000 to the general fund and never set foot in city hall again!"  [APPLAUSE] 
Get Koretz:
A large number of Kenneth Mejia proponents also attended the virtual Ethics Commission meeting to attack Paul Koretz, who is running against the Times endorsee for City Controller.  
The central theme of their attack had to do with attempt to categorize the concern with 41.18 as a January 6th style insurrection.  Apparently, Koretz recorded something on his iPhone during the disturbance, while he was on the clock, as the CD5, councilmember.   
When Koretz decided to blast the image or video widely, his enemies cried foul.  
One speaker said, "He used council time to disparage a political opponent. That's a 4955 violation and Koretz should resign and follow the other corrupt assholes." 
Telling someone what they can do with their iPhone is like telling them what they can do with their body. 
Behestorama:
A 17 percent increase in the first six months of 2022 for a decent, $665,000, up from a modest $567,000 in the last six months of 2021, from cheerful helpers is reason to celebrate. 
Angeleno Group LLC, $50k, Edison International, a utility, $100k, and the technology firm, Snap Inc. $100k, and about a dozen other mostly reputable foundations, including Wasserman's, were on the giving line. 
Mike Feuer, the City Attorney and his office saw an impressive 96% uptick from a measly $215,000 in the prior period, to a stately $422,000.  
The firm, Quinn Emanuel Urquhart Sullivan, LLP are still the leaders with a whopping $395,905 for an undisclosed governmental purpose. Robustico.  
I wrote about their artist-in-pocket, program, sorry, artist-in-residence program down at Crypto (wince) Arena. 
Also, the Angeleno LLC has a board member who Ertharin Cousin who also served from 2009 to 2012 under President Barack Obama as the United States Ambassador to the United Nations Agencies for Food and Agriculture, serving in Rome, Italy.  So, this is an equal opportunity pandering period. 
Ambassador Cousin famously said, seeing the sights of Rome did never get old but that her biggest surprise in the job was "When people talked about 'Her Excellency, Ertharin Cousin.'  
She grew up in Lawndale.  "You're a long way from there when someone's referring to you as 'Your Excellency.'" 
Your Excellency:
The New York Times had an article about how the overwhelming fraud siphoned billions meant for pandemic relief. 
As Paul Koretz used to say, "it's easy to raise $25,000!" and I would frequently remind, "Yeah, when you've been handing out favors for three decades and represent one of the most affluent parts of town!"  [APPLAUSE]. 
Investigators said that in the haste to get the money out the door, all three federal relief packages suffered from the same fatal flaw, reliance on the honor system.    
"They were the Paycheck Protection Program, in which the government guaranteed loans made by private lenders, and the Economic Injury Disaster Loan program, in which the government itself gave out loans and smaller advance grants that did not have to be repaid. In both, the government trusted businesses to self-certify that they met key requirements." 
The PPP search bar from Propublica that I referenced and posted in 2021, was good for a few drinks and revealed that the law firm of Skip Miller was forgiven over  a million dollars:     
Shut up.  The firm filed for the money on April 5, 2020... and it was forgiven by November, 2020.

Relief is relief and it's FREE.
Even Charlie Munger's company could be eligible. 
But Skip Miller and Miller Barondess, LLP work for the county and the county refuses to open the so-called Kimono on how much Miller and his firm took in taxpayer funds to recommend that Sachi Hamai get a $1.5 million dollar payoff, without even filing a claim against anyone. 
That's no okay, no matter how hard he appears to be battling the good fight against Vanessa Bryant and her good name as she refuses to drop her insane claims and disgusting play.     
And what is a presumably high-priced private attorney, Skip Miller, doing in there, anyway? 
It was heartbreaking because the very good reporter who has been covering the fake trial of the year missed Skip's performance the other day.  She was in traffic. 
Let me summarize:  Dragging first responders, who went into the fire, should not be brought into a legal quagmire that will not bring Kobe back or help stop ... anything.  Stop.  Vanessa. Thx. 
And as for the attorneys who are prosecuting the shameful charade, who were all at Munger, Tolles & Olson (Charlie Munger's firm) when Vanessa hired them.  The MTO firm was a long-time county favorite, at one time housed the "Two Richards" Volpert and Drooyan. They even housed the Civilian Commission on Jail Violence, CCJV.  
The lead lawyer, Luis Li jumped from MTO to @WilsonSonsini in November 2021 and Eric Tuttle went with him.  
But as is common, MTO stayed on the case, too.  
We see you!  And we see Skip! 
Voucher IDEA:
Paul Koretz, who celebrated his 25th Silver Jubilee anniversary as an elected official 8 years ago, is being trolled by Kenneth Mejia.  
A question about the horrible Section 8 voucher backlog came up on Twitter when, Mejia, who said he would do another audit, property cited that Santa Barbara's track record with section 8 vouchers is much better.  
I confronted Mejia about what he thought the hack to fix the voucher backlog was, since we already knew it was a stinking mess.    
I noted in reply, "that there are more billionaires in Santa Barbara than homeless."   A discussion erupted on twitter, the salient point: 
The next City Attorney ought to get into it. Legally speaking landlords aren't allowed to discriminate based on income source, but there's no enforcement.   
Why don't we replace failed bureaucratic vouchers with ...   wait for it: gift cards.  
Repeat Testing:
A very sharp young doctor-executive type, let's call him Doogie, came up with the following and if he were smart he would pitch it to a Charlie Munger-type or the Sharks on Shark tank.  Here's the pitch. 
Doogie Hauser:  As you know, A negative result on a rapid at-home test doesn't necessarily mean you don't have COVID-19 
Munger:  Go on... 
Doogie:  There is a lag in how long it can take a rapid test to turn positive after the onset of symptoms 
Munger:  Okay. 
Doogie:  Rather than testing at that time, or a slightly longer period after onset, we recommend repeat testing.  
Munger:  Okay.  Repeat testing? You mean more testing.  
Doogie:  Correct, sir, an unlimited number of tests -- repeat testing. 
Munger:  Every week.   
Doogie:   Every day!  
Munger:  Same day.   I love it! 
(Eric Preven is a longtime community activist and is a contributor to CityWatch. The opinions expressed by Eric Preven are solely his and not the opinions of CityWatch)