PUBLIC HEALTH WATCH-As I write this, I am on Day 25 since I officially began the now mandated "Social Distancing" and "Stay at Home" orders that we have been given by our Elected Officials. 
In an extended family which has multiple physicians, nurses, medical researchers, and my husband, an Emeritus Professor of Anthropology who was Pre–Med at UCLA, we are all weighing in to each other by email or through modern media such as Skype or FaceTime about what we are learning about the disease which was caused by a coronavirus. So for everyone that is not as detail-oriented as I am, the World Health Organization named this Coronavirus – COVID-19 but what it causes is "sever acute respiratory syndrome" (SARS), and it is caused therefore by the virus: severe acute respiratory syndrome coronavirus 2 thus "SARS- CoV- 2." 
"Naming the coronavirus disease (COVID-19) and the virus that causes it":   
Why is the name important? 
In the document linked above, it states: "Diseases are named to enable discussion on disease prevention, spread, transmissibility, severity and treatment. Human disease preparedness and response is WHO's role, so diseases are officially named by WHO in the International Classification of Diseases (ICD)." 
What we are observing, if we look at various computer websites or if we are signed up for notifications from various agencies such as the National Institute of Health (NIH), the Federal Food and Drug Administration (FDA), the Center for Disease Control (CDC), the Los Angeles Department of Public Health (LA DPH), or notifying agencies like the City of Los Angeles, we are getting NIXLE notifications regarding the current status of the City of Los Angeles in this time of emergency crisis. We are becoming saturated in the news of this disease, and we are even warned in some stories about ways to distance ourselves from the news and ways to cope in our time of social isolation. 
News shows feature Elected Officials from throughout the United States, coverage of the number of infected and deaths Worldwide, coverage of the infected locked down countries such as Italy and Spain, and now even the consideration of locking down the States of New Jersey, New York, and parts of Connecticut according to the President. 
See: "Trump to Issue Travel Advisory for N.Y. Region, Backing Off Quarantine Threat":  
"Later Saturday night, the Centers for Disease Control and Prevention issued a formal advisory urging the residents of the three states to "refrain from nonessential domestic travel for 14 days effective immediately." The advisory, which was posted to the agency's website and its Twitter account, does not apply to "employees of critical infrastructure industries," the agency said. That includes trucking, public health professionals, financial services and food supply workers." 
What is happening in the City of Los Angeles and Los Angeles County? 
Mayor Garcetti can be seen making regular statements to local residents. 
(Title page image above courtesy of the City of Los Angeles:  )
I want to thank Mayor Garcetti for the "Stay at Home" orders, for building this website, and for links to updated information for local residents here.  
I also want to thank the City Council for what Councilmember Bob Blumenfield (CD 3) described in his newsletter dated March 28, 2020: "During the eleven-hour meeting, we heard voices from all around the City, folks who recently lost their jobs worried about making rent, 'Mom and Pop' landlords concerned about mortgage payments and their nest egg, small business people persevering to open doors and keep workers employed, and many other struggling Angelenos. Some were angry, others grateful, many had helpful ideas, most were concerned and just wanted solutions. We listened, debated issues, amended proposals, and we voted on legislation." 
So we must thank our City family – not only our Elected Officials and their staffers, but the LAPD, the LAFD, the LADWP, the Bureau of Sanitation, and other agencies under the City's jurisdiction that are protecting City of Los Angeles' residents during this time of crisis.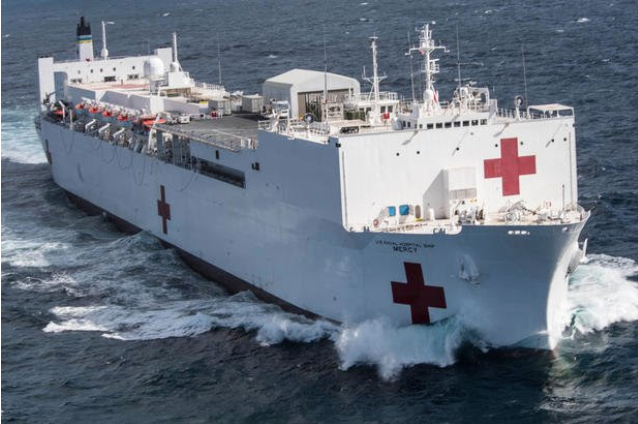 From Councilmember John Lee's Update on the Coronavirus dated March 27, 2020, we see the image of the USNS Mercy: 
Councilmember Lee's email states: The USNS Mercy arrived at the Port of Los Angeles this afternoon, bringing with it approximately 800 medical staffers, 1,000 hospital beds, and 12 operating rooms. The Mercy will not treat COVID-19 patients but will provide assistance for regional hospitals who are treating non-coronavirus patients. 
Our Lack of Preparedness: 
Although our State and local elected officials are doing their utmost to work with the Federal government, this is where I believe our Federal, State, and local officials have failed us in terms of anticipating a medical crisis and preparing for a disaster of this nature. 
Hospitals: 
Throughout the world, we are seeing elected officials state that they have reached capacity in terms of the number of intensive care beds, the number of respirators, the failure to order "Stay at Home" orders earlier, the lack of test kits, and the control at the Federal level of all aspects of this crisis. 
Each day last week, I watched Governor Cuomo of New York give his press conference and beg the Federal Government for 40,000 respirators based on the number of anticipated cases expected in New York State over the next month. "Cuomo highlights a big coronavirus worry: 'It's all about the ventilators'":   
"On the current trajectory of cases, Cuomo said, in 45 days there could be a need for 37,000 ventilators in New York, a state that currently has only 3,000. 
"That's our main issue. And again that's a projection. And projections can change," he said. "But that's the problem we're dealing with." 
What about Los Angeles Hospitals – what do we see here? 
In Los Angeles, I see a pattern similar to the rest of the United States. There is a fear which is expressed to me by family members of catching this disease from people out in the community who are asymptomatic or who go out in public to shop, etc., despite being ill. We are asked not to purchase masks – to save them for the medical professionals who are on the front line of this illness. But what about those at home who must go in public to shop, go to the pharmacy, or go to even to a medical visit. Why don't we have masks available in a local stockpile for all emergencies? 
Masks and Respirators: 
During the Woolsey Fire, a member of the California Department of Health (CDPH) who is a friend learned that that I lived two miles from the evacuation zone. I told him that I was going to purchase some N95 disposable masks for when we went out. 
My friend, a disaster preparedness expert, told me that the N95 masks were not adequate for the fires. He wanted me to have a mask with a carbon prefilter to capture as many of the chemicals that are "oily" in nature, so he recommended that I get a P95 respirator mask. 
Why is this mask for the wildfires important now? 
Recently, I watched Dr. Patrick Soon Shiong on Spectrum 1 explain "The Science Behind the Coronavirus":  
"Part 5: The science of soap":    
In this episode, Dr. Soon Shiong references a "fatty greasy layer" on the Coronavirus. Knowing that the P95 masks were more oil resistant than the N95 masks, I searched for recommended masks for the Coronavirus. 
Masks recommended by the CDC are supposed to be approved by a division of the CDC called NIOSH – the National Institution of Occupational Safety and Health. These are the recommendations by the CDC for Masks/ Respirators for SARS (remember that the Coronavirus is called SARS – CoV–2). 
"What is a respirator and what is a NIOSH-approved N-95 respirator? 
A respirator is a personal protective device that is worn on the face, covers at least the nose and mouth, and is used to reduce the wearer's risk of inhaling hazardous airborne particles (including dust particles and infectious agents), gases, or vapors. The many types of respirators available include: 
(1) particulate respirators, which filter out airborne particles;
(2) "gas masks," which filter out chemicals and gases;
(3) airline respirators, which use compressed air from a remote source;
(4) self-contained breathing apparatus, which include their own air supply. 
The category of particulate respirator can be further divided into: 
(1) disposable or filtering facepiece respirators, where the entire respirator is discarded when it becomes unsuitable for further use due to excessive resistance, sorbent exhaustion, or physical damage;
(2) reusable or elastomeric respirators, where the facepiece is cleaned and reused but the filter cartridges are discarded and replaced when they become unsuitable for further use;
(3) powered air purifying respirators (PAPRs), where a battery-powered blower moves the air flow through the filters.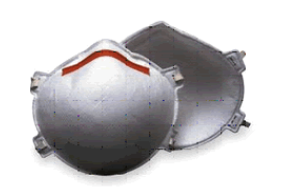 An N-95 respirator is one of nine types of disposable particulate respirators.
Particulate respirators are also known as "air-purifying respirators" because they protect by filtering particles out of the air as you breathe. These respirators protect only against particles—not gases or vapors. Since airborne biological agents such as bacteria or viruses are particles, they can be filtered by particulate respirators.
Respirators that filter out at least 95% of airborne particles during "worse case" testing using a "most-penetrating" sized particle are given a 95 rating. Those that filter out at least 99% receive a "99" rating. And those that filter at least 99.97% (essentially 100%) receive a "100" rating.
Respirators in this family are rated as N, R, or P for protection against oils. This rating is important in industry because some industrial oils can degrade the filter performance so it doesn't filter properly.* Respirators are rated "N," if they are Not resistant to oil, "R" if somewhat Resistant to oil, and "P" if strongly resistant (oil Proof). Thus, there are nine types of disposable particulate respirators: 
While the CDC is recommending the N95 mask/respirator, I believe that the P95 and above mask may be more beneficial for the Coronavirus because the P95 is more resistant to oil, and the Coronavirus has an oily capsule. 
There is a shortage of these N95 masks nationwide. And this NIOSH website discusses the problems associated with hospital personnel wearing a respirator mask for longer than its recommended use: 
"Recommended Guidance for Extended Use and Limited Reuse of N95 Filtering Facepiece Respirators in Healthcare Settings": 
"Supplies of N95 respirators can become depleted during an influenza pandemic (1-3) or wide-spread outbreaks of other infectious respiratory illnesses. (4) Existing CDC guidelines recommend a combination of approaches to conserve supplies while safeguarding health care workers in such circumstances. These existing guidelines recommend that health care institutions: 
Minimize the number of individuals who need to use respiratory protection through the preferential use of engineering and administrative controls;
Use alternatives to N95 respirators (e.g., other classes of filtering facepiece respirators, elastomeric half-mask and full facepiece air purifying respirators, powered air purifying respirators) where feasible; 
Implement practices allowing extended use and/or limited reuse of N95 respirators, when acceptable; and 
Prioritize the use of N95 respirators for those personnel at the highest risk of contracting or experiencing complications of infection." 
If you go to the 3M website, and you look for the surgical masks that are normally used in hospitals. "3M™ Health Care Particulate Respirator and Surgical Mask 1860, N95 120 EA/Case": 
These masks are not designed for oil resistance, and they do not have an exhalation valve which allows the healthcare worker to breathe easier when wearing one. 
"This health care particulate respirator and surgical mask helps provide respiratory protection against certain airborne biological particles. It is disposable and fluid resistant to splash and spatter of blood and other infectious material. 
This healthcare respirator is designed to help provide respiratory protection for the wearer. It meets CDC guidelines for Mycobacterium tuberculosis exposure control. As a disposable particulate respirator, it is intended to help reduce wearer exposure to certain airborne particles including those generated by electrocautery, laser surgery, and other powered medical instruments. As a surgical mask, it is designed to be fluid resistant to splash and spatter of blood and other infectious materials."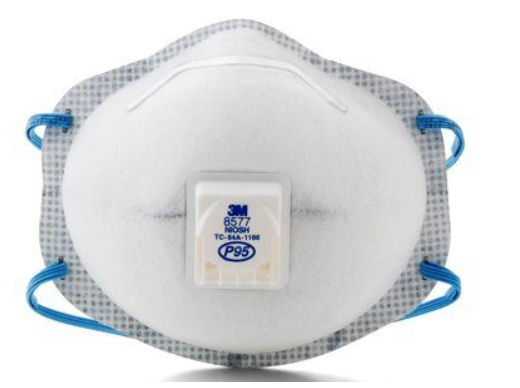 Let's compare the surgical mask with the P95 filter from 3M:
"3M™ Particulate Respirator 8577, P95, with Nuisance Level Organic Vapor Relief 80 EA/Case":   
"This disposable P95 particulate respirator helps provide respiratory protection against certain oil and non oil based particles. The respirator features a carbon layer to remove nuisance levels* of organic vapors. It features 3M™ Cool Flow™ Valve. 
"3M™ Particulate Respirator 8577, P95 is a disposable particulate respirator that is designed to help provide reliable respiratory protection of at least 95 percent filtration efficiency against certain oil and non-oil-based particles. A carbon layer reduces exposure to nuisance levels of organic vapors such as solvents, degreasers, and resins. Suggested applications include foundry operations, lab settings, agriculture, petrochemical manufacturing, and undercoating where particles and nuisance levels* of organic vapors may be present. Braided headbands and M Noseclip adjusts easily for fewer pressure points and greater comfort. 
The respirator incorporates 3M's proprietary technology with advanced electrostatically charged microfiber filter media designed for ease of breathing. This respirator is compatible with a variety of protective eyewear and hearing protection. Fitted with a 3M Cool Flow™ Exhalation Valve, this respirator is ideally suited for work situations involving heat, humidity, or long periods of wear. The proprietary 3M Cool Flow valve is designed to release hot, humid exhaled breath quickly, helping to prevent an unpleasant build up of heat inside the facepiece a significant cause of discomfort to respirator wearers. 
The Cool Flow valve's efficiency in keeping breathing cool and comfortable has been demonstrated through testing*: the atmosphere inside a respirator with a Cool Flow valve is on average 7.5°F cooler than the similar product without the valve. This makes Cool Flow valve respirators ideal for long periods of wear, especially where conditions are hot, humid or physically demanding. *Testing conducted in a 3M laboratory. Testing protocol, data generation and conclusions were reviewed and approved by an expert from The University of Minnesota. The testing performed by 3M is not a part of the testing and certification conducted by NIOSH. This particulate respirator is NIOSH (National Institute for Occupational Safety.)" 
My Point on Respirators: 
We no longer have a fire season in Los Angeles. Fires can occur at any time of the year. If we had stockpiled these P95 masks for the fire season not only in Los Angeles but throughout California – not just for health care workers, but for our First Responders, for our Elected Officials and their Staff that were involved in these fire events, as well as the residents in the communities affected by the fires, we would not be seeing a mask shortage to the degree that we are seeing it in Los Angeles today. 
Our First Responders, and our LAHSA personnel who are going out to the Homeless communities today also need to wear disposable masks / respirators to protect themselves not only from the Coronavirus, but from other diseases including the seasonal flu. 
Other questions that I think our Elected Officials should ask of scientists are this: 
Would the P95 masks be more protective of the residents that live near the Aliso Canyon Oil Fields who are having ailments? 
Would these masks be recommended for those who live near refineries? 
If so, who should be paying for these masks – the companies that are running the oil fields and the refineries? 
The City Council in its next Budget should be allocating funds for a stockpile of not only N95 respirators, but P95 respirators for the fire season and other issues like fires near refineries, etc. 
What Other Lessons Are We Learning from the Coronavirus? 
The K-12 and beyond curriculum for the State of California must begin teaching each year at age appropriate levels about communicable diseases, vaccines, how to prevent disease transmission, what to do in the event of an earthquake or a wildfire. 
Stockpiling should be not done at the Federal level only for equipment for disasters whether it is a pandemic, a wildfire, or an earthquake. Each State should determine how much to stockpile based upon their risks of a particular event. States as large as California should have more than one location where they can readily access emergency stockpiles of masks and other equipment in the event of any disaster – manmade or natural. 
NEW LAWS: Congress should take the actions with or without the Executive Authorization such as deploying the ventilators to New York and other States that are requesting them during an Emergency such as this one. 
Congress should be addressing the issue of how many of our medical supplies needed in a pandemic like this are manufactured in China or elsewhere for U.S. consumption. For example, the Personal Protective Equipment – PPE, that our physicians and other healthcare workers need to protect themselves from the Coronavirus are apparently offshored to Southeast Asia and China. 
"Southeast Asia PPE Market to Reach $2.10 Billion by 2025 with E.I. DuPont, Huntsman Corporation, the 3M Company, Solvay & Teijin Dominating – Research and Markets":   
Many of the companies on this list are U.S. based companies. Are these companies some of the companies that are asking for bailouts under the new $2 Trillion package? Do they all pay their Federal Taxes? 
"Companies Mentioned: 
I. DuPont De Numours and Company
Huntsman Corporation
Ansell Ltd.
The 3M Company
Solvay S.A.
Royal TenCate NV
Teijin Ltd.
Toyobo Co., Ltd.
Milliken & Company
Klopman International
Gunei Chemical Industry Co., Ltd.
Kaneka Corporation
Lenzing AG
Honeywell International
Arvind Ltd.
Uvex Safety Group
Mallcom
The 3M Company
Uvex Safety Group" 
What's Next? 
Now that we have faced holding public meetings that fall under the Brown Act in a new manner using platforms such as ZOOM, the State of California should consider new guidelines for all government bodies about providing meetings and public comment for all meetings via this type of platform. 
In a time when we are not confined to our homes due to the Coronavirus or another illness, there are still reasons that some residents may not be able to make it to City Hall, to the County Board of Supervisors, to LADWP meetings, to various Commissioner meetings including the Planning Commission, as well as Neighborhood Council meetings. 
Future Budgets in the City of Los Angeles should provide for platforms for all of the Brown Act required groups to be trained in these formats, and to be required to use all of these formats including the recording of and live streaming of all public meetings. 
Educators – Schools whether the LAUSD, the Los Angeles Community College District, the Cal State University System, and the University of California system should fund training to get instructional materials online for each course that matches an in-class curriculum. I say this because classes are being taught at home. From my husband's Pierce College faculty colleagues, I have learned that creating an online course can take up to a year to prepare. And other Professors have told me that it is difficult to be thrown into the situation of teaching from home at a time that they have never done so. 
Our Workforce: 
We should be considering changing zoning laws in areas such as the Warner Center Specific Plan and we should be incentivizing bringing jobs such as the manufacturing of medications, personal protective equipment, medical devices, etc., to California. 
We need to consider if the manufacturing of some of these materials will add to our already poor air quality which is the worst in the Nation according to the American Lung Association. 
But there are tradeoffs – can these companies be built in a sustainable manner without a lot of pollution? Can we provide housing nearby for the workforce of these companies? If we aren't importing these materials, then our air quality at the ports and our freeways should improve. 
Our Governor, Gavin Newsom, has indicated wanting to create drugs specifically in California as opposed to "Made in the USA." 
"California eyes selling its own brand of generic prescription drugs to battle high costs":  
While I don't believe it is realistic to make all of the drugs we need for residents of the State of California in California any time soon, I think that the idea of pharmaceuticals and medical devices being "Made in California" is a Dream worth chasing. 
(Chris Rowe, a former health care employee who has worked at Northridge Hospital, Tarzana Medical Center, and West Hills Hospital has a B.S. in Health Education. She is a 42-year resident of West Hills. She has written for the Los Angeles Daily News, RonKayeLA.org; OurLA.org; and CityWatch. She has a blog on the USC/ Annenberg Center for Health Journalism website and can be reached at rowecl@yahoo.com) Top photo: T.Trutschel. Edited for CityWatch by Linda Abrams.