BUDGET ADVOCATE NEWS-Last Saturday the Neighborhood Council Budget Advocates held their annual meeting at City Hall. 
Attending were Councilmember Paul Krekorian, City Controller Ron Galperin, DONE GM Grayce Liu, and representatives from the CAO office and the Mayor's office.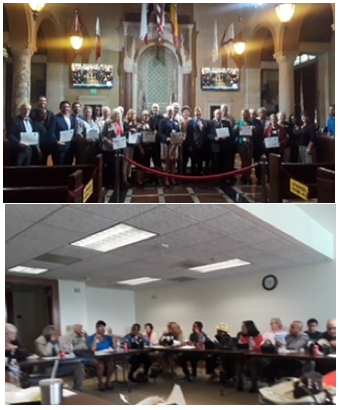 More than 230 people gathered, and nine new Budget Advocates were elected to serve this fiscal year. Discussions about city services and the City's budget were robust. 
Not in attendance were Mayor Eric Garcetti, who had a prior commitment, City Council President Herb Wesson, who hosted a World Cup viewing in his district, and the CAO who had a late commitment arise. 
The newly constituted advocates group will meet in July to map out the strategy for working with the city departments and unions on the coming fiscal year's budget. 
Anyone interested in the work of the budget advocates can go to www.ncbala.comor to CityWatchLA.com and click on Budget Advocates.
-cw